Posted 11th Dec 2020
VIDEO: Emotional Eboni Usoro-Brown cheered by Blue & Gold team-mates as she is inducted into England Netball Hall of Fame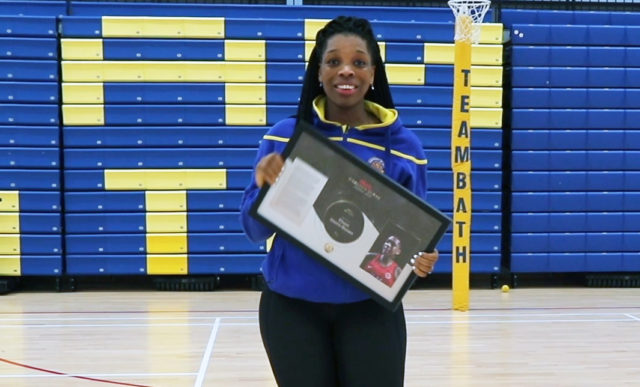 Team Bath Netball legend Eboni Usoro-Brown says she feels "really honoured" after being officially inducted into the England Netball Hall of Fame.
The star defender, who has won more than 100 caps for the Roses, was surprised but delighted to receive the accolade during a Blue & Gold Superleague training session where she was cheered and given a guard of honour by her team-mates.
"I am really honoured to be inducted into the Hall of Fame, this is so special to me," said an emotional Usoro-Brown. "It was always my dream to play for England and I couldn't have done it without playing here at Team Bath.
"Netball has given me more than just the sport, it has given me family, friends and memories that will last a lifetime. I just want to say thank you to my team-mates, coaches and all the support I've had – it's been a journey and I've loved every minute."
Usoro-Brown's stellar England career has seen her win a historic Commonwealth Games gold medal in 2018 and three World Cup bronze medals in 2011, 2015 and 2019.
She was presented with her framed Hall of Fame certificate by Team Bath Netball Superleague Head Coach Anna Stembridge, who has a long association with Usoro-Brown for both club and country.
"It is my privilege and honour to induct an athlete who is Blue & Gold through and through into the England Netball Hall of Fame," said Stembridge.
"This athlete has achieved greatness across her career. She started playing for England as a 17-year-old goal-shooter, right here in Bath, but went on to get more than 100 caps at senior level at goal-keeper and goal-defence.
"She won a gold medal at the 2018 Commonwealth Games and recently returned to court after having her daughter, Savannah. Congratulations Ebs!"
The Hall of Fame induction was officially announced at England Netball's annual Vitality Goalden Globes Awards ceremony, which this year took place online. Watch the ceremony in full here: