Posted 17th Sep 2020
UK Coaching Week 2020: Blue & Gold's Anna Stembridge hails coaches' ability to adapt and evolve during challenging year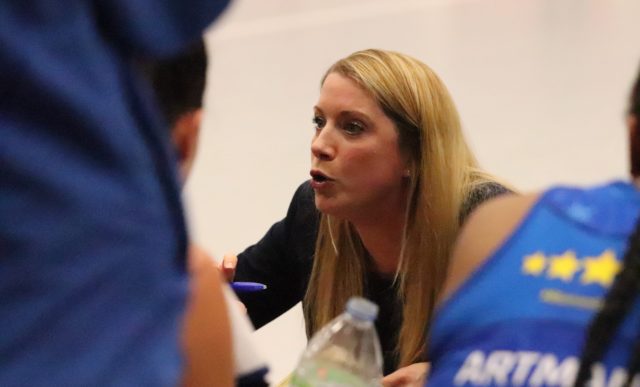 The ingenuity and flexibility shown by sports coaches both during and after lockdown will help them develop and improve going forward, says Team Bath Netball's Anna Stembridge.
Like her fellow coaches at all levels of sport since March, the Blue & Gold's Superleague Head Coach has had to adjust to the changing circumstances caused by the Coronavirus pandemic and new social-distancing measures.
She has stayed in touch with the Superleague squad remotely, hosting both individual and group sessions online, and is now planning a return to regular training sessions at the Team Bath Sports Training Village in line with England Netball's current guidelines.
Stembridge – a graduate of UK Sport's prestigious Elite Coach Programme and Senior Lecturer in Sport Coaching & Performance at Cardiff Metropolitan University – says it has been a challenging few months but also an opportunity for growth and development.
"We have to evolve, adapt and be flexible as coaches, and this year has certainly tested us to the max," she said. "We are always learning as coaches and I have seen the last few months as an opportunity to develop new techniques and approaches.
"The most important part of being a coach, for me, is the connection we have with athletes and this year has shown how we can use technology to not just maintain but build those relationships. Because we are not full-time athletes in netball, there are elements we can take from the remote coaching over the summer that will make us more efficient going forward – a blended approach to coaching."
Easing people back into group training is another challenge facing coaches this autumn and Stembridge says it is important to make sure everyone feels comfortable as they return.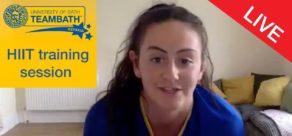 "We have to see individuals as people first and foremost, and some will undoubtedly be feeling anxious to begin with," she said. "We have been keeping the players fully informed about our plans, speaking to them individually and as a group, and hopefully they will feel reassured that we are doing everything we can to help them on their return to court.
"A coach has to find out what makes people tick and how we can help them. It is a real privilege and honour to be a part of that person's journey."
Stembridge was speaking during UK Coaching Week 2020, which this year is celebrating the millions of coaches who helped keep Britain active during lockdown.
Among them was Team Bath Netball player-coach Rachel Shaw, who ran a series of inspirational weekly training sessions on Facebook Live from her living room that was enjoyed by thousands of netball fans from across the UK and abroad.
"For me, there was no better person to run those sessions than Rachel," said Stembridge. "She has so much netball and coaching knowledge, so we knew the sessions would be of a high standard, but her enthusiasm is infectious and really lifted people. She was brilliant and we're glad that so many netballers enjoyed working out with Rachel."
The netball training sessions are still available to watch on demand on the Team Bath Netball Facebook page – click here to view the playlist.
Team Bath Netball is supported by its Principal Partner, Haines Watts, who are also a pathway partner, and by Rengen Developments and Centurion Chartered Financial Planners.