Posted 15th Jul 2020
Blue & Gold trio Imogen Allison, Sophie Drakeford-Lewis and Serena Guthrie named in Vitality Roses squad for 2020-21 season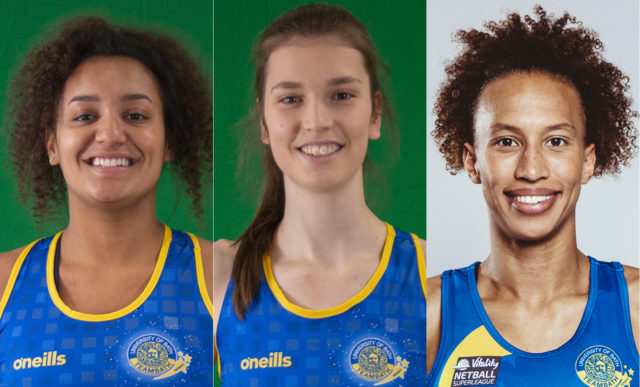 Exciting young Team Bath Netball players Imogen Allison and Sophie Drakeford-Lewis have been named in the England Netball Vitality Roses programme for the 2020-21 season.
The duo are joined in the 16-strong squad of UK-based players by Blue & Gold legend Serena Guthrie, who has been taking a break from the sport since captaining England to a bronze medal at the 2019 Netball World Cup.
Goal-attack Drakeford-Lewis – who combines her netball career with studying Integrated Mechanical & Electical Engineering at the University of Bath, where she is supported by a Bill Whiteley Sports Scholarship – was part of the senior England squad last season and gained valuable experience on a behind-closed-doors tour of Australia and New Zealand, as well as the Vitality Netball Nations Cup in January.
Wing-defence Allison also gained her first taste of the senior England set-up last season as part of the Roses' Futures programme and co-captained the England A team in training matches ahead of the Nations Cup. She has just completed a Sports & Exercise Science degree at the University of Bath, where she was supported by a King Scholarship.
Vitality Roses Head Coach Jess Thirlby, who formerly held the same role at Team Bath, said: "I am really excited to be revealing the names of the athletes that I'll be working closely with throughout the 2020-21 international season.
"It is wonderful to see some experienced names coming back into the programme after taking a well-deserved break following the 2018 Commonwealth Games and the 2019 Vitality Netball World Cup, including the likes of Jo Harten and Serena Guthrie.
"We have a real mix of new and experienced talent in this group. It's a really strong and diverse group to be working with, which is exciting and shows the strength in depth we have in character and ability.
"We are working hard to establish clarity regarding what will happen with 2020-21 international fixtures due to the current climate and as soon as we can safely all come back together, we will be raring to get back out there in front of the Netball Family."
Team Bath Netball Head Superleague Coach Anna Stembridge said: "I am absolutely delighted that Serena, Sophie and Imogen have been selected for the Roses centralised programme, particularly Imo who has just completed her degree at the University of Bath as this will be her first year of being part of the full-time programme.
"All three of these athletes are fantastic ambassadors for our club and sport, and have shown great resilience and commitment – particularly during these testing times – to ensure they are ready to join the programme next week in good condition.
"Serena returns having taken some well-deserved time away from the game, so I anticipate her coming back refreshed and raring to go in the manner we all love about her – energetic, passionate and fun loving. Imo and Soph join the programme off the back of a solid year, with some great individual performances in the 2020 Superleague and pre-season for us. They also gained essential international experience from being part of the autumn tours and England A fixtures in January, experiences they will be able to build on in this environment. 
"As always, I am very proud of them all and look forward to supporting them accordingly, to achieve both their international and club aspirations."
Also selected in the P1 squad of UK-based athletes are former Team Bath duo Kadeen Corbin and Yasmin Parsons, while Stacey Francis – who, like Guthrie, is a member of the University of Bath Hall of Fame for Sport – and Layla Guscoth are among eight players who ply their trade in Australia's Suncorp Super Netball to be selected via the P2 route.
Players not in the Roses programme due to work or study commitments can trial for international selection during the season via the P3 route.
Fixtures for the next international season have not yet been confirmed due to the Coronavirus outbreak. However, England Netball is planning for a number of return to court scenarios whilst following Government guidance closely.