Posted 7th Dec 2019
Standing ovation for Serena Guthrie as netball legend is inducted into University of Bath Hall of Fame for Sport during The BiG Showdown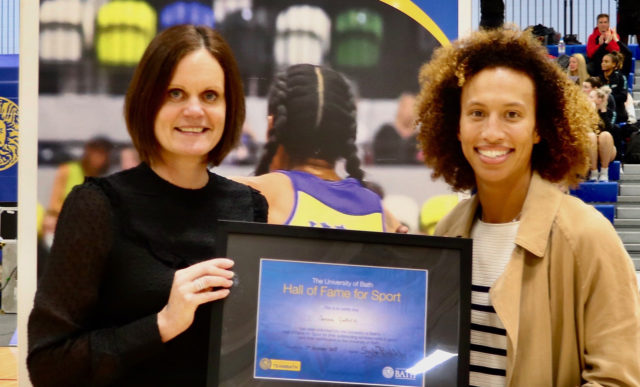 Team Bath and England legend Serena Guthrie received a standing ovation from appreciative netball fans and fellow players when she was inducted into the University of Bath Hall of Fame for Sport during The BiG Showdown pre-season tournament.
Guthrie, recognised as one of the world's finest mid-court players and an inspiration for club and country, was welcomed into the Hall of Fame by University of Bath Vice-President for Student Experience Dr Cassie Wilson during an on-court ceremony at the Team Bath Arena on Saturday.
She was applauded by spectators and players from both Team Bath and Strathclyde Sirens, who were on court ahead of their match during a busy day of pre-season netball at the University's Sports Training Village.
Guthrie began her stellar career with Team Bath as a 16-year-old and has gone on to win three Superleague titles with the Blue & Gold.
She played professionally in New Zealand and Australia for four years, cementing her global reputation for outstanding athleticism and drive in the mid-court, before returning to Team Bath in 2019.
Her England career has seen Guthrie win 98 caps so far and play a pivotal role in the historic gold-medal triumph at the Gold Coast 2018 Commonwealth Games. She also captained the Roses at the 2019 Netball World Cup in Liverpool, where she and England won a third successive bronze medal.
Guthrie is taking a year out of netball but remains very much part of the Blue & Gold family and is serving as an ambassador both for the club and Sporting Family Change, the Bath-based charity that is partnering with Team Bath Netball in 2020 to make a difference through sport.
She is the fourth netballer to be inducted into the University's Hall of Fame for Sport, joining fellow England stars Pamela Cookey and Stacey Francis plus hugely-influential coach Lyn Gunson, who the winners' trophy at The BiG Showdown was named after and celebrates.
There are now 28 inductees in total into the Hall of Fame for Sport, which was established in 2014 to recognise the outstanding contribution made by athletes, coaches and administrators to sport at the University of Bath. Click here to find out more.