Posted 21st Nov 2019
"It feels like I've never been away" – Bath sporting scholar Tash Pavelin back in Blue & Gold for 2020 Netball Superleague season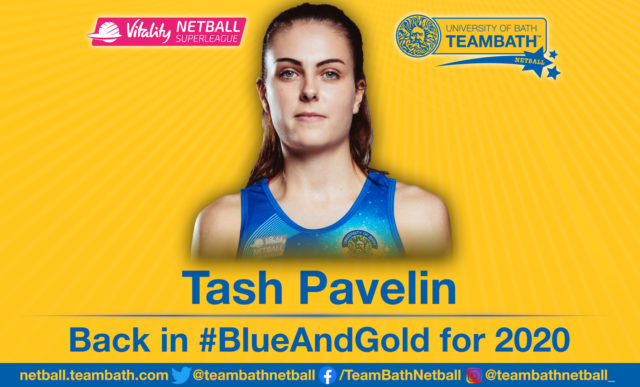 Tash Pavelin says she didn't appreciate how much she had missed Team Bath Netball before returning to the squad for the 2020 Vitality Netball Superleague season.
The University of Bath student – the 14th player confirmed in an exciting Blue & Gold squad for the new campaign – made her Superleague debut for Team Bath in 2018 before spending last year in Kent on placement with pharmaceutical giants Pfizer as part of her Natural Sciences course.
She trained with Saracens Mavericks during that time, representing the U21s in the Netball Performance League (NPL), and while she enjoyed the experience she is happy to be back in Bath.
"I've slotted straight back in and it feels like I've never been away," said Pavelin, who plays goal-defence or wing-defence.
"It was a good experience at Mavericks and dropping down to U21 level meant I was able to take more of a leadership role in the team. The placement meant I didn't have chance to train as much, though, and it has definitely made me want to work really hard this year.
"I didn't appreciate just how much I had missed Bath until I came back. The opportunity to play in a high-performance environment was definitely something I missed and I'm excited to be back part of it.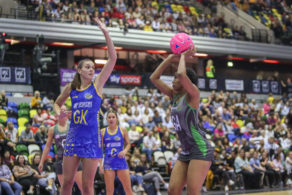 "There is a lot of talent in this squad and a really good mix of youth and experience. I'm hoping to learn a lot this year, develop my game within the team and push to get on court more."
It promises to be a big few months for Pavelin, who has just started her fourth and final year of study at the University of Bath where she is supported by a Santander Sports Scholarship.
"It's a bit strange being back in lectures after placement but I am at that phase where I am still enjoying it," she said. "It's going to be a busy year but because everything is based at the University, the support I receive from my coaches and lecturers is really good. There is that constant conversation to make sure I have the backing to do well in my studies and in my netball."
Team Bath Netball Superleague Head Coach Anna Stembridge said: "It's great to welcome Tash back to our squad after taking a year out to focus on her university placement. She is a natural ball winner and a very intelligent young defender, as well as someone who is level headed at pressure moments.
"She has already displayed moments of what she is capable of both in pre-season training and at Fast5, and I believe having had some time away from this level of competition will make her hungrier than ever before.
"I'm really looking forward to seeing her reconnect with old team-mates like Eboni Usoro-Brown and Imogen Allison, as well as build new partnerships with the likes of Fi Toner and Khanyisa Chawane."
Pavelin – the 14th confirmed member of the Blue & Gold Superleague squad – is looking forward to running out at the Team Bath Arena for the first time since her return when The BiG Showdown pre-season tournament takes place on December 7&8.
Providing the opposition are Mavericks, Severn Stars, Strathclyde Sirens, Surrey Storm and Knights, the UK's leading men's netball team.
"We played a couple of games against Knights before Fast5 and they gave us a really good competition – very physical and a very good test," said Pavelin. "I think they will be a very good addition to the tournament.
"It will be our first run-out as a full squad and it will be exciting to see where we are. Getting some good court-time under our belts will be really helpful and it will be nice to see what the team dynamic is."
Tickets for The BiG Showdown and Team Bath's 2020 Superleague home matches are on sale now – visit netball.teambath.com for full details.
Team Bath Netball is partnering with local charity Sporting Family Change in 2020 to help make a difference through sport. Centurion Chartered Financial Partners are Team Bath's people development partner and Rengen Developments also support the netball programme as part of their overall partnership with Team Bath.