Posted 1st Aug 2019
England star Eboni Usoro-Brown all set for tenth season in Blue & Gold after committing to Team Bath for 2020 Netball Superleague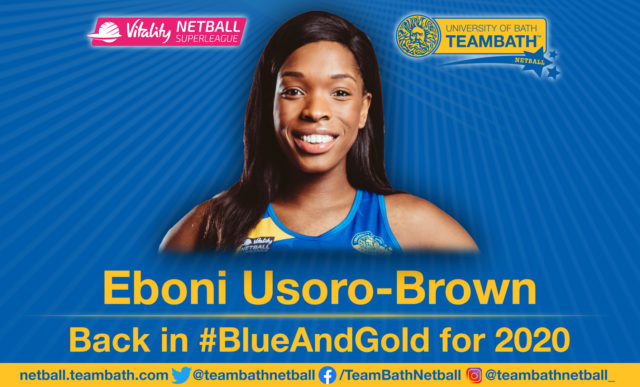 Fresh from winning bronze with England at the 2019 Netball World Cup, Eboni Usoro-Brown has become the first player to recommit to Team Bath Netball for the 2020 Vitality Superleague season.
The inspirational defender, who won her 100th cap for the Roses in Liverpool during the World Cup, has captained the Blue & Gold for the past four years and 2020 will mark her tenth Superleague campaign in total with Team Bath.
She made her debut aged 18 back in the 2006-07 season and won four Superleague titles with the Blue & Gold before spending four years playing professionally in Australia from 2011 to 2015.
"It is with great pride that I wear the Blue & Gold of Team Bath Netball and I can't wait to do so again for a tenth Superleague campaign in 2020," said Usoro-Brown.
"The Netball World Cup showed just how big the sport is becoming in the UK and I am sure that the 2020 Vitality Superleague season will be more exciting and competitive than ever.
"I am looking forward to getting out on court in front of our loyal Team Bath fans, whose support has been outstanding, and hopefully we'll see some new spectators who have caught the netball bug as well."
Team Bath Netball Superleague Head Coach Anna Stembridge, who has worked with Usoro-Brown for both club and country, added: "I am delighted that Eboni will be returning to the Blue & Gold this season.
"We have been fortunate enough to have been part of Eboni's netball journey for a number of years and she has achieved some remarkable accomplishments in this time – her 100th cap for England, a gold medal at the 2018 Commonwealth Games, bronze at this year's World Cup, four Superleague titles with Team Bath and becoming a fully-qualified lawyer.
"In essence, Eboni has led the way for others to see that excellence can be achieved both on and off the court, and it is a word that epitomises her. She demands it from not only herself but from those around her.
"Eboni inspires you to be the best version of yourself and that is something special. For that I am truly grateful to have her as part of the 2020 team."
Team Bath, who finished third overall during the 2019 Superleague season, will be back in training in September ahead of the British Fast5 Netball All-Stars Championships at London's Copper Box Arena on Saturday, October 12 (1-6pm).
The 2020 Vitality Superleague season will then get under way in February. Season-ticket holders will shortly receive renewal notifications in advance of general ticket sales, which will be coming soon. Further details will be available by clicking here.
Team Bath Netball is partnering with local charity Sporting Family Change in 2020 to help make a difference through sport. Centurion Chartered Financial Partners are Team Bath's people development partner.
Follow Eboni Usoro-Brown on Instagram – @eboniusorobrown.