Posted 15th Jul 2019
Blue & Gold duo help England make impressive progress through first group stage at 2019 Netball World Cup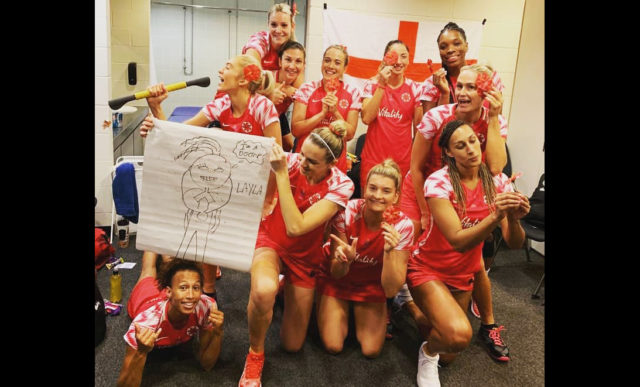 England Netball begin the second preliminary stage of the 2019 Netball World Cup on Monday having topped Group D with three wins from three.
Team Bath Netball's Eboni Usoro-Brown started every game and Serena Guthrie – captain of the Roses – led England out in the first and third matches as the hosts beat Uganda 64-32, Scotland 70-34 and Samoa 90-24 in Liverpool.
The standard ramps up now, though, as they head into Group G where they will face Jamaica (Monday 3pm) and South Africa (Thursday 8pm), ranked two and five in the world, either side of a tough test against Trinidad & Tobago (Wednesday 3pm) with only the top two in Group G advancing to the semi-finals.
England will also only have 11 players to call on for the rest of the tournament after former Blue & Gold star Layla Guscoth snapped her Achilles during the victory over Scotland. All at Team Bath wish Layla a speedy recovery.
There will be another Blue & Gold presence at the Netball World Cup on Monday as Netball Manager Emily Harrison and Netball Co-ordinator Louise Rose deliver a media workshop to youngsters as part of a Schools Experience event.