Posted 8th Jul 2019
"Massive moment" awaits Blue & Gold stars Serena Guthrie and Eboni Usoro-Brown as England hosts 2019 Netball World Cup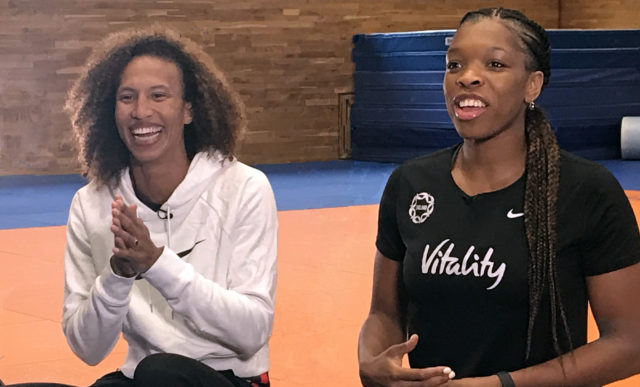 Team Bath Netball co-captains Serena Guthrie and Eboni Usoro-Brown hope that the 2019 Netball World Cup in Liverpool will create a lasting legacy for the sport in this country.
Guthrie will skipper the Vitality England Roses during the eagerly-awaited home tournament, which gets under way on Friday (July 12), while club colleague Usoro-Brown is set to win her 100th cap during the nine action-packed days of competition.
Both are taking part in their third World Cup, having helped England to bronze in Malaysia in 2011 and Australia in 2015, and played key roles in the Roses squad that made history by winning a first-ever Commonwealth Games title at Gold Coast 2018.
They are determined to build on that breakthrough success at the World Cup and believe that the tournament – which is being televised live on BBC and Sky Sports – marks a watershed moment for netball in Britain.
"It's a massive moment for the sport, regardless of what happens in the competition," said Guthrie. "We always get a bit of added attention around these bigger events, as you would expect, but we want people to be a part of netball after the World Cup too.
"If that happens, it will be a bigger achievement than winning a gold medal. It's a really exciting time for the sport and we want to make the most of it."
Usoro-Brown added: "England Netball reported that more than 130,000 girls and women took up netball after the Commonwealth Games final and we want to continue that momentum.
"The fact the tournament is at home and being shown on both the BBC and Sky makes it more accessible than ever and we just hope people get motivated and excited about netball."
England begin their World Cup campaign with Preliminaries Stage One Group D matches against Uganda on Friday (7pm), Scotland on Saturday (3pm) and Samoa on Sunday (11am).
Stage Two takes place from July 15-18, with the semi-finals on July 20 and the medal matches on July 21. All fixtures are taking place at the M&S Bank Arena in Liverpool.
Guthrie will have the honour of leading out the home nation after being named as England captain but says she still feels part of the gang.
"The fact that I get the label of captain is amazing but I'm just looking forward to being in the mix with the rest of the girls," said Guthrie, considered by many to be the world's best mid-court player.
"We are such a tight group and everyone leads within that group, which makes it such an amazing position to be captain as it is so easy and fun."
Also in the England squad are former Team Bath stars Geva Mentor, Layla Guscoth and Rachel Dunn, and Usoro-Brown says that playing alongside people she has forged close relationships with over the years adds to the World Cup experience.
"Not only have they been Team Bath athletes with me but they are also lifelong friends and I consider it to be such a privilege to play the sport that I love alongside such phenomenal women," she said.
"To be at home with our friends and family, as well as the netball family, is just going to spur us on even more."
Other former Team Bath players to look out for at the World Cup are Claire Maxwell (nee Brownie), who will captain Scotland and, like Usoro-Brown, is set to win her 100th cap; Zanele Vimbela, Karla Pretorius (nee Mostert) and Lenize Potgieter for South Africa; Vangelee Williams of Jamaica; and University of Bath Sports Performance graduate Shaunagh Craig, who will represent Northern Ireland.