Posted 22nd May 2019
"I'm excited to see where we can go from here" – Anna Stembridge recommits to Blue & Gold as Superleague Head Coach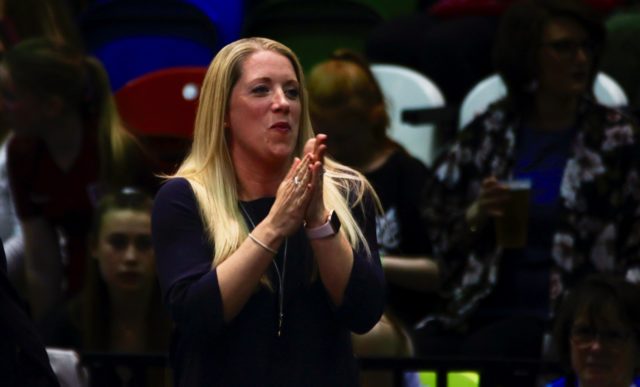 Anna Stembridge says she is excited to help start a new chapter in the Team Bath Netball history books after recommitting to the Blue & Gold in an enhanced Superleague Head Coach role.
One of the most respected names in the game, Stembridge has held the role since 2015 while working in conjunction with Netball Head Coach Jess Thirlby who is leaving this summer after 20 years with the University of Bath's Superleague franchise.
Stembridge will continue to oversee the coaching and development of the Superleague squad as the University's franchise looks to build on its third-placed finish this season.
"I am delighted to be staying with Team Bath and excited for the challenge ahead," she said.
"There was plenty to be proud of on and off court this season, and I am looking forward to building on the improvements we have made while also strengthening the core values of the Blue & Gold philosophy we have developed over the years.
"We are definitely moving in the right direction. The performances this season have been much more consistent, we have produced strong displays and results against the top opposition and the players have stepped up right across the court.
"The senior players have led by example and youngsters like Imogen Allison, Sophie Drakeford-Lewis and Abi Robson have all emerged as future leaders. The players have demanded a high standard from themselves and their team-mates, and they have delivered.
"I'm excited to see where we can go from here and planning is already well under way for next season. I can't wait to get going again.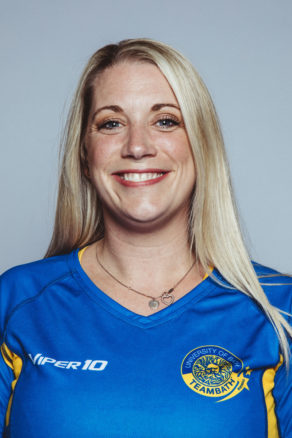 "Jess and I have worked so closely together over so many years and I will miss her, it is certainly going to feel strange at first without her, but I am excited by the challenge and looking forward to writing a new chapter for the Blue & Gold."
Stembridge also had a message for the Team Bath supporters, saying: "The fans have taken it to another level this year. They have turned out in force, they have been raucous and they have backed us through all the ups and downs. I can't wait to see that sea of Blue & Gold again next season."
The news that Stembridge is staying on has been warmly welcomed by members of the Team Bath Superleague squad,
Co-captain Serena Guthrie said: "It's incredibly good news that Anna will be remaining at Team Bath. I've known her for a long time and she's a really great coach and people person – in my opinion, those are exactly the right ingredients you need in a high-performance environment.
"She understands people and someone who has that flexibility and trust with her players, in order to let them be human as well, is incredibly important. Because of that, Anna has built an amazing trust between the players and herself, and the girls want to play for her."
Rachel Shaw, who combines playing with coaching the University of Bath's student netball team, added: "Anna is one of the best coaches I have ever worked with and it will be great to continue learning from her as both a player and coach.
"She has so much energy and enthusiasm, as you can see when she's leaping off the bench during matches. She wants you to thrive and be the best you can be on and off the court."
A Wales international as a player, Stembridge began her coaching career in 2005 with Celtic Dragons and the Welsh Netball Academy before moving to Team Bath in 2008.
She quickly forged a successful coaching partnership with Thirlby, the pair leading the Blue & Gold to Superleague success in 2009 and 2010, before becoming Head Coach of England in 2011 having previously worked with the U21s.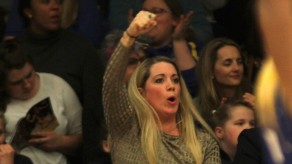 During her four years with the Roses, England won their first-ever competition gold medal with a historic FastNet success. They also recorded a 3-0 series whitewash of World Champions Australia and won in New Zealand for only the second time ever.
Stembridge – who has a degree in Sport & Exercise Science and a Masters in Sport Psychology – is a Senior Lecturer in Sports Coaching & Performance at Cardiff Metropolitan University. She is also currently undertaking a PhD in Sports Coaching.
She was also among the inaugural group of graduates from UK Sport's Elite Coaching Programme, a rigorous three-year course of personal and professional development with access to expertise, technology and experiences from both within and outside the sports industry.
The University of Bath are in the process of appointing a Netball Head Coach, who will lead on all aspects of the Blue & Gold performance pathway from the U15s through to the Superleague squad where they form an exciting partnership with Stembridge during training and on matchday.
The University of Bath has been home to a high-performance netball programme for the past 20 years and the Team Bath franchise represents the South West and West of England. It has a thriving community focus and attracts a large and engaged fan base, with more than 10,000 spectators attending matches at the University's Sports Training Village during both the 2019 Superleague season.
Team Bath Netball are sponsored by Sitec and supported by partners Mogers Drewett, Soldi and Netball South West. Centurion Chartered Financial Planners are supporting the team's performance analysis and people development capabilities, Viper 10 are their Sportswear Supplier and Skins provide the team with compression wear.