Posted 20th May 2019
"It has been a great season and the class of 2019 have certainly created memories – the future is bright for the Blue & Gold"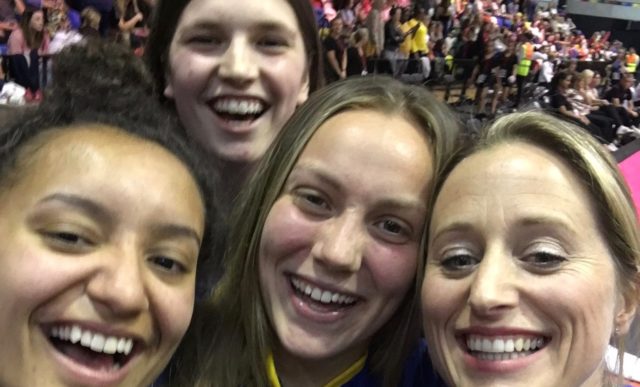 Following her final game with Team Bath Netball, Saturday's 62-56 victory over Loughborough Lightning that secured third place in the 2019 Vitality Superleague, Head Coach Jess Thirlby has been reflecting on a great match to finish on and an encouraging campaign overall…
"The team showed the passion, grit and will to win on Saturday that has become a welcome trademark of this squad throughout the 2019 season to earn a well-deserved bronze medal. While it may not have been the match we had hoped to be in at the start of the year it was 'our final' and it certainly matched up to the standard of a final.
"Both teams really wanted the win and you could tell that with a first half full of tension. It was a well contested game and despite Loughborough finding their shooter Mary Cholhok with ease at times I felt that Summer Artman really led from the back with some critical turnover in the early stages of the game.  It was worrying to lose Ebs so early in the first quarter after rolling her ankle but Leila Thomas entered the game in fine form and combined well with Summer.

"It was the second half where we really stepped up and closed the gap to just one going into the final quarter. We played with more freedom in attack, opening up space more effectively. Combine that with some critical turnover from Serena, Imo and our attacking unit of Sophie and Rach we were able to really build momentum, turning a five-goal deficit at half-time to a six-goal winning margin.
"That is really impressive 11-goal swing and the fourth quarter was a period that we can all be proud of as we witnessed the team really come together and collectively pull through.

"In true Team Bath style we will reflect and review the season, knowing that critical losses to Surrey Storm early on in the season and Mavericks on the Easter Weekend double header maybe altered our course slightly and prevented us to secure a home semi-final. However, we can and must be very proud of the way in which we have gone about our work this season.
"We have had so many close encounters and managed to find a way to win, which is a huge step forward for us and it came to fruition again in the play-off on Saturday. The margins between winning and losing this season have been smaller than ever and I feel we have risen to that challenge more often than not.
"Not only has the team shown improvement and progression with every game but it has been fantastic to see individuals recognised for their performances across the season. Both Imogen Allison and Sophie Drakeford-Lewis were nominated for the Vitality Superleague Young Player of the Year award, with Sophie taking the accolade. They were both very deserving of their nominations and have had their best seasons so far in the Blue & Gold. I have every confidence that they will, one day, represent the England Roses.
"Serena Guthrie was voted the league's best C in the All-Stars VII and Eboni Usoro-Brown was on the three-strong shortlist for the Vitality Player of the Year award. As co-captains they have inspired their team and are true leaders.

"We were more competitive at the semi-final stages than we have been in recent seasons and bettered both our league and overall final position from fourth to third. The future is very bright for this team and a final is more than achievable next season.
"Thank you to all our amazing fans, the team of staff behind the team and the University of Bath for their continued support. It has been a great season and the class of 2019 have certainly created memories."