Posted 21st Jan 2019
Blue & Gold stars past and present play their part as an outstanding Quad Series whets the appetite for 2019 Netball World Cup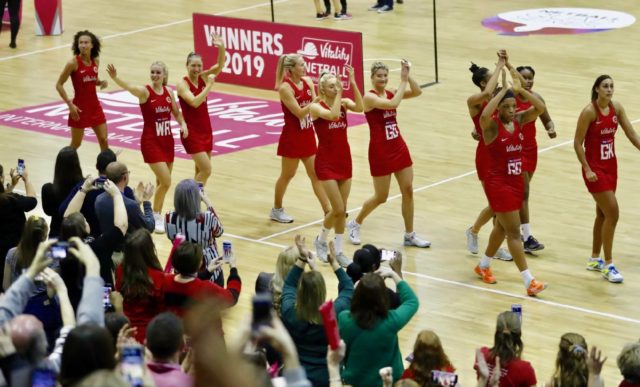 Team Bath Netball co-captains Serena Guthrie and Eboni Usoro-Brown helped England record victories over both Australia and New Zealand during the final round of international matches before this summer's Netball World Cup in Liverpool.
The Vitality International Series, part of the Quad Series which also featured South Africa, saw a host of Blue & Gold stars past and present contribute to a world-class tournament that truly whetted the appetite for a massive year of netball ahead.
Centre Guthrie wore the captain's armband and Usoro-Brown started at GD in every game for the Vitality Roses, who began the series with a 51-41 victory over New Zealand in Liverpool following a strong second half that saw them build on a narrow 26-25 advantage.
A South Africa team inspired by former Team Bath shooter Lenize Potgieter produced an excellent performance to edge out England 48-45 in the second match when the action moved to the Copper Box Arena in London.
However, the Roses responded brilliantly to the setback as, just 24 hours later, they beat Australia 52-49 – not quite enough to prevent the Diamonds winning the Quad Series title overall by just two goals but a result that ensured England took the silver medal.
The defensive quartet that started the game was Geva Mentor, Usoro-Brown, Layla Guscoth and Guthrie – all very familiar faces to Team Bath fans – while Rachel Dunn converted 24 of her 25 shots to take the player of the match award.
New Zealand finished third overall after edging out South Africa 62-60 in extra-time of a thrilling encounter.
The standard of the Quad Series suggests that the 2019 Netball World Cup – taking place from July 12-21 – will be unmissable. Click here for ticket information.
Guthrie and Usoro-Brown are back in Blue & Gold on Monday, January 28 when Team Bath Netball return to 2019 Vitality Superleague action with a home match against Surrey Storm. Tickets are on sale now – click here for more information.