Posted 11th Nov 2018
Blue & Gold up and running in pre-season with two tri-tournament victories in Loughborough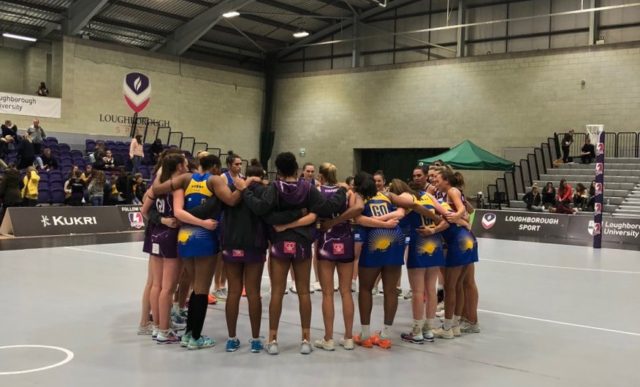 Team Bath Netball made an encouraging start to their pre-season fixtures as they recorded two well-earned wins in a tri-tournament hosted by Loughborough Lightning on Saturday.
All 14 players in the Sitec-sponsored Blue & Gold squad got valuable court time as they stepped up their preparations for the 2019 Vitality Superleague campaign, which begins in January – click here for ticket information.
Serena Guthrie, fresh from being named as England captain for the test series against Uganda, enjoyed her first run-out in Blue & Gold since 2014 and was joined on court by fellow summer signings Summer Artman, Leila Thomas and Beryl Friday, as well as up-and-coming NPL player Hannah Passmore.
After beating Strathclyde Sirens 39-33 in their opening match, Team Bath found themselves six goals adrift going into the final quarter of their second game against host club Lightning.
However, they showed great determination and quality to get back level before two goals in the final minute secured a 39-37 win and overall victory in the tournament.
Team Bath Netball Head Coach Jess Thirlby said: "We got everyone on across both matches and for a healthy amount of court time. As with most teams at this stage of pre-season, it is important to afford players positional exposure and combination time on court together but ensuring it is purposeful and I felt we did that.
"The results are not the sole driving force behind these fixtures but winning is also a habit and our focus at the moment is on how we perform and the way we want to play, which will enable us to win later in the season when it really matters.
"It was pleasing that despite so many changes we were able to come from behind in both matches and turn the score around. It's not the win that is important but the behaviours and actions that we see from ourselves when in those situations and the leadership that we expect from one another to be better."
Team Bath face two more pre-season challenges this Saturday (November 17) as they visit champions Wasps Netball for a tri-tournament also featuring new franchise London Pulse.
The Blue & Gold then have a tri-tournament of their own to look forward to on Saturday, December 15 as they play host to benecosMavericks and Surrey Storm. Doors open at 1pm and supporters will be able to enjoy three games in one action-packed afternoon at the Team Bath Arena.
Team Bath Netball are sponsored by Sitec and supported by partners Mogers Drewett, Soldi and Netball South West. Centurion Chartered Financial Planners are supporting the team's performance analysis and people development capabilities, Viper 10 are their Sportswear Supplier and Skins provide the team with compression wear.