Posted 16th Oct 2018
Rising England star Chartie Curtis graduates to Blue & Gold Superleague squad for 2019 season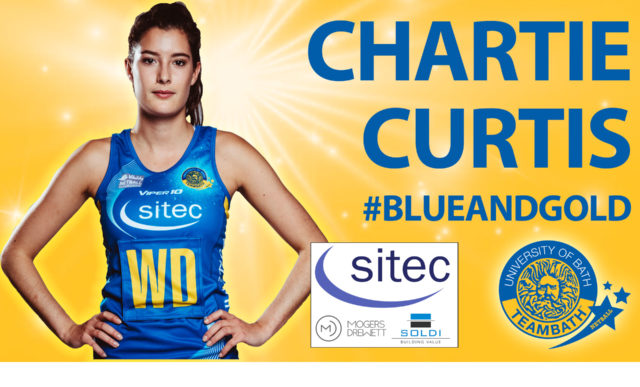 After captaining England U19 in Australia and being crowned as European Champion on her international U21 debut, rising star Chartie Curtis is set to make her Vitality Superleague bow in 2019 after being named in the Team Bath Netball squad.
The talented defender, who is studying Economics at the University of Bath, was a Superleague training partner with the Blue & Gold last season while also captaining Team Bath's U21 squad in NPL competition.
A natural leader on court, she skippered her country at U19 level during this summer's tour of Australia before making the step up to U21 level at Netball Europe in Northern Ireland last week, helping the Roses retain their title with three comprehensive victories against the other home nations.
Curtis made her first senior appearance for Team Bath in Saturday's British Fast5 All-Stars Championships at London's Copper Box Arena and is now turning her attention to the Superleague campaign, starting in January.
"To actually be part of the Superleague this season is special and really exciting," said the 19-year-old.
"I was a training partner last year and it was really good to have that experience of getting to know the squad after moving away from home to a new club and a new university. Everyone has been so lovely and welcoming.
"We have some really, really big netball names here at Team Bath and to be able to train, play and develop alongside such experienced and knowledgeable players as Eboni Beckford-Chambers is a real honour. Ebs was so approachable last season, I could go to her any time for advice, and it's nice to have people like that in the team.
"It's been a bit of a mad 12 months but I have absolutely loved it. Captaining an England team is something I have always wanted to do and it was an amazing tour to Australia, we went there with goals and achieved most of them. I felt really proud to be involved with that.
"Then to come away with gold on my England U21 debut was pretty special. I was playing alongside girls who have been playing Superleague for years and I learnt so much from that experience, both on and off the court."
Curtis is the third University of Bath student to be named in Team Bath's Superleague squad for 2019, joining Sport & Exercise Science student Imogen Allison and Integrated Mechanical & Electrical Engineering student Sophie Drakeford-Lewis.
All three are supported by sporting scholarships from the University – Santander for Curtis, King for Allison and Whiteley for Drakeford-Lewis, who was also part of the successful England U21 squad at Netball Europe.
"The scholarship has helped me massively," said Curtis. "There is so much travel, accommodation and kit to pay for in netball, and that financial support makes a huge difference. We also get physio, nutrition and lifestyle support which is really helpful when you are trying to balance so many things.
"I love it here in Bath, it's such a nice city and I'm really enjoying my course. It's great being part of a multi-sport environment too, I feel you can learn so much from watching the other sports. There are so many top-class sports people here at the University, all training really hard, and it makes you want to be better."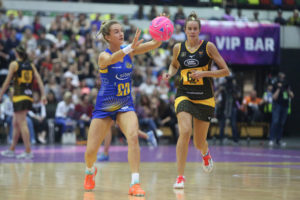 Jess Thirlby, Team Bath Netball Head Coach, said: "It's great to see Chartie graduate into the Superleague from our U21s in just under a year of her being with the Blue & Gold family.
"While she has accumulated a lot of experience at age group level, it's now time for her to thrive off the challenge and expectation that a senior Superleague environment brings and she has made a great start to that already this season in training.
"Chartie is a talented defender with a natural ability to read the game and win ball. She will thrive when working alongside players such as Eboni and Serena Guthrie and it's great to have her on board for the 2019 season."
Curtis also got to play alongside Stacey Francis on Saturday as the Blue & Gold legend returned to her former franchise for the day to compete in the British Fast5 All-Stars Championships at London's Copper Box Arena.
Team Bath beat Manchester Thunder 23-18 in their opening match but eventual champions Wasps then made good use of the double-points 'golden buzzer' phase to claim a 37-23 win in the next round.
The Blue & Gold had a second shot at a semi-final place thanks to the double-elimination system but were beaten 47-21 by eventual runners-up benecosMavericks.
All focus now turns to the 2019 Superleague season, which begins in January. Team Bath season and match-day tickets are already selling well and further details of how to purchase can be found here.
Team Bath Netball are sponsored by Sitec and supported by partners Mogers Drewett, Soldi and Netball South West. Centurion Chartered Financial Planners are supporting the team's performance analysis and people development capabilities, Viper 10 are their Sportswear Supplier and Skins provide the team with compression wear.