Posted 12th Sep 2018
Rising England star Sophie Drakeford-Lewis excited to be back in Blue & Gold for 2019 Vitality Superleague season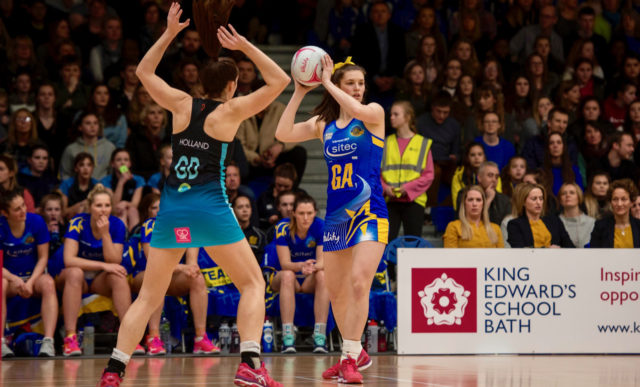 Sophie Drakeford-Lewis, one of the most exciting young attacking talents in the game, is looking forward to continuing her development with Team Bath Netball after signing on for a second successive Vitality Superleague season.
The 19-year-old enjoyed an excellent debut campaign with the Blue & Gold during 2018, establishing herself as a regular starter at goal-attack and impressing supporters and team-mates with her slick combination play, maturity and coolness under pressure.
A bronze-medalist with England at the 2017 Netball World Youth Cup, Drakeford-Lewis has once again been selected in the Roses U21 squad for the 2018-19 season and has just completed a six-week training block in preparation for next month's Netball Europe competition in Belfast.
She returns to the University of Bath tomorrow (Thursday) and cannot wait to get back into training with her Blue & Gold colleagues.
"I am really looking forward to my second season with Team Bath, it's going to be great to link up again with the returning players and welcome some exciting new faces to the squad," said Drakeford-Lewis.
"There is a really good mix of youth and experience in the squad and I have learnt so much during the 12 months I have been here. I was so pleased with how much court-time I got last season and my game has definitely improved because of that, I learnt a lot about court craft and combination play.
"I also got to work alongside some truly inspirational players and that has really helped me develop. I'm looking forward to pushing on again in the Blue & Gold in 2019."
Drakeford-Lewis will wear the famous colours in both the Superleague and for the student side in the British Universities & Colleges Sport [BUCS] competition.
She combines her netball with studying Integrated Mechanical & Electrical Engineering at the University of Bath, where she is supported by a Whiteley sports scholarship.
"My first year at uni was very full on but I expected it would be and I really enjoyed the challenge," she added. "It was really easy for me to work with the support staff at the University to ensure I made the most of both my sport and studies."
Jess Thirlby, Team Bath Netball Head Coach, said: "We are so pleased to welcome Sophie back to the Blue & Gold for the 2019 season.
"Given that last year was only her second season playing at Superleague level and her first with Team Bath, she made a huge difference and played with a maturity beyond her years.
"Sophie is a clinical and committed player who is accurate under the post, all the characteristics you need in a goal-attack. She plays with a fearlessness and a sense of calm which gives those around her a lot of confidence.
"She is a real student of the game and is shining not only on the Superleague stage but also with England Futures as she prepares to represent the U21s at Netball Europe in October."
Drakeford-Lewis is the fifth player confirmed in the Team Bath Superleague squad for 2019, joining Mia Ritchie, Rachel Shaw and Commonwealth Games champions Eboni Beckford-Chambers and Serena Guthrie.
Season and match-day tickets will go on sale when the fixture list is announced in early October. Sign up for our newsletter to stay up to date.
Team Bath Netball are sponsored by Sitec and supported by partners Mogers Drewett, Soldi and Netball South West. Centurion Chartered Financial Planners are supporting the team's performance analysis and people development capabilities, Viper 10 are their Sportswear Supplier and Skins provide the team with compression wear.