Posted 10th Sep 2018
Excellence and experience – Eboni Beckford-Chambers and Mia Ritchie back in Blue & Gold for 2019 Superleague season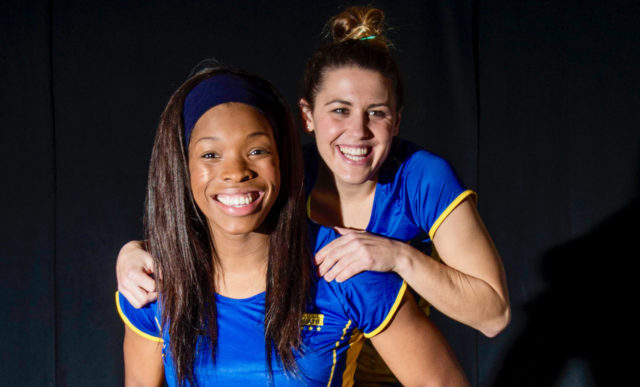 Eboni Beckford-Chambers and Mia Ritchie will be bringing their outstanding talent and experience back to the Blue & Gold for the 2019 Vitality Superleague season after becoming the latest players to recommit to Team Bath Netball.
The duo can boast 17 seasons of playing experience between them in the famous Blue & Gold.
Inspirational defender Beckford-Chambers, captain of Team Bath for the past three years, was part of the England Netball squad that won a historic Commonwealth Games gold in 2018.
"I'm excited to be staying with Team Bath Netball for the 2019 season ahead of what will be an exciting year for netball in the UK," said Beckford-Chambers, who combines her netball with being a Trainee Solicitor at West Country law firm and Team Bath education partners Mogers Drewett.
"I'm very much looking forward to stepping back out in front of our Blue & Gold fans and putting my best foot forward as we aim to secure a sixth championship."
Mid-court 'pocket rocket' Ritchie, a University of Bath graduate, is Team Bath's longest-serving player and will wear the Blue & Gold for a tenth successive Superleague season in 2019.
The Head of Girls' Games at Monkton Combe School, Ritchie – who is sponsored by Bath-based Genuine Car Services – said: "I am very much looking forward to being back in the Blue & Gold this season.
"For me, there was never any doubt that I would re-sign with the team for a tenth season and I am excited at the prospect of playing with some world-class athletes. Team Bath has been a huge part of my life and I hope I can repay the club by putting my best foot forward this season."
Beckford-Chambers and Ritchie will both continue to play strong leadership roles for Sitec-sponsored Team Bath in 2019 alongside the two other confirmed names in the Superleague squad, player-coach Rachel Shaw and returning England star Serena Guthrie.
Jess Thirlby, Team Bath Netball Head Coach, said: "Eboni and Mia are two of the longest serving players we have at Team Bath. Their loyalty is outstanding and can be a rarity in the competitive landscape we all now work in.
"They are well respected by their team-mates and are both favourites with the fans. We are so pleased that they believe the Blue & Gold remains the best place for them to develop and pursue another title with the team.
"What is so impressive is their desire to continue improving year on year. We have no doubt hey will continue to contribute to the team's successes both on and off the court and we look forward to working with them and the team in 2019."
More new and returning players will be confirmed in the Team Bath squad ahead of the 2019 Superleague fixture release date in early October.
Season and match-day tickets will also be going on sale next month. Sign up for our newsletter to stay up to date.
Team Bath Netball are sponsored by Sitec and supported by partners Mogers Drewett, Soldi and Netball South West. Centurion Chartered Financial Planners are supporting the team's performance analysis and people development capabilities, Viper 10 are their Sportswear Supplier and Skins provide the team with compression wear.