Posted 3rd Sep 2018
Talented Team Bath Netball Futures trio selected for 2018-19 England Roses Academy squads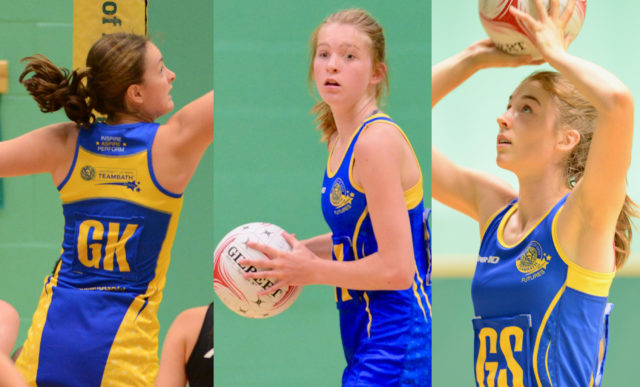 Three rising Team Bath Netball Futures stars have been selected for the 2018-19 England Roses Academy.
Rachael Fee, a member of the Blue & Gold's Exeter Hub who plays either GK or GD, has been named in the England U19 squad.
Called up for the U17 squad are attacking talents Rosie Bartlett and Molly Hole, who train at the Cornwall and Dorset Hubs respectively.
The trio earned their places after impressing selectors at last week's Academy Summer Camps, which they were invited to after eye-catching performances in the Blue & Gold at the recent NPL Tournament in Nottingham.
Lois Rideout, Academy Head Coach for Team Bath Netball Futures, said: "I am so proud of these girls, they have worked hard all season and their selection is testament to all of the hours of training and long car journeys they have committed to in order to improve.
"Big thanks to their Hub, Club and NPL coaches that have worked tirelessly with them week in, week out to help them be selected in to the Roses Academy. I can't wait for the 2018-19 season to begin and to support these girls in everything they wish to achieve with their netball."
Team Bath Netball Head Coach Jess Thirlby added: "We are very proud to have three athletes selected into the England Roses U17& U19 Academy. It signals to us that we are moving in the right direction within our Futures Academy programme and that is really positive as it is still very much in its infancy.
"I would like to take this opportunity to congratulate not only the athletes but Lois Rideout, who spearheads the Academy, and all of our Hub and Academy coaching and support staff at our host sites in the South West who have jumped on board so enthusiastically these last 12 months.
"Finally, to the clubs and schools who support these players, thank you as you too are integral to these success stories. We hope this will act as motivation and inspire us all to continue to work hard to ensure more success in the future."
The Team Bath Netball Futures Pathway, developing talented young netballers right across the South West region, is supported by Soldi, a construction and development company based in Radstock.