Posted 25th Jun 2018
Blue and Gold "ready to peak at right time" as they call for big travelling support for Wasps Superleague semi-final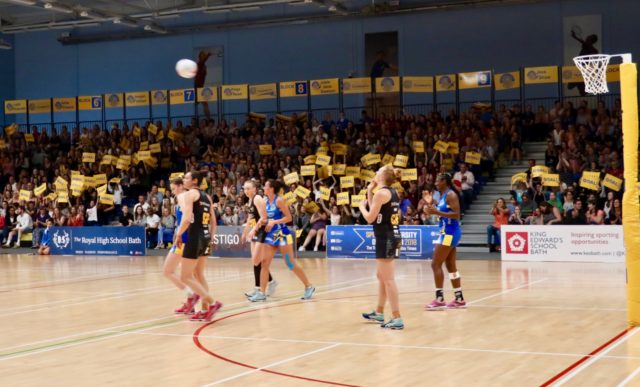 Anna Stembridge believes that Team Bath Netball are ready to achieve their full potential in the 2018 Vitality Superleague – and is backing her players to do just that when they face Wasps in the semi-finals on Saturday.
The Sitec-sponsored Blue and Gold completed their regular season by going toe to toe with fellow semi-finalists Manchester Thunder in an absorbing encounter, with nothing to separate the teams until the last five minutes when the home side managed to crank up the pressure and secure a 54-47 victory.
Team Bath's place in the top four was already confirmed, though, following benecosMavericks' 49-47 defeat at UWS Sirens on Thursday and Superleague Head Coach Stembridge said the performance against Thunder should give her players confidence as they enter the knockout stages.
And she is hoping that the Blue and Gold fans will turn out in force for Saturday's semi-final against table-topping Wasps (5.45pm centre-pass), which is being played at the University of Worcester Arena.
"The slate is wiped clean now and, as we have seen many times in the past, anything can happen in a semi-final," said Stembridge.
"We would have liked to go into the game on the back of a win at Thunder but we can certainly take huge positives from the way we performed for 55 minutes of that match against a team that has been in great form in recent weeks.
"We have to do it for 60 minutes but I am really excited because I know that our best performance is still to come and what better time would there be to do it than in the knockout stages?
"We have produced moments of brilliance against all of the top teams in the past couple of weeks and we are more than capable of beating them if we stick to our gameplan and play with confidence and belief.
"My belief in this squad has never wavered and if you want to be the best you have to beat the best. I know we have the ability to do that.
"The fact we are playing the semi-final at Worcester is an amazing opportunity – it is the next closest thing we could get to having a home semi-final as it isn't too far for our fans to travel. They have been incredible this season and it would be brilliant if they could get behind us again – we'd love to see and hear them there."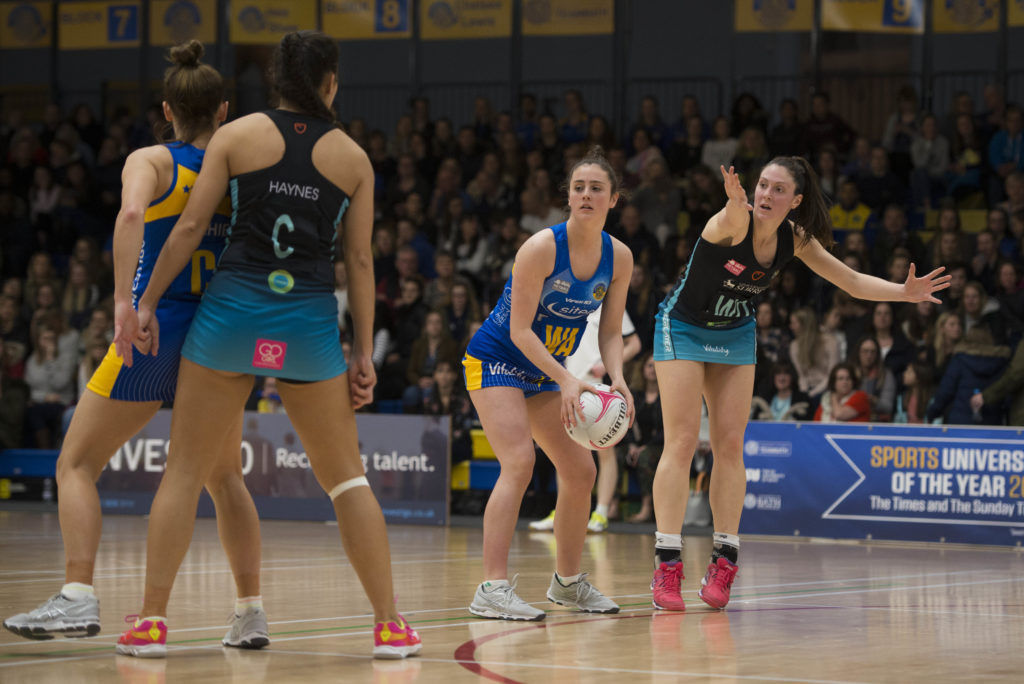 Team Bath have been given an additional boost in the build-up to the semi-final by the return of Jess Shaw, who had been sidelined by an ankle injury since early May.
She was straight back into the thick of the action against Thunder as Mia Ritchie suffered a heavy fall at the start of the second period and had to be withdrawn as a precaution.
"To come on at centre in such a physical, fast-paced match after five weeks out and have the impact that Jess had was absolutely fantastic," said Stembridge. "It was a real baptism of fire but she dealt with it brilliantly and it's great to have her back at this critical stage of the season."
A top-quality Superleague contest saw Team Bath go goal for goal with Thunder before the hosts edged into a 28-24 lead at half-time. They stretched their advantage to eight at one point but the Blue and Gold responded brilliantly and won the second half of the third quarter 10-3 to cut the gap to 38-37 going into the final period.
The visitors then drew level and had a chance to take the lead but the opportunity was missed and Thunder took full advantage.
"It was disappointing how the scoreline blew out like that but it was a brilliant game and great preparation for the Wasps match," said Stembridge.
Team Bath Netball are sponsored by Sitec and supported by partners Mogers Drewett, Investigo and Netball South West. Centurion Chartered Financial Planners are supporting the team's performance analysis capabilities, Viper 10 are their Sportswear Supplier and Skins provide the team with compression wear.