Posted 19th Jun 2018
All to play for as Vitality Superleague season enters final week with Blue and Gold pursuing semi-final place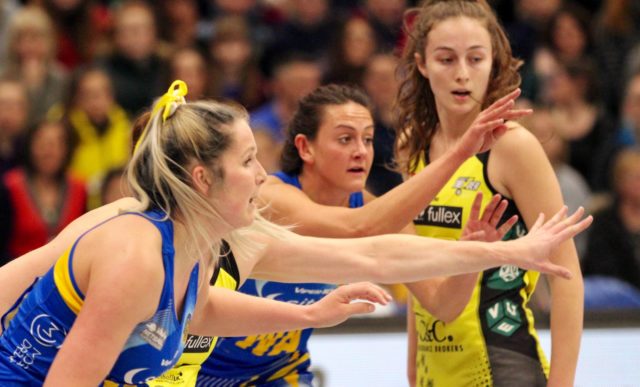 The battle for a 2018 Vitality Superleague semi-final place is going right down to the wire for Team Bath Netball as the season enters an exciting final week.
With all teams having just one match left to play, the Sitec-sponsored Blue and Gold currently occupy the fourth and final play-off position.
They are three points clear of benecosMavericks – the only other team that can now finish in the top four – and have a narrowly superior goal difference, +80 compared to their rivals' +69.
Mavericks play their final match of the season on Thursday (June 21), when they make the journey to Glasgow to face UWS Sirens (5.30pm).
Team Bath are in action on Saturday (5pm) as they travel to Manchester Thunder, who are guaranteed a semi-final place but will be looking to get the win they need to have any chance of pipping Loughborough Lightning to second place and a home semi-final.
Here's how the table stands going into the final round of fixtures…
| Team | Played | Won | Lost | Goals for | Goals against | Difference | Goal average | Points |
| --- | --- | --- | --- | --- | --- | --- | --- | --- |
| Wasps Netball | 18 | 16 | 2 | 1123 | 821 | +302 | 1.37 | 48 |
| Loughborough Lightning | 18 | 15 | 3 | 1054 | 852 | +202 | 1.24 | 45 |
| Manchester Thunder | 18 | 15 | 3 | 1056 | 887 | +169 | 1.19 | 45 |
| Team Bath Netball | 18 | 11 | 7 | 922 | 849 | +73 | 1.09 | 33 |
| benecosMavericks | 18 | 10 | 8 | 979 | 912 | +67 | 1.07 | 30 |
| Severn Stars | 18 | 8 | 10 | 904 | 883 | +21 | 1.02 | 24 |
| Surrey Storm | 18 | 5 | 13 | 904 | 1004 | -100 | 0.90 | 15 |
| UWS Sirens | 18 | 5 | 13 | 815 | 962 | -147 | 0.85 | 12 |
| Team Northumbria | 18 | 3 | 15 | 817 | 1022 | -205 | 0.80 | 9 |
| Celtic Dragons | 18 | 2 | 16 | 768 | 1150 | -382 | 0.67 | 6 |