Posted 15th Jun 2018
Team Bath go down to Wasps and now play the waiting game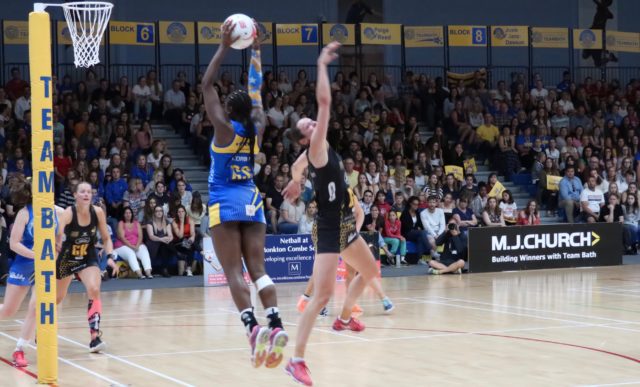 A professional performance from visitors Wasps saw them emerge from a feisty contest to take a 40-58 victory over Team Bath and consolidate their lead in netball's Vitality Superleague.
More than 1300 spectators at the Team Bath Arena had hoped to see the Blue and Gold, sponsored by Sitec, win in their final home game of the league season and bring a final-four place into reach.
Instead the fans await the outcome of the weekend's other matches. Team Bath lie currently fourth but are being chased down by Benecos Mavericks, three points behind but with two games in hand.
Throughout this evening's match the home side had chances to challenge but could not convert some spectacular turn-overs from captain Eboni Beckford Chambers, Layla Guscoth and Imogen Allison in defence.
Allison's performance at wing-defence was one of the game's highlights as she kept the pressure on the legendary former Team Bath player and now Wasps player-coach Tamsin Greenway. So, too was the flying strength and speed at wing-attack of eventual Wild About Flowers Player of the Match Rachel Shaw.
Wasps advantage overall came from some intense play around the circle feeding into the metronmic shooting of Rachel Dunn, former England goal-shooter.
Coach Anna Stembridge said: "In the second half we just couldn't get back in the mix. Each and very one of these matches is tough".
Shaw added: "I'm disappointed. We made lots of errors and you can't make errors against the top teams".
The first quarter saw the two sides evenly-matched and trading goal for goal with the score at 8-8 after 10 minutes. Each side made the odd mistake and Team Bath generated some eye-catching defensive turn-overs.  With four minutes to go, a mix up between Sophie Drakeford Lewis at goal-attack and Rachel Shaw at wing-attack for Bath signalled the start of a run for the visitors who eased ahead 9-13.
Helped by Dunn's consistent shooting and creative movement from GA Natalie Heythornthwaite, the visitors finished the first quarter at 11-17.
The second half proved a repeat pattern with Team Bath having chances in attack – , particularly for Chelsea Lewis at goal-shooter on as a replacement for Drakeford-Lewis.  Beckford Chambers, with Guscoth, put in a captain's shift in defence producing several turn-overs and trying to stem the tide into Dunn.
There was a bright period in the middle of the quarter as the Blue and Gold narrowed the gap to just three at 19-22 but Wasps pulled ahead and went into a lead of 21-30 at half-time.
Team Bath's 1340-strong home crowd did their utmost to raise the roof of the University of Bath's Sports Training Village in the third quarter roaring at some sizzling centre-court moves and interceptions but every time Team Bath looked to come back, Wasps countered, using all their experience.
The brightest period for the home side came when they pulled back to 27-32 marking a period of solid shooting from Lewis.
With 15 minutes to go Team Bath were trailing 31-42 and coach Anna Stembridge brought back Drakeford Lewis at GA and moved Kadeen Corbin, who had been brilliant but sometimes also baffling at times, to GS.  South African international Zan Vimbela came on at goal-keeper, Beckford Chambers moved to GD and Guscoth to WD.  Shaw was temporarily replactd by Jazz Scott, making her 2018 debut, at wing-attack because of injury.
The score still moved inexorably in Wasps' favour. With four minutes to go Team Bath were 47-52 adrift and despite a few dramatic twists, including the introduction of Paige Reed at goal-attack and the re-introduction of Lewis at goal-shooter, could not impact the lead to end the match 40—58.
Team Bath's final game of the season will be against Manchester Thunder away on 23rdJune.  Mavericks play Loughborough on Saturday (16 June), Wasps on Monday (18 June) and Surrey on 21 June.
For further information visit netball.teambath.com.
Team Bath Netball starting 7: GS Kadeen Corbin, GA Sophie Drakeford-Lewis, WA Rachel Shaw, C Mia Ritchie, WD Imogen Allison, GD Layla Guscoth, GK Eboni Beckford-Chambers. Replacements: Chelsea Lewis, Jazz Scott, Paige Reed, Abi Robson, Zanele Vimbela.
Changes:  Q1: Lewis – bench to GS, Corbin GS-GA Drakeford Lewis GA – Bench.
Co-Coaches:  Anna Stembridge and Jess Thirlby
Changes: Q2: Lewis to GS, Corbin to GA, Drakeford-Lewis GA – Bench.   Q4: Drakeford-Lewis bench – GA, Corbin to GS, Lewis GS-Bench, Allison WD – bench and later in the Quarter; Beckford Lewis GK-GD, Guscoth GD – WD, Reed –Bench to GA, Lewis bench – GS
Wasps Netball starting 7: GS  Rachel Dunn, GA Natalie Heythornthwaite , WA Tamsin Greenway , C  Sophia Candappa , WD Jade Clarke , GD Hannah Reid, GK. Sam May. Replacements: George Fisher, Lucy Harris, Josie Huckle, Fran Williams
Coach: Tamsin Greenway
Changes: Q3:  – Huckle to GK, Clarke to GD and May to WD.
Quarter-scores (Team Bath first): Q1 11-17. Q2 10-13 (21-30). Q3 31-42 (10-12). Q4 40-58 (9-16).
Attendance: 1340