Posted 21st May 2018
Fantastic first quarter sets up Blue and Gold for Superleague victory over battling Team Northumbria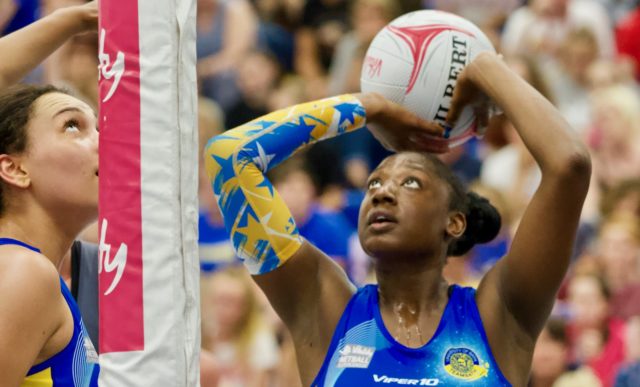 Team Bath Netball maintained their challenge for a Vitality Superleague top-four finish as they overcame a battling Team Northumbria side 54-42 in Monday's televised fixture at the University of Bath Sports Training Village.
After seeing all of their rivals for a semi-final place win at the weekend, the Sitec-sponsored Blue & Gold knew they needed to record another victory in front of their home fans and they did just that thanks mainly to an inspired opening quarter.
They dominated all areas of the court as they stormed into a 20-7 lead but a second-quarter slump in form allowed a resurgent Northumbria side to storm back into the contest and close the half-time deficit to just five goals.
Paige Reed came off the bench in the third quarter to help Team Bath regain their attacking sharpness and, inspired by another dynamic display from wing-defence Imogen Allison, the hosts were able to thwart Northumbria's comeback hopes.
The visitors kept on fighting throughout the match, though, and only lost the last quarter by one as Team Bath's winning margin was restricted to 12 goals but victory – a fourth in a row during May – was enough to move the Blue and Gold back into the top four in the table on goal difference.
Anna Stembridge, Team Bath Netball Superleague Head Coach, said: "We had a great first quarter but credit to Northumbria, we knew they would come out strong and respond to that which they did. I was really happy with the way we reacted at half-time, though, and we won three of the four quarters so that was positive.
"We need to make sure we take confidence from the good things but that we also right the wrongs. Things got a bit sticky at times and we weren't letting the ball go as freely as we would like but we just need to be patient, be confident and keep building."
Kadeen Corbin, the Wild About Flowers Player of the Match for Team Bath, added: "We're not pleased with our performance, the second quarter wasn't good enough from us, but we've got another game at Sirens on Saturday and we'll be looking to push on there."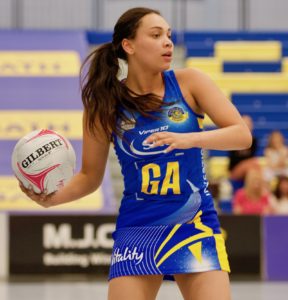 Team Bath had got off to strong starts in their recent home wins against Celtic Dragons and Severn Stars, and did so again as they dominated the first quarter to open up a commanding lead.
Corbin and Sophie Drakeford-Lewis continued the excellent shooting form they had shown against Surrey Storm last week as they sunk chance after chance to put the Blue and Gold 20-7 up after the opening 15 minutes.
The only worry during that period came when captain Eboni Beckford-Chambers went off with a knock and she was able to return to action only for a few minutes during a second quarter that saw Team Northumbria surge back into the contest.
With changes across the court, including a new-look attack in Lisa Bowman and Chiara Semple, the visitors knocked Team Bath out of their stride and forced a host of turnovers and rebounds that they then capitalised on superbly.
Team Bath also lost their way in attack and, despite the introduction of Chelsea Lewis, could only manage six goals as Team Northumbria closed the half-time deficit to 26-21.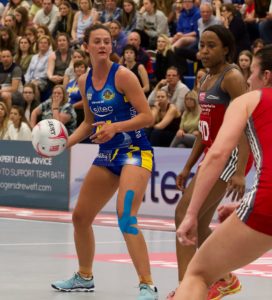 The Blue and Gold needed to liven things up and made another attacking change for the third quarter as Corbin moved back to shooter and Reed came on at goal-attack, while Zanele Vimbela also returned to goal-keeper.
However, play remained scrappy as Team Bath struggled to rediscover their rhythm against a Northumbria side that had visibly grown in confidence after the second quarter.
It took a flying interception midway through the quarter from Allison to get the crowd and home team fired up and a quick burst of four unanswered goals helped to settle the nerves.
With Team Bath back on the front foot, the tireless Rachel Shaw and Mia Ritchie were able to provide a steady supply of chances for Reed and Corbin to convert impressively as the hosts pulled clear once again.
They led 40-29 going into the final quarter and the result wasn't in doubt from there, although Northumbria kept on battling to restrict Team Bath to a 12-goal winning margin in a match sponsored by Prior Park College.
Team Bath make the long journey to Glasgow this Saturday to face UWS Sirens (2pm) before embarking on a run of four home games in June that will define their season.
They face three of their top-four rivals on successive Fridays – benecosMavericks on June 1, Loughborough Lightning on June 8 and Wasps on June 15 – and also have a rearranged home fixture against UWS Sirens on Monday, June 4.
Team Bath Netball are sponsored by Sitec and supported by partners Mogers Drewett, Investigo and Netball South West. Centurion Chartered Financial Planners are supporting the team's performance analysis and people development capabilities, Viper 10 are their Sportswear Supplier and Skins provide the team with compression wear.
Match stats
Team Bath Netball starting 7: GS Kadeen Corbin, GA Sophie Drakeford-Lewis, WA Rachel Shaw, C Mia Ritchie, WD Imogen Allison, GD Layla Guscoth, GK Eboni Beckford-Chambers. Replacements: Chelsea Lewis, Tash Pavelin, Paige Reed, Abi Robson, Zanele Vimbela.
Changes: Q1: Beckford-Chambers – GK to bench; Vimbela – bench to GK. Q2: Beckford-Chambers – bench to GK; Vimbela – GK to bench; Lewis – bench to GS; Corbin – GS to GA; Drakeford-Lewis – GA to bench. Q3: Reed – bench to GA; Corbin – GA to GS; Lewis – GS to bench; Vimbela – bench to GK; Beckford-Chambers – GK to bench.
Team Northumbria starting 7: GS Sophie Hankin, GA Tamsin Moala, WA Ashleigh Neal, C Paige Kindred, WD Emily Hollingworth, GD Toni Anderson, GK Lorren Ngwira. Replacements: Lisa Bowman, Francine Hall, Hayley Mulheron, Chiara Semple, Iman Thomas.
Changes: Q2: Hall – bench to C; Kindred – C to bench; Mulheron – bench to GD; Anderson – GD to bench; Moala – GA to bench; Bowman – bench to GS; Hankin – GS to GA; Hankin – GA to bench; Semple – bench to GA. Q3: Moala – bench to GS; Bowman – GS to bench. Q4: Kindred – bench to GD; Anderson – GD to bench.
Quarter-scores: Q1 20-7. Q2 26-21 (6-14). Q3 40-29 (14-8). Q4 54-42 (14-13).
Attendance: 700.