Posted 7th May 2018
Blue and Gold turn up the heat on baking Bank Holiday Monday to see off Severn Stars in Superleague derby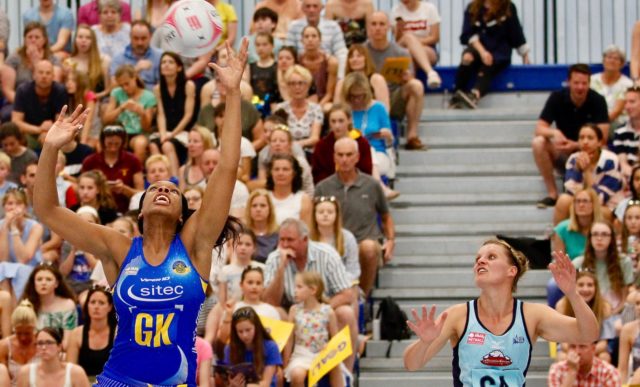 Team Bath Netball produced what Player of the Match Layla Guscoth described as a "championship quarter" to set up an ultimately convincing 51-35 victory over Severn Stars in Bank Holiday Monday's Vitality Superleague West Country derby.
A strong opening 15 minutes saw the Sitec-sponsored Blue and Gold take a five-goal lead but the second quarter was much more tightly contested as Stars fought back to close the gap to three.
However, on what was the hottest May Day Bank Holiday Monday on record, Team Bath turned up the heat in a dominant third quarter as they stretched their advantage to 40-29 to effectively settle the game as a contest.
They went on to wrap up their second home win in three days, following on from Friday's 66-39 victory over Celtic Dragons – the perfect response to away defeats against Wasps and benecosMavericks.
"I'm really happy that we got the win today and on Friday," said Guscoth, who again excelled in defence alongside Eboni Beckford-Chambers. "Thanks to everyone who came down to support us, you guys cheering for us really helps.
"The first half was really tight and we were aware that our third quarter on Friday against Dragons hadn't been great, so everyone dug really deep to execute what we have been doing in training and pull out a championship quarter.
"We've been trying to find our feet after the players were away for the Commonwealth Games but today felt really good and really connected again."
Team Bath Netball Superleague Head Coach Anna Stembridge added: "It's great to get another win under our belts. Credit to Stars, they put us under pressure in the second period, but I'm really proud of how the girls responded at half-time and they came out hard in both attack and defence in that third quarter.
"We're still building, both individually and collectively, and while we have done some great stuff tonight and on Friday, there is still things we can tweak going forward."
As in Friday's home win over Celtic Dragons, the Blue and Gold came out strongly and raced into a 5-2 lead with both Kadeen Corbin and Sophie Drakeford-Lewis shooting with confidence.
It was a feisty, physical affair, with both defences in fine form, but Team Bath were able to stretch their advantage to 14-9 by the end of the quarter.
The gap remained at five for much of the second quarter as both sides forced multiple turnovers. However, Stars were able to gain the upper hand in the closing stages and fine shooting from Eleanor Cardwell allowed them to close the gap to 25-22.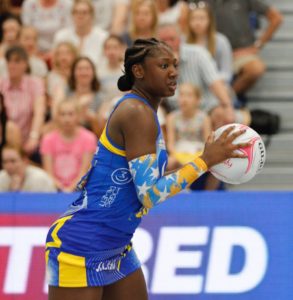 Chelsea Lewis had come on at goal-shooter just before half-time and scored six unanswered goals at the start of the third period as Team Bath reimposed themselves on the game, inspired by some outstanding defending from Guscoth, Beckford-Chambers and Imogen Allison.
Stars made some defensive changes in a bid to stem the flow but the Blue and Gold kept up the pressure to give themselves an 11-goal cushion going into the final period.
They maintained their dominance in the closing 15 minutes but the win was marred by a slip for Jess Shaw, who immediately looked in pain as she held her ankle and was carried off court by captain Beckford-Chambers.
Stembridge is hopeful the injury is not too serious, though, saying: "Jess is pretty buoyant, she is always smiling. She put in such a good shift in both attack and defence. We'll assess her injury but I'm sure she will be fine."
Today's match was preceded by an on-court celebration of the University of Bath-based sportspeople who, along with Team Bath's Beckford-Chambers and Corbin, won medals at the Gold Coast 2018 Commonwealth Games.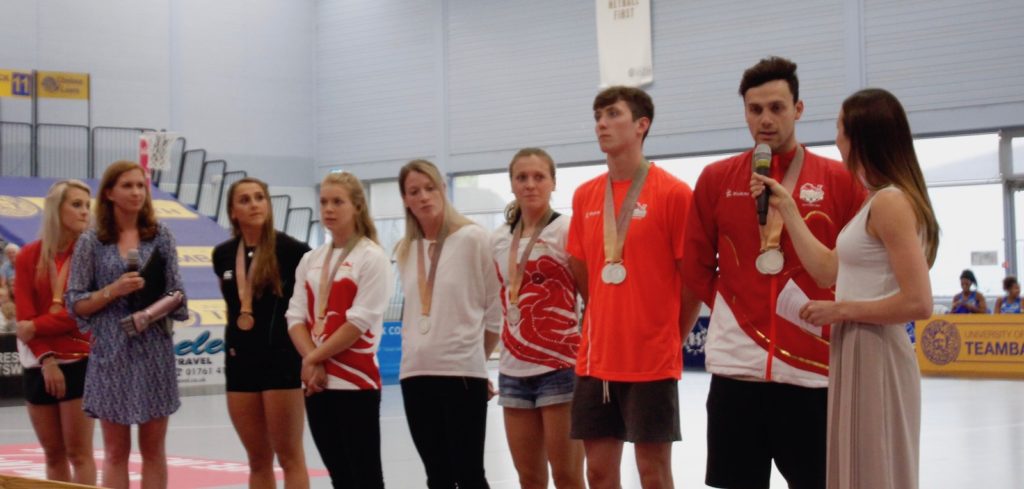 Athlete Eilidh Doyle and triathlete Vicky Holland, who both won silver in Australia, were joined on court by British Swimming National Centre stars Siobhan-Marie O'Connor, James Guy, Cameron Kurle and Chloe Tutton plus University of Bath student-swimmer Anna Hopkin – they won 11 medals between them, including five for Guy and 200m individual medley gold for O'Connor.
They were interviewed by on-court presenters Kate Grey and Samantha Murray, the Olympic modern pentathlon silver-medallist.
Team Bath travel to Surrey Storm on Saturday (6pm centre-pass) before returning to their home arena on Monday, May 21 for a televised match against Team Northumbria (7pm centre-pass).
Tickets for that match and Team Bath's four other remaining home games are on sale now – click here to purchase.
Team Bath Netball are sponsored by Sitec and supported by partners Mogers Drewett, Investigo and Netball South West. Centurion Chartered Financial Planners are supporting the team's performance analysis and people development capabilities, Viper 10 are their Sportswear Supplier and Skins provide the team with compression wear.
Match stats
Team Bath Netball starting 7: GS Kadeen Corbin, GA Sophie Drakeford-Lewis, WA Rachel Shaw, C Mia Ritchie, WD Imogen Allison, GD Layla Guscoth, GK Eboni Beckford-Chambers. Replacements: Chelsea Lewis, Tash Pavelin, Paige Reed, Jess Shaw, Zanele Vimbela.
Changes: Q2: J Shaw – bench to C; Ritchie – C to bench; Lewis – bench to GS; Corbin – GS to GA; Drakeford-Lewis – GA to bench. Q4: J Shaw – C to bench; Ritchie – bench to C; Drakeford-Lewis – bench to WA; Reed – bench to GS; Lewis – GS to bench; R Shaw – WA to bench.
Severn Stars starting 7: GS Eleanor Cardwell, GA Maryka Holtzhausen, WA Iona Darroch, C Laura Malcolm, WD Dominique Ford-Gordon, GD Samantha Cook, GK Phumza Maweni. Replacements: Rosie Allison, Sophie Carter, Rebecca Oatley, Ella Powell-Davies, Laura Rudland.
Changes: Q1: Ford-Gordon – WD to bench; Oatley – bench to WD. Q2: Rudland – bench to WA; Darroch – WA to C; Malcolm – C to bench. Q3: Powell-Davies – bench to GD; Cook – GD to bench; Cook – bench to GK; Maweni – GK to GD; Powell-Davies – GD to bench. Q4: Malcolm – bench to C; Darroch – C to bench; Powell-Davies – bench to WD; Oatley – WD to bench; Carter – bench to C; Malcolm – C to bench; Aliison – bench to GS; Cardwell – GS to bench.
Quarter-scores: Q1 14-9. Q2 25-22 (11-13). Q3 40-29 (15-7). Q4 51-35 (11-6).
Attendance: 1,000.