Posted 19th Mar 2018
Blue and Gold composure and resilience brings away win at Loughborough Lightning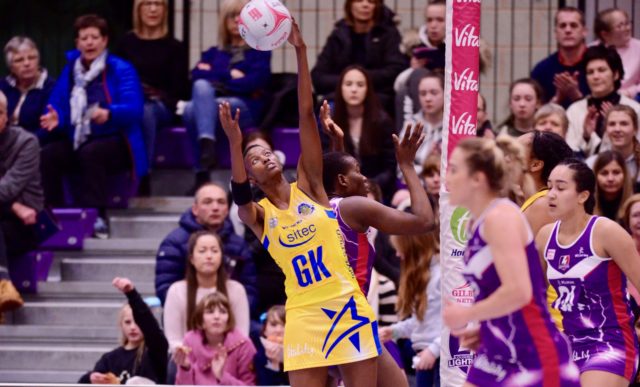 Rachel Shaw summed up the mood in the Team Bath camp after their 54-59 away victory at Loughborough Lightning over the weekend when she said: "It was great to get back out there and get the win under our belts. I was proud with the way the team tackled the game against some tough opposition."
Team Bath, without England players Eboni Beckford Chambers and Kadeen Corbin, took a one-goal lead in the first quarter and were ahead 31-29 at half-time. There were moments in the game when the Blue and Gold squad, sponsored by Sitec, surged ahead only for Loughborough to battle back in a thrilling contest.
A strong third quarter, which Team Bath finished with a six-goal lead, ultimately seemed to make the difference.
Coach Jess Thirlby said: "It was a really good team performance showing composure at key times as well as resilience."
New signing Zan Vimbela (pictured) enjoyed her first start for Team Bath in a line-up that was left unchanged throughout the 60 minutes.
"Zan made a real impression against one of the strongest shooters in the league, Peace Proscovia," said Thirlby.
Vimbela and Chelsea Lewis both now depart for the Commonwealth Games to play for South Africa and Wales respectively.
Team Bath sit third in the table with five wins and one loss but with a game in hand over second-placed Mavericks, who defeated fourth-placed Thunder by just three goals at the weekend. Wasps currently top the table with eight wins from eight and they will be Team Bath's first opponents after the Commonwealth Games break in an away fixture on April 22nd. Team Bath's next home game is May 4th against Celtic Dragons and tickets are on sale for this match and the rest of the season at https://netball.teambath.com/buy-superleague-tickets/
Team Bath Netball are sponsored by Sitec and supported by partners Mogers Drewett, Investigo and Netball South West. Centurion Chartered Financial Planners are supporting the team's performance analysis capabilities, Viper 10 are their Sportswear Supplier and Skins provide the team with compression wear.
It was a good week for the Blue and Gold as the University first team, coached by Asha Francis, also won to qualify for the BUCs final where they take on the University of Hertfordshire on Wednesday.
Team Bath Starting Seven:
GS Chelsea Lewis; GA Sophie Drakeford Lewis; WA Rachel Shaw; C Jess Shaw; WD Imogen Allison; GD Layla Guscoth; GK Zanele Vimbela.
Thank you to David Blackman for the picture of Zanele Vimbela tussling with Peace Proscovia during Saturday's win.