Posted 9th Mar 2018
Impressive Manchester Thunder side end Blue and Gold's winning start to Superleague season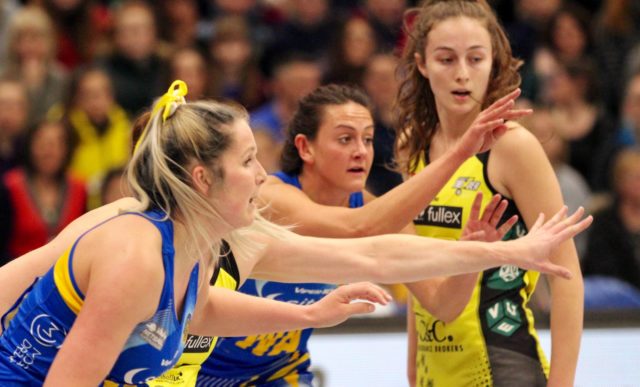 Team Bath Netball's winning start to the 2018 Vitality Superleague season was ended by a clinical Manchester Thunder side on Friday.
The Sitec-sponsored Blue and Gold edged the first and final quarters in front of a noisy sell-out crowd but Thunder, inspired by excellent goal-attack Kathryn Turner, were fast and fluent going forward and deserved their victory, eventually coming out on top 60-51.
Anna Stembridge, Team Bath Netball Superleague Head Coach, said: "We're obviously disappointed in terms of the final scoreline but we're really proud of the way the girls started and ended the game.
"Credit to Thunder, they came out really hard after half-time and it was just too much of a margin for us to get back in that last quarter."
Rachel Shaw, the Wild About Flowers Player of the Match for Team Bath, added: "It was a tough battle out there and each quarter got tougher. A few errors crept in and that enabled Thunder to take advantage."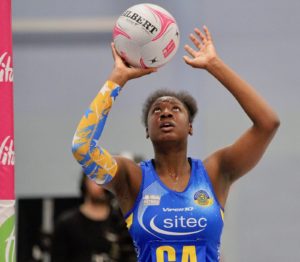 A sell-out crowd, which included Manchester United legend and keen Thunder fan Paul Scholes, were treated to a feisty first quarter that saw big momentum shifts as both sides applied huge pressure right across the court.
Team Bath had the early advantage, then found themselves 9-6 down as Thunder responded before a terrific run of seven goals in a row from Chelsea Lewis put the hosts back in control.
However, Thunder goal-attack Turner scored three times in the last minute to cut Team Bath's lead to 14-13 and then had an inspired second period as the visitors once again turned the game on its head.
Turner and shooter Joyce Mvula were both in fantastic, flowing form as Thunder edged into the lead. Lewis continued to find the net with regularity as Team Bath hung in, roared on by their supporters, but the visitors were able to stretch their advantage to 30-27 at half-time.
Team Bath rang the changes in the third quarter but they could not prevent a run of seven unanswered goals that gave Thunder a firm grip on the game.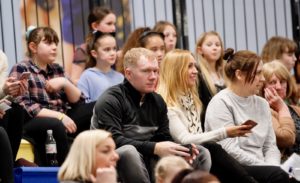 South African international Zan Vimbela was among those who came on for Team Bath, making her debut at goal-keeper just days arriving in the UK. She soon settled in and had the crowd on their feet with a couple of intercepts.
"I thought Zan brought something else to the court today with her flies and her quick movement around the court," Shaw said.
However, a run of seven unanswered goals midway through the quarter saw Thunder take a firm grip on the game and their lead had been increased to 47-36 going into the final period.
Team Bath trailed 47-36 going into the last 15 minutes but refused to go down without a fight and provided their fans with plenty to cheer as they took the final quarter 15-13 in a match sponsored by King Edward's School in Bath.
The Blue and Gold have one more game before the mid-season break for the Gold Coast 2018 Commonwealth Games, away to Loughborough Lightning on Saturday, March 17 (6pm).
Their next home match is against Celtic Dragons on Friday, May 4 (7.30pm), followed by the visit of Severn Stars to the Team Bath Arena on Monday, May 7 (5pm). Ticket for those matches, and all home fixtures in the second half of the season, are now on sale at netball.teambath.com/fixtures.
Team Bath Netball are sponsored by Sitec and supported by partners Mogers Drewett, Investigo and Netball South West. Centurion Chartered Financial Planners are supporting the team's performance analysis capabilities, Viper 10 are their Sportswear Supplier and Skins provide the team with compression wear.
Match stats
Team Bath Netball starting 7: GS Chelsea Lewis, GA Kadeen Corbin, WA Rachel Shaw, C Mia Ritchie, WD Imogen Allison, GD Layla Guscoth, GK Eboni Beckford-Chambers. Replacements: Sophie Drakeford-Lewis, Tash Pavelin, Paige Reed, Jess Shaw, Zanele Vimbela.
Changes: Q3: Drakeford-Lewis – bench to GA; Corbin – GA to bench; Corbin – bench to GS; Lewis – GS to bench; Ritchie – bench to C; Jess Shaw – C to bench; Vimbela – bench to GK; Beckford-Chambers – GK to GD; Guscoth – GD to WD; Allison – WD to bench.
Manchester Thunder starting 7: GS Joyce Mvula, GA Kathryn Turner, WA Liana Leota, C Caroline O'Hanlon, WD Amy Carter, GD Emma Dovey, GK Kerry Almond. Replacements: Dani Bloomfield, Amy Clinton, Beccy Hoult, Sophie Morgan, Bea Skingsley.
Changes: None.
Quarter-scores: Q1 14-13. Q2 27-30 (13-17). Q3 36-47 (9-17). Q4 51-60 (15-13).
Attendance: 1,200.