Posted 11th Feb 2018
Double delight in Newcastle as Blue and Gold start Superleague season with encouraging result against Northumbria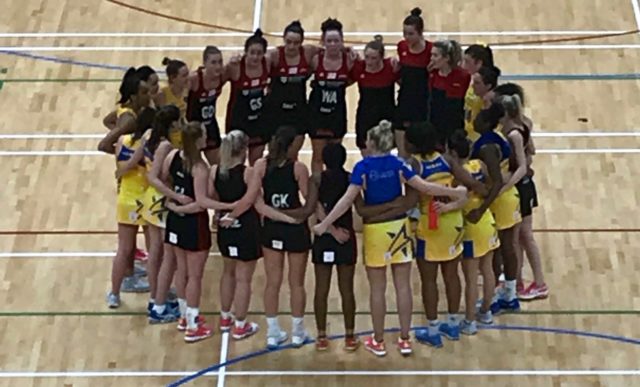 A well-earned 52-39 victory at Team Northumbria and the opportunity to give all 12 squad members some game time made for an encouraging start to the 2018 Vitality Netball Superleague season for Team Bath Netball.
The Blue and Gold, sponsored by Sitec, won three quarters and were edged out by just one goal in the other as they came through an intense opening match at Newcastle's Sport Central on Saturday evening.
Northumbria settled quickest and opened up a 7-4 lead but the visitors managed to wrestle control of the game and went 14-9 ahead at the interval before stretching their advantage to 18-10 early in the second period.
The home side responded well to close the gap to 27-23 at half-time but Team Bath, with Sophie Drakeford-Lewis on at goal-attack to make her Blue and Gold Superleague debut, quickly reasserted their authority in the third period.
The attacking changes had an immediate impact and the Northumbria defence found the change of style and ball speed too much to handle. That, allied with tremendous pressure at the other end of the court, saw Team Bath extend their lead to 43-31 at the end of the third quarter.
They continued to pull away in the final period before, with 50 points on the board, coaches Anna Stembridge and Jess Thirlby were able to take the opportunity to introduce more players from the bench including Tash Pavelin for her first Superleague appearance.
The Superleague success completed a win double for Team Bath in Newcastle, with the U19s also victorious in a NPL thriller against Northumbria. They were trailing by nine points at one stage but produced an outstanding comeback to force extra-time before going on to win 47-45 – their third success from as many games this season.
Next up for Team Bath in the Superleague is a trip across the Severn Bridge to face Celtic Dragons at the Sport Wales National Centre on Monday, February 19 (7pm centre-pass).
They then have three home games on successive Fridays at the Team Bath Arena – against Surrey Storm on February 23, UWS Sirens on March 2 and Manchester Thunder on March 9. Tickets are selling fast for all three matches – click here to purchase or for more information.
Team Bath Netball are sponsored by Sitec and supported by partners Mogers Drewett, Investigo and Netball South West. Centurion Chartered Financial Planners are supporting the team's performance analysis capabilities, Viper 10 are their Sportswear Supplier and Skins provide the team with compression wear.
Match stats
Team Northumbria: GS Tamsin Moala, GA Chiara Semple, WA Ashleigh Neal, C Francine Hall, WD Paige Kindred, GD Toni Anderson, GK Hayley Mulherson. Replacements: Sophie Hankin, Emily Hollingworth, Iman Thomas.
Goals: Moala 23/29, Neal 10/10, Semple 6/7
Team Bath: GS Chelsea Lewis, GA Kadeen Corbin, WA Rachel Shaw, C Mia Ritchie, WD Imogen Allison, GD Layla Guscoth, GK Eboni Beckford-Chambers. Replacements: Sophie Drakeford-Lewis, Asha Francis, Tash Pavelin, Paige Reed, Jess Shaw.
Goals: Lewis 21/25, Corbin 19/25, Drakeford-Lewis 10/11, Reed 2/2.