Posted 6th Jan 2018
Sell-out crowd and TV audience watch Team Bath Netball win hugely-entertaining home tri-tournament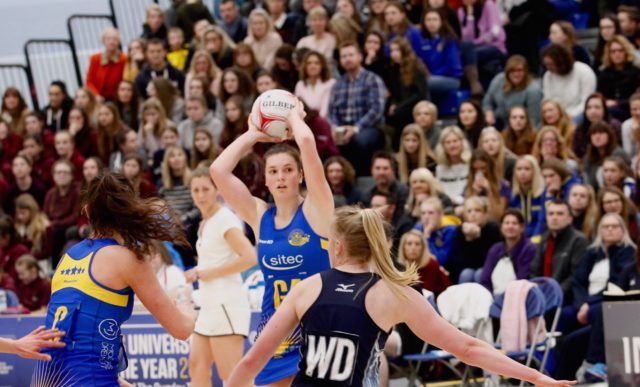 Team Bath Netball got their 2018 off to a cracking start as they came out on top in a hugely-entertaining tri-tournament against Severn Stars and Wasps Netball, broadcast live on BBC Sport.
The Sitec-sponsored Blue and Gold came from behind to beat Stars 35-27 and then overcame 2017 Superleague champions Wasps 29-25 in the final match of a fantastic afternoon of netball at the University of Bath Sports Training Village.
Wasps were also 39-32 victors over Stars in the second of three matches enjoyed by a vocal 800-strong crowd in the Team Bath Arena and a global audience via BBC Sport, who streamed all the games live.
Team Bath Netball Head Coach Jess Thirlby said: "On and off the court it has been a fantastic success. For people both here in the Arena and at home to be able to watch that standard of netball was great. I hope anyone watching who was new to the sport is now hooked!
"To welcome two teams of the calibre of Stars and Wasps was brilliant for our pre-season preparations. We were pushed all the way in both matches and it was really pleasing that all three games were highly contested.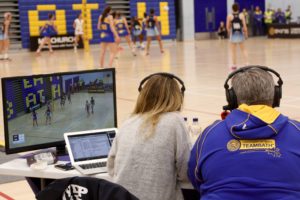 "We've done pretty well in our pre-season outings so far and feel like we are building some momentum towards the season. I hope that the fans will jump on board with that – we really value our supporters and we hope they will keep turning out in big numbers for the Superleague games."
England attacker Kadeen Corbin, who made her first appearance at the Team Bath Arena since returning to the Blue and Gold in the summer, added: "I love being back at Team Bath, the welcome here is always great and it was nice to get the two wins.
"They were good games, close games, and we came out with the wins so we can progress from here. Credit to BBC Sport for giving us such amazing coverage today."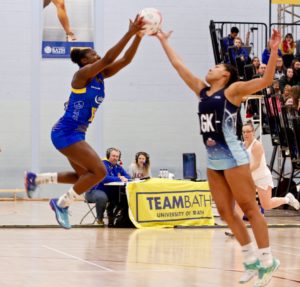 The tournament got off to an entertaining start as Team Bath overturned a half-time deficit to beat West County rivals Severn Stars in the opening match.
The hosts raced out of the blocks and were 5-0 up in no time as Corbin quickly found her range but Stars worked their way back into the game and smart shooting from Rosie Allison – one of a number of former Team Bath players in the squad – helped to reduce the gap to 7-4 at the end of quarter one.
Stars pushed on in the second quarter and led 14-13 at half-time but Team Bath changed their six of their line-up for the third period and regained the initiative, with Chelsea Lewis and Sophie Drakeford-Lewis forging a good attacking partnership.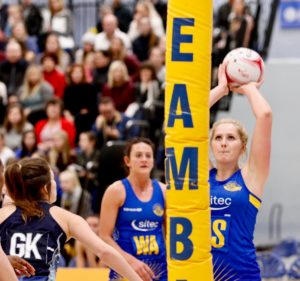 They fired Team Bath into a 24-20 lead before the hosts pulled further clear in the final period to seal the victory.
Stars only had a brief turnaround before their second match against Wasps but that did not prevent them getting off to a strong start and opening up a 12-9 lead at the end of the first quarter.
With former Team Bath player Sam Cook excelling in defence and Eleanor Cardwell impressing in attack, they were able to double their advantage during the second period and take a 20-14 lead.
However, 2017 Superleague champions Wasps found their groove in the third quarter and a stunning run of 11 unanswered goals turned the game on its head. Former Team Bath shooter Rachel Dunn returned to the fray in the final quarter to extend their 29-24 lead to a final score of 39-32.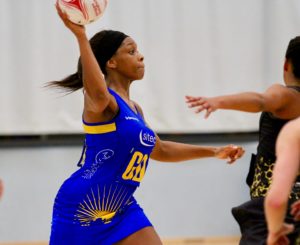 That meant the last game of the day would decide who won the tournament overall and it was Wasps who got off to the better start, picking up where they left off against Stars to race into a 4-0 lead.
However, inspired by some fantastic intercepts and turnovers from the star defensive duo of Layla Guscoth and Eboni Beckford-Chambers, Team Bath worked their way back into the contest and they led 7-6 at the end of a cracking first quarter.
With Lewis finding the net with great regularity, Team Bath were able to pull away into a 15-10 lead in the second period but a strong finish saw opposition shooter George Fisher score three times in the last minute to cut the gap to two at the interval.
The third quarter was equally nip and tuck but, with Paige Reed having an impact at goal-attack and Josie Janz-Dawson impressing at goal-keeper, the hosts were able to stretch their advantage to 23-19 before holding onto their four-goal cushion in the final period.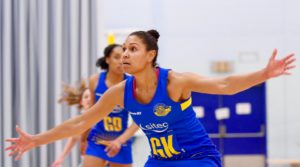 The tri-tournament continued the countdown to a highly-anticipated 2018 Vitality Netball Superleague season, which will be split into two halves to accommodate the Commonwealth Games in Australia.
Team Bath have nine home matches coming up, the first of them against Surrey Storm on February 23. Season and individual match tickets for all of the games on sale now – click here for further details.
Team Bath Netball are sponsored by Sitec and supported by partners Mogers Drewett, Investigo and Netball South West. Centurion Chartered Financial Planners are supporting the team's performance analysis capabilities, Viper 10 are their Sportswear Supplier and Skins provide the team with compression wear.
Today's squads
Team Bath Netball: Imogen Allison, Eboni Beckford-Chambers, Kadeen Corbin, Sophie Drakeford-Lewis, Asha Francis, Layla Guscoth, Josie Janz-Dawson, Chelsea Lewis, Tash Pavelin, Paige Reed, Mia Ritchie, Abi Robson, Jess Shaw, Rachel Shaw, Jazz Scott.
Severn Stars: Rosie Allison, Eleanor Cardwell, Sophie Carter, Samantha Cook, Iona Darroch, Amanda Davis, Dominique Ford-Gordon, Beth Gabriel, Jodie Gibson, Nicole Humphreys, Laura Malcolm, Rebecca Oatley, Shona O'Dywer, Ella Powell-Davis, Laura Rudland.
Wasps Netball: Halimat Adio, Jade Clarke, Rachel Dunn, George Fisher, Amy Flanagan, Tamsin Greenway, Lucy Harris, Natalie Haythornthwaite, Josie Huckle, Sam May, Hannah Reid, Monique Thompson, Fran Williams.
Results
Team Bath Netball 35 Severn Stars 27
Quarter scores: Q1 7-4. Q2 6-10 (13-14). Q3 11-6 (24-20). Q4 11-7 (35-27).
Severn Stars 32 Wasps Netball 39
Quarter scores: Q1 12-9. Q2 8-5 (20-14). Q3 (4-15) 24-29. Q4 8-10 (32-39).
Team Bath Netball 29 Wasps Netball 25
Quarter scores: Q1 7-6. Q2 8-7 (15-13). Q3 8-6 (23-19). Q4 6-6 (29-25).