Posted 22nd Nov 2017
Netball returns to Team Bath Arena as Superleague champs and local rivals start 2018 with tri-tournament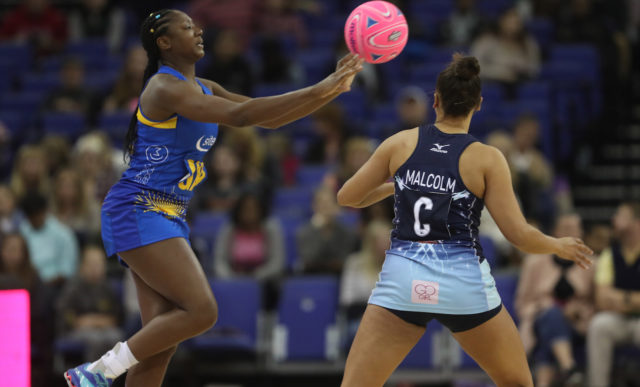 Netball's 2018 will burst into action on January 6 when Team Bath take on Wasps and Severn Stars in a curtain-raising tri-tournament at the Team Bath Arena.
Starting at 1pm, fans will be entertained by three matches featuring the Blue and Gold, 2017 Vitality Netball Superleague champions Wasps and Stars, who were exciting league debutantes last season.
Wasps and Stars have familiar faces as Directors of Netball in Tamsin Greenway and Pamela Cookey respectively. Both are University of Bath graduates and won titles with Team Bath Netball's Jess Thirlby and Anna Stembridge during hugely-successful playing careers for the Blue and Gold.
The rivalry looks set to be intense, adding an edge to the afternoon, and tickets are on sale now – click here to purchase – for what promises to be an exciting start to another big year of netball at the University of Bath's Sports Training Village.
There will be plenty of time to catch up with friends, have something to eat and drink and watch the pre-match entertainment and warm-up before Team Bath take on West Country rivals Stars in the opening match at 2pm.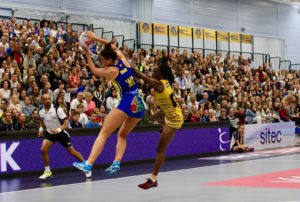 Stars and Wasps then face each other at 3.15pm before Team Bath take on Wasps in the final match of the day at 4.30pm. Each fixture will be played in fast-paced ten-minute quarters with a five-minute half-time interval and three minutes at the quarter-breaks.
Excitement is growing amongst the home fans after Team Bath's new-look 2018 squad won their opening pre-season match against Wales last weekend, with Abi Robson and Imogen Spark making their first senior appearances.
New arrivals Josie Janz-Dawson and Sophie Drakeford-Lewis also enjoyed their first run-outs in Blue and Gold, with Team Bath Netball Head Coach Thirlby encouraged by what she saw.
"It was a great start to our pre-season campaign, with some very encouraging performances and passages of play from a multitude of combinations," she said.
"Wales provided us with a competitive fixture and challenged us throughout which is just what we needed. There were many glimpses of what this talented team is capable of and we will be back into training to keep refining the skills and tactics we want to implement in the season."
January's tri-tournament will offer the first opportunity to see the Blue and Gold at home before the Superleague season begins in February with Team Bath featuring in nine home games.
Tickets for the tri-tournament are priced £10 for adults, £5 concessions, £20 for a family ticket and £4 for students.
Season tickets providing admission to all nine Superleague matches at the Team Bath Arena in 2018 are also available priced £85 for adults and £55 concessions. Click here for more details.
Team Bath Netball are sponsored by Sitec and supported by partners Mogers Drewett and Investigo. Centurion Chartered Financial Planners are supporting the team's performance analysis capabilities, Viper 10 are their Sportswear Supplier and Skins provide the team with compression wear.