Posted 6th Nov 2022
Team Bath Super League defensive duo impress on first senior England appearances at Fast5 Netball World Series in New Zealand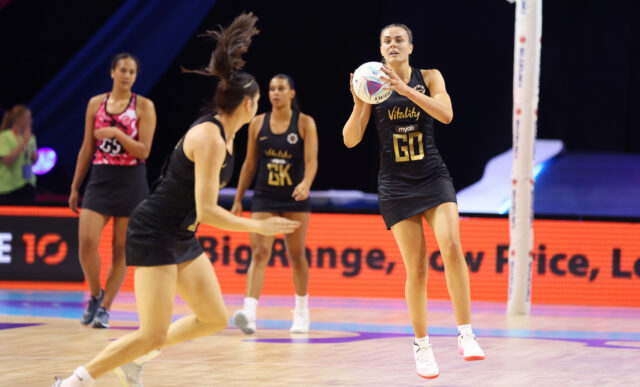 Team Bath Netball's Tash Pavelin and Jayda Pechova made their first senior England appearances as the Roses narrowly missed out on a medal at the 2022 Fast5 Netball World Series in New Zealand.
The Blue & Gold Super League defenders were part of a Roses squad that were just two points behind the hosts at half-time of Sunday's bronze-medal match before the Silver Ferns pulled away to win 39-25.
It had been a different story in the previous day's group matches as England, inspired by a player-of-the-match performance from new Team Bath recruit and Sports Performance fresher Pechova, edged out New Zealand 32-31 thanks to a nerveless six-point shot from University of Bath alumna Paige Reed in the last 10 seconds.
Reed repeated that trick in a 38-34 win over Uganda to put the Roses in a strong position at the end of Day 1 and a 32-27 victory over Jamaica moved them up to second in the round-robin ladder but they were denied a place in the final by a narrow 34-28 defeat to eventual champions Australia.