Posted 2nd Mar 2020
Blue & Gold come through physical encounter at Celtic Dragons to continue winning start to 2020 Superleague season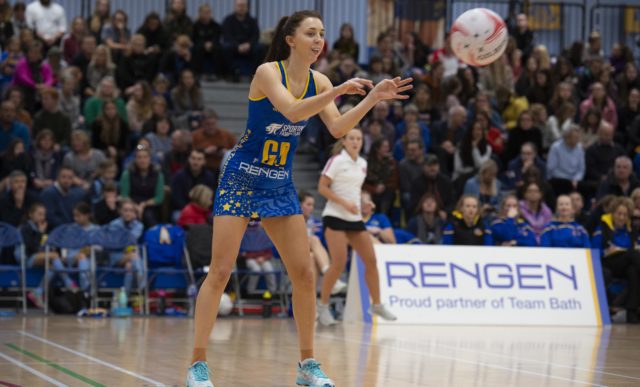 Team Bath Netball are going into their sell-out first home game of the 2020 Vitality Superleague season this week on the back of successive victories after coming through a very physical encounter at Celtic Dragons.
The Blue & Gold got off to a slow start in Cardiff against a Dragons side looking to bounce back from their one-goal defeat to Surrey Storm in the Season Opener but worked their way into the contest and by half-time had opened up a 32-25 lead.
Persistent contact and infringements by Dragons goal-keeper Latanya Wilson saw her sin-binned for two minutes in the third quarter and, after minimal adjustments on her re-entry into the game along with a big hit on a visiting player, she was sent off.
That meant Dragons had to play the final quarter with six players and Team Bath took full advantage to build up a 71-52 winning margin, ensuring they will go into their home match against Wasps this Friday (7.30pm) with spirits high.
Anna Stembridge, Team Bath Netball's Superleague Head Coach, said: "I'm really pleased with how we came through a challenging match and now we can focus our attention on Wasps and playing in front of our home fans this week.
"The game sold out a few weeks ago and it is always so inspiring and motivating to us as players and coaches to see that level of support. Season after season the fans come out and back us in force, and we can't wait to see and hear them all on Friday."
New signings Khanyisa Chawane, Fi Toner (pictured top) and Betsy Creak could all make their home Superleague debuts in Blue & Gold this week after making big impacts as replacements against Dragons.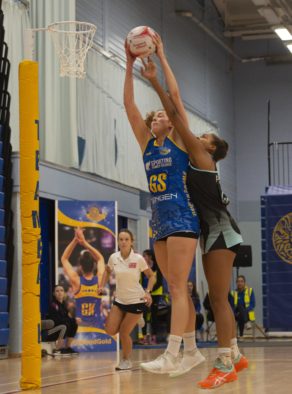 South African centre Chawane came on for her first experience of English domestic netball during a second quarter that saw Team Bath gain the upper hand after being on the back foot during the early stages of the match.
"We were a bit hesitant in attack during the first quarter and didn't capitalise on the turnovers forced by our defence," said Stembridge.
"KC and Fi helped to inject a bit more pace and confidence to let the ball go in attack, allowing us to be really slick both in and around the circle edge and on break-out play. We started scoring little clusters of goals, two or three at a time, which enabled us to start building a lead.
"Another real positive from the game was that we were able to expose different combinations both in attack and defence, all contributing well and allowing us to continue to build.
"It would have been quite easy for us to lose focus and take the foot off the pedal when Dragons went down to six players, that's actually quite a challenging game situation and one that's difficult to replicate in training, but we kept up our intensity and stuck to our game plan.
"Betsy came on at shooter in the fourth quarter and was impressive going to goal in the short time that she was on, again showing great promise considering that was only her second Superleague appearance. She is starting to see the fruits to her labour in pre-season, as are other players in the squad."
Friday's Superleague fixture is part of a triple bill of matches between the Blue & Gold and Wasps, with the U19s – fresh from a 49-46 victory over Leeds Rhinos last weekend – meeting at the Team Bath Arena at 4.30pm (free entry to spectators). The U21s then go head to head on Saturday.
The Wasps Superleague game may be sold out but there are two more chances to watch Team Bath at home during March when they entertain London Pulse on Monday 16th (7.30pm) and reigning champions Manchester Thunder on Monday 30th (7pm). Tickets for those games and the other 2020 fixtures at the Team Bath Arena are on sale now – click here for details.
Team Bath Netball is partnering with local charity Sporting Family Change in 2020 to help make a difference through sport. Centurion Chartered Financial Partners are Team Bath's people development partner and Rengen Developments also support the netball programme as part of their overall partnership with Team Bath.