Posted 4th May 2018
Fantastic first half sets up Team Bath Netball for big win over Celtic Dragons during happy homecoming for Commonwealth heroes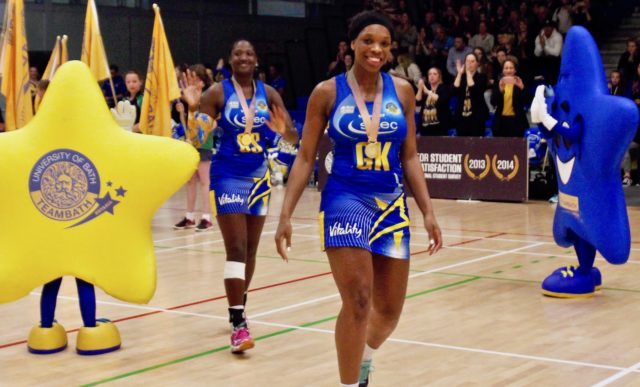 It was a happy homecoming for Team Bath Netball – and Commonwealth Games champions Eboni Beckford-Chambers and Kadeen Corbin – as they beat Celtic Dragons 66-39 in the Vitality Superleague on Friday.
In their first game at the Team Bath Arena for two months, the Sitec-sponsored Blue and Gold treated the four-figure crowd to a scintillating first-half display as they stormed into a 39-13 lead.
Dragons showed tremendous spirit to win the third quarter 17-10 but Team Bath were determined to boost their goal average and finished strongly to underline their overall dominance.
Anna Stembridge, Team Bath Head Superleague Coach, said: "We want to be in the top four so wins count and goals count. Credit to Dragons in that third quarter, we got sloppy and they punished us for that, but it was a great response by us in the last 15 minutes.
"I keep demanding a performance from us across all four quarters and we're not quite there yet but it was definitely an improvement and I'm proud of the girls tonight."
As well as plenty of goals, the home faithful also got a glimpse of gold as Beckford-Chambers and Corbin, two of England's history-makers at Gold Coast 2018, showed off their medals to the crowd before the game.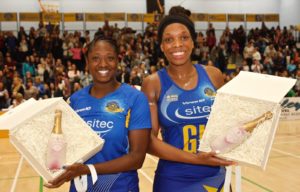 They were also presented with special gifts after the game – chocolate in the shape of a champagne bottle – by University of Bath Director of Sport Stephen Baddeley and Stuart Doughty, Director of Team Bath Netball backers Centurion Chartered Financial Planners.
Beckford-Chambers told the crowd: "The support we have received ever since we got back from Australia has been incredible and we really, really appreciate it. Thank you for coming out to watch us again tonight and hopefully we'll see you here for our other home games."
Team Bath, looking for a response following back-to-back away defeats at Wasps and benecosMaverick, came flying out of the blocks and immediately took control of the game.
Imogen Allison and Layla Guscoth both made interceptions inside the opening two minutes to set the tone for a dominant defensive display. That was allied with some slick, swift passing and dynamic shooting from Corbin and player of the match Sophie Drakeford-Lewis as Team Bath stormed into a 17-8 lead in the first quarter.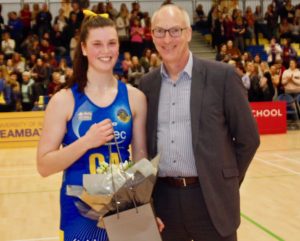 The Blue and Gold managed to find yet another gear in the second quarter as, with Mia Ritchie and Rachel Shaw linking defence and attack superbly, they turned the screw on Dragons by applying tremendous pressure right across the court.
Jess Shaw and Paige Reed slotted in seamlessly when they were introduced with five minutes remaining in a quarter that Team Bath won 22-5, stretching their advantage to 39-13.
Both teams made wholesale changes for the third period but it was Dragons who found their cohesion quickest, with shooter Eleanor Roberts in particular having an impact on the game.
Her fine shooting, along with some uncharacteristically sloppy play from Team Bath, allowed Dragons to win the quarter 17-10 and cut the deficit to 49-30.
Team Bath remained below par in the opening stages of the final quarter but some flying intercepts from Allison, Beckford-Chambers and replacement Tash Pavelin had the crowd – and bench – on their feet and helped to restore control for the home side.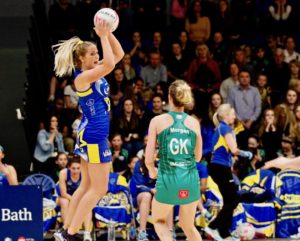 A run of eight unanswered goals put them firmly back in the driving seat and a Chelsea Lewis goal right on the final buzzer clinched an impressive 66-39 victory.
Team Bath fans don't have to wait long for another chance to see the Blue and Gold at home as Severn Stars visit the Team Bath Arena on Bank Holiday Monday (5pm centre-pass).
The West Country derby will be shown live on Sky Sports Mix and will be preceded at around 4.40pm by an on-court celebration of University of Bath-based medallists from the Gold Coast 2018 Commonwealth Games featuring not just the netball stars but also athletes and swimmers.
Team Bath Netball are sponsored by Sitec and supported by partners Mogers Drewett, Investigo and Netball South West. Centurion Chartered Financial Planners are supporting the team's performance analysis and people development capabilities, Viper 10 are their Sportswear Supplier and Skins provide the team with compression wear.
Match stats
Team Bath Netball starting 7: GS Kadeen Corbin, GA Sophie Drakeford-Lewis, WA Rachel Shaw, C Mia Ritchie, WD Imogen Allison, GD Layla Guscoth, GK Eboni Beckford-Chambers. Replacements: Chelsea Lewis, Tash Pavelin, Paige Reed, Jess Shaw, Zanele Vimbela.
Celtic Dragons starting 7: GS Georgia Rowe, GA Cara Lea Moseley, WA Amanda Varey, C Kyra Jones, WD Suzy Drane, GD Nia Jones, GK Kelly Morgan. Replacements: Sara Bell, Sarah Llewellyn, Megan Powell, Eleanor Roberts, Leila Thomas.
Quarter-scores: Q1 17-8. Q2 39-13 (22-5). Q3 49-30 (10-17). Q4 66-39 (17-9).
Attendance: 1,000.