Posted 23rd Feb 2018
Plenty of home cheer as Blue and Gold quell Storm to maintain winning start to Superleague season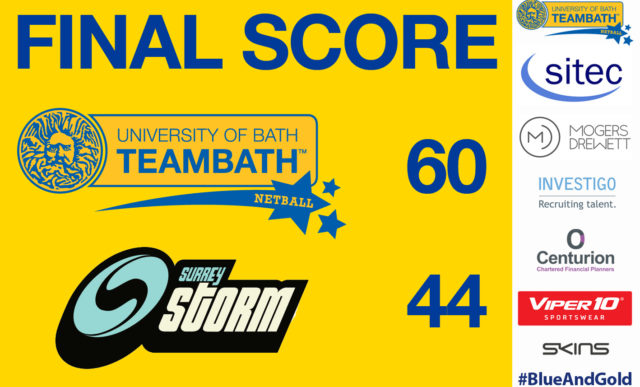 Team Bath Netball maintained their 100 per cent record for the 2018 Vitality Netball Superleague season by beating Surrey Storm in front of a delighted home crowd on Friday.
In their first match this year at the Team Bath Arena, the Sitec-sponsored Blue and Gold were pegged back to 12-12 at the end of a fluctuating first quarter before giving a sell-out crowd of 1,420 supporters plenty to cheer during a stunning second period.
With the defensive trio of Eboni Beckford-Chambers, player of the match Layla Guscoth and Imogen Allison dominating the opposition, Kadeen Corbin and Sophie Drakeford-Lewis were able to convert the numerous turnovers as Team Bath stormed into a 32-20 lead at half-time.
Storm battled away in the second half but the damage had been done and Team Bath went on to record a 60-44 victory, their third win of the fledgling campaign.
Anna Stembridge, Team Bath Netball Superleague Head Coach, said: "We're pleased to get the win, we knew Storm would come out hard and make it tough for us so credit to them tonight but we put in a good performance. I thought Imo was absolutely outstanding.
"Thank you to everyone here tonight for their support, we love playing in this Arena and we are really happy to get that result for the fans."
Guscoth added: "It was a tough game today, physical for both teams and Storm really brought it. We've got a really good group here this year and everyone is working really hard.
"We were all so excited about our first home game and it was great to hear the noise, so thanks to everyone who turned out."
The Blue and Gold raced into a 3-0 lead inside the opening two minutes before being pegged back to all square, setting the tone for an opening quarter that saw momentum ebb and flow.
Team Bath twice restored their three-goal, with Corbin and Drakeford-Lewis – making her first start in Blue and Gold – forging a slick combination in attack, but Storm responded both times and levelled the scores at 12-12 going into the second period.
Visiting shooter Sigi Burger gave Storm the lead for the first time but, after Team Bath had responded with four in quick succession, she collided heavily with the post and had to be replaced by Charmaine Baard.
While Storm readjusted, Team Bath took full advantage to really impose themselves on the game. With Guscoth making a series of inspirational intercepts and Beckford-Chambers in dominant mood, they turned over possession regularly and forged into a commanding lead before two goals from the returning Burger closed the gap to 32-20 at half-time.
Storm made wholesale changes at the break while Team Bath introduced Chelsea Lewis at GS and she quickly found her range, scoring with her first five attempts as the hosts pulled further clear.
The visitors kept battling away, though, and closed the gap back to ten goals before a stunning turnover from Allison – not her first or last of the evening – got the Blue and Gold players and crowd firing again.
They went on to take a 44-29 lead into the final quarter but Storm, with Katie Harris switched to GS and Rhea Dixon on at GA, ensured that the Blue and Gold could not rest on their laurels during a hard-fought last 15 minutes.
Paige Reed came on at GA and scored a couple of fine goals, while further flying intercepts from Allison, Guscoth and Beckford-Chambers helped Team Bath see out a 60-44 victory.
Next up for Team Bath is a short journey to the University of Worcester on Monday to face West Country rivals Severn Stars (7.30pm).
It is then back to the Team Bath Arena for back-to-back home matches against Scottish franchise UWS Sirens on Friday, March 2, and Manchester Thunder on Friday, March 9 (both 7.30pm).
Tickets are on sale for both games and can be purchased by clicking here.
Team Bath Netball are sponsored by Sitec and supported by partners Mogers Drewett, Investigo and Netball South West. Centurion Chartered Financial Planners are supporting the team's performance analysis capabilities, Viper 10 are their Sportswear Supplier and Skins provide the team with compression wear.
Match stats
Team Bath Netball starting 7: GS Kadeen Corbin, GA Sophie Drakeford-Lewis, WA Rachel Shaw, C Mia Ritchie, WD Imogen Allison, GD Layla Guscoth, GK Eboni Beckford-Chambers. Replacements: Asha Francis, Chelsea Lewis, Tash Pavelin, Paige Reed, Jess Shaw.
Changes: Q3: Lewis – bench to GS; Corbin – GS to GA; Drakeford-Lewis – GA to bench; Jess Shaw – bench to WA; Rachel Shaw – WA to bench; Drakeford-Lewis – bench to GA; Corbin – GA to bench. Q4: Reed – bench to GA; Drakeford-Lewis – GA to bench; Rachel Shaw – bench to WA; Jess Shaw – WA to C; Ritchie – C to bench; Beckford-Chambers – GK to GD; Guscoth – GD to GK.
Surrey Storm starting 7: GS Sigi Burger, GA Katie Harris, WA Georgia Lees, C Yasmin Parsons, WD Tallisa Haynes, GD Katy Holland, GK Jo Trip. Replacements: Rhea Dixon, Charmaine Baard, Lorraine Kowalewska, Emily Gulvin, Jade Forbes-Wattley.
Changes: Q2: Dixon – bench to WA; Lees – WA to bench; Burger- GS to bench; Baard – bench to GS; Burger – bench to GS; Baard – GS to bench. Q3: Haynes – WD to C; Holland – GD to WD; Trip – GK to GD; Forbes-Wattley – bench to GK; Lees – bench to WA; Dixon – WA to bench; Dixon – bench to GA; Harris – GA to GS; Berger – GS to bench. Q4: Gulvin – bench to WA; Parsons – WA to C.
Quarter-scores: Q1 12-12. Q2 32-20 (20-8). Q3 44-29 (12-9). Q4 60-44 (16-15).
Attendance: 1,420.