Posted 7th May 2021
The come-back is always stronger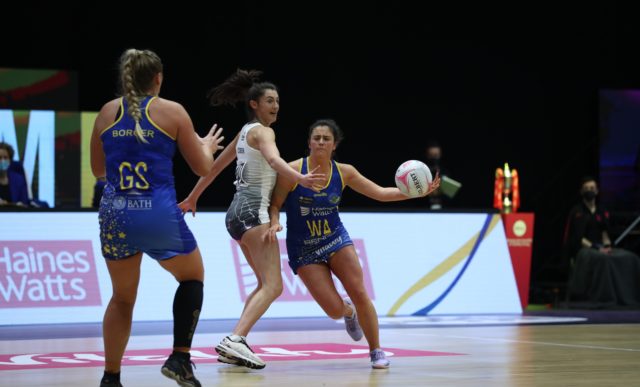 "Like they say…. the come-back is always stronger than the set-back and I'm a big believer in that".
That's the inspiring way in which Team Bath's Jess Shaw is viewing a season-ending ankle injury sustained in training a few weeks back on which she will be receiving surgery tomorrow.
"I was going for a pocket ball and a defender came out and I landed on the defender's foot. It was a bit of a blur but as I went down, I knew it wasn't good".
A lengthy list of the damage done reinforces that immediate feeling. Medical support and investigations from both England Netball and Team Bath have uncovered two fractures of the talus bone and two destroyed ligaments. Saturday's arthroscopic surgery, therefore, involves lateral ligament reconstruction amongst other things.
Sometimes it's the mental anguish which is as hard as the physical when a top athlete like Jess, whose work-rate and impact had been phenomenal on court and in training for the Blue and Gold in the early season.
"I'm absolutely gutted that I will miss the remainder of the season and the culture we have as a squad", she says.
However, the bounce-back to positivity is almost immediate: "But I'm right behind the girls and I'm super excited to see the girls smash it in the second half of the season! I'm definitely going to be their biggest fan with my pom-poms".
Team Bath Head Coach Anna Stembridge said: "Jess has been in great form for us this season and has made a major contribution to our successes both in training and on court at wing attack and centre through her skill and work ethic. We are all hoping she recovers strongly and we are working together with England Netball to make sure that she has everything she needs".
Jess also pays tribute to the sport as well as her club.  "The support that I have received from everyone has been immense, not just Bath, but the whole netball community and I can't wait to get back on court".   
Team Bath's next match is on Sunday 9 May at 14.00. Here is the link for the Sky coverage on You Tube.
https://www.youtube.com/watch?v=ITzN81dCcKY
Don't forget you can also join in with our Home Stand watch-along. Hosted by Billy Pritchard (nee Bowers) and with Mia Ritchie appearing as a guest. Register for free here (limited places available): https://netball.teambath.com/homestand/