Posted 19th Sep 2017
Team Bath Netball celebrate home city in dress specially designed for first-ever British Fast5 All-Stars Championships
Team Bath Netball will celebrate the iconic landmarks of their stunning home city when they take part in the first-ever British Fast5 All-Stars Championships at The O2 Arena in London this weekend.
The Sitec-sponsored Blue and Gold will be wearing a dress specially commissioned for the televised event featuring famous sites from the World Heritage city's skyline, including Bath Abbey and Pulteney Bridge.
The stylish dresses have been produced by Viper 10 Sportswear, Team Bath Netball's new kit suppliers, and are certain to catch the eye when eight Superleague franchises compete in the innovative Fast5 version of netball on Saturday.
Superleague winning captain Asha Francis, who is part of the ten-strong Fast5 squad, said: "We're obviously really happy to have Viper 10 on board and I think they have done us proud with this kit with the Bath skyline on, I can't wait to run around in it on Saturday."
The Fast5 squad also includes returning attacker Kadeen Corbin and Eboni Beckford-Chambers, both fresh from representing England at the Quad Series in Australia and New Zealand, as well as Imogen Allison, Layla Guscoth, Chelsea Lewis, Paige Reed, Mia Ritchie, Tash Pavelin and Jess Shaw.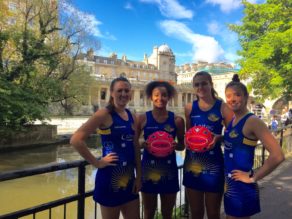 Pavelin, a Natural Sciences student at the University of Bath, will make her senior debut for Team Bath at Fast5 having impressed with the Blue and Gold's U21 squad last season.
"It's my first exposure with the Superleague team so I'm really looking forward to getting out there and having a go at Fast5," she said.
"It's a much quicker version of the game and exciting because shooters can score from outside the circle, which makes it a lot more tactical for us in defence.
"It's going to be a form of netball that a lot of people will not have seen us play before, so it's a great opportunity for them to come and watch in such a great location as The O2 Arena."
The draw for the All-Star Championships took place live on Sky Sports News on Tuesday morning and saw Team Bath paired with Team Northumbria in their opening match.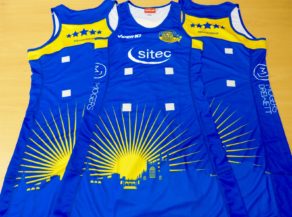 Fast5 netball features teams of five, with no wing defence or wing attack, in rapid-paced 12-minute games. There are three scoring zones, with five points being awarded for a successful 'long bomb' from outside the traditional shooting circle.
There will also be double-point power-plays to add to the fun and the winners will receive £25,000 from a total prize-fund of £125,000.
"Fast5 brings in a lot of tactics – when are we going for the five-pointers, when are we going to use our power-plays, how are we going to use the new rules to our advantage because we obviously want to go out there and win it," Francis added.
"Team Bath fans have their own section in the crowd and we really need to hear their voices and support. I know it's a little way from home but it's really going to be a fun thing for the spectators and for the players too."
The All-Stars Championships runs from 5-10pm on Saturday and Team Bath Netball fans can get seats together in an assigned Blue and Gold section of The O2. Click here for ticket information and to purchase.
Team Bath Netball are sponsored by Sitec, Mogers Drewett are their Education Partners, Centurion Chartered Financial Planners are supporting the team's performance analysis capabilities, Viper 10 are their Sportswear Supplier and Skins provide the team with compression wear.