Posted 7th Aug 2017
University of Bath student Imogen Allison excited to continue sporting education with Team Bath Netball
Rising England star Imogen Allison believes she is in the best place to continue her education on and off the court after committing to Team Bath Netball for the 2017-18 season.
The 19-year-old was one of the Sitec-sponsored Blue and Gold's most consistent and impressive performers during the 2017 Vitality Superleague campaign as she fought off tough competition to claim a regular starting role at wing-defence.
She formed a formidable partnership with Eboni Beckford-Chambers and Layla Guscoth as part of the Superleague's best defensive unit, then helped England's U21 side to a bronze medal at this summer's Netball World Youth Cup in Botswana.
On top of all that, Allison has just completed the first year of a Sports & Exercise Science degree at the University of Bath, where she is supported by a King Sporting Scholarship.
"The last year has presented so many great opportunities for me and I've enjoyed it so much," said Allison, who follows Beckford-Chambers, Guscoth, Chelsea Lewis and Kadeen Corbin in committing her future to Team Bath.
"My game has got a lot better at Team Bath and I am excited to see how much further I can develop and progress.
"I didn't expect to play so many games last season but I was so happy that I got the opportunity to show what I could do. It was quite intense but that's a good thing because you want to put everything you possibly can into Team Bath and you want to improve.
"I'm looking forward to playing with Eboni and Layla again next season. They are such great players, so strong, and I have learnt so much from them.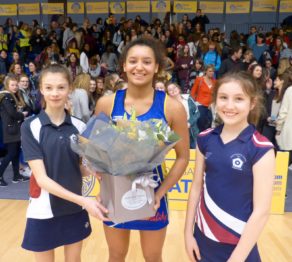 "Last season was crazy but incredible, my best year in netball so far, and I can't wait to see what happens from here."
Jess Thirlby, Director of Netball at Team Bath, added: "Imo had a really positive debut year with us in the Blue and Gold, and we were really impressed with the progress she made from representing us at an U21 tournament last September through to her fantastic displays at the Netball World Youth Cup.
"She went from strength to strength across the Superleague campaign and worked her way into the starting line-up with some impressive performances.
"Working in a defensive unit with the experience of Eboni and Layla would have undoubtedly helped accelerate Imo's development and that is something we always try and do at Team Bath when nurturing young talent.
"We are excited to continue working with Imo and if she continues to put the hard work in we are sure she will be a huge talent for both club and country for many years to come."
Allison will be back in the Blue and Gold for the England Netball Age-Group Competitions, taking place from August 24-27. She will represent the U21s, while Team Bath will also field sides in the U19 and U17 tournaments.
After that, Allison will turn her attention to the first-ever British Fast5 All-Stars event, taking place at London's O2 Arena from 5-10pm on Saturday, September 23. Tickets in the Blue and Gold section are on sale now at www.teambath.com/netball/fast5.
Also in the Fast5 squad are Beckford-Chambers and Corbin, who have been selected for the England Netball squad touring Australia and New Zealand over the next few weeks as preparations for the Gold Coast 2018 Commonwealth Games ramp up.
Team Bath Netball are sponsored by Sitec, Mogers Drewett are their Education Partners, Centurion Chartered Financial Planners are supporting the team's performance analysis capabilities, Viper 10 are their Sportswear Supplier and Skins provide the team with compression wear.
Applications are now being taken for the 2017-18 University of Bath Sports Scholarship programme – click here for more information.