Posted 7th Jul 2017
Plenty of Blue & Gold interest as England and Wales U21s start Netball World Youth Cup challenge
There will be a strong Team Bath Netball presence when the England and Wales U21 sides meet in their opening match of the 2017 Netball World Youth Cup in Botswana on Saturday.
Both are coached by Team Bath coaches – Emily Perry and Denise Ellis for England, Natalie Peperell for Wales – and include Blue and Gold players in their respective squads.
Superleague stars Jess Shaw and Imogen Allison, a King Sporting Scholar at the University of Bath, will represent England (pictured), while Wales have two members of the Team Bath U21 Netball Performance League squad in their ranks – Izzy Dunsford and Sarah Llewellyn.
England and Wales have both been drawn in Pool D of the global competition, with their opening fixture taking place at 1pm BST on Saturday in Ditshupo Hall in Gaborone.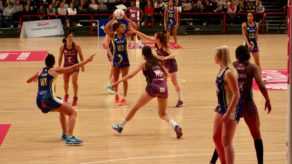 England will also face Grenada on Sunday (3pm BST), Trinidad & Tobago on Monday (3pm BST) and Fiji on Wednesday (2pm BST).
Wales' other group fixtures are against Fiji on Sunday (5pm BST), Grenada on Monday (3pm BST) and Trinidad & Tobago on Tuesday (3pm BST).
Coach Education & Sports Development graduate Perry, assistant coach to Anna Stembridge and Jess Thirlby in the Superleague, is relishing the challenge ahead.
"The girls have just got on board with everything we've done, it has been so positive to work with them," she said.
"The mood is great, the players are really excited to be here and see what we can do. There is just a really good vibe."
Peperill, part of the Team Bath Apprentice Coach Programme, added: "I think it's a tough group but I'm excited. My aim is to finish second in the group and I think that is achievable."
Listen to Andy Lamb's interviews with the coaches in full here: Emily Perry Natalie Peperell