Posted 10th Jun 2017
Team Bath Netball's Grand Final hopes dashed by Lightning strike in Birmingham
Battling Team Bath Netball saw their chances of winning a sixth Vitality Superleague title ended by an excellent Loughborough Lightning side in the Final Four semi-finals at Birmingham on Saturday.
After a nervy start, the Sitec-sponsored Blue and Gold held their own against table-topping Loughborough for much of the first half and closed the gap to 25-21 at one point.
However, Lightning pushed ahead again just before the break and then really turned the screw during a third quarter they won 23-10, eventually going on to claim a 66-45 victory in the Barclaycard Arena.
Head Coach Anna Stembridge said: "Credit to Lightning, they were absolutely outstanding in that third quarter. We were a little nervous and hesitant to start off with, which was a shame, but we have a great opportunity to bounce back in the third-placed match tomorrow and deliver a performance for the fans.
"To have that many supporters travel here at short notice and get behind us was absolutely brilliant.
"Getting to the Final Four has been a great achievement, the league has been so hotly contested this year, but ultimately we wanted to be in that Grand Final and this really hurts. We need to regroup and make sure we come out strong tomorrow."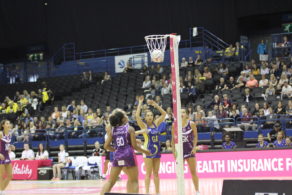 A surge of seven successive victories had put Team Bath into the Final Four weekend, with their qualification in fourth place only being secured on the last day of the regular season.
Stembridge knew that her team had made huge strides in the second half of the season but remained big underdogs, although they had lost by less than ten goals in both of their previous matches against Lightning this season.
Loughborough started better and were soon 5-1 up, regularly reaching their metronomic but stylish shooters Ugandan Peace Prosgovia and Jamaican Vanessa Walker. Team Bath had to work harder to get the ball into attack.
With eight minutes gone the Team Bath seven seemed to settle, found their rhythm and the net more regularly through both Paige Reed and Chelsea Lewis thanks to some sharp feeds from both Mia Ritchie and Rachel Shaw at centre and wing-attack.
Two minutes from the quarter-time only two goals separated the teams at 12-10 but Loughborough enjoyed a late flurry to lead 16-10.
A similar pattern emerged in the second quarter from which Loughborough finished 29-22 ahead. Once again Team Bath, with Jess Shaw replacing Ritchie at centre, enjoyed a good mid-quarter with the score narrowing to 25-21 with four minutes to go courtesy of some hard-fought defensive turnover from goal-defence Layla Guscoth, wing-defence Imogen Allison and captain and goal-keeper Eboni Beckford Chambers.
Just before the break coach Stembridge unleashed Jamaican International Shantal Slater into the circle at goal-shooter, moving Lewis to goal-attack and Reed to the bench. This quarter was again characterised by a truly physical contest of narrow margins with mistakes under pressure proving the difference.
Team Bath opened the third quarter with two turnovers and had the chance to attack the margin, only to lose the ball in attack twice. This proved the defining moment of the match.
Loughborough raced out to a 32-23 lead with the Blue and Gold battling in defence where Vangelee Williams came off the bench at wing-defence for Allison.
In a patch as purple as their dresses, Loughborough then supercharged their lead to 35-23 and then 39-26 with some spectacular play.
In an attempt to stem the Loughborough flow Stembridge moved Guscoth to wing-defence, returned Ritchie to centre and swapped Jess Shaw to wing-attack.
"I thought Jess Shaw had a superb impact, both at centre and in the more unfamiliar position of wing attack," said Stembridge. "She got the bit between her teeth, worked tirelessly to be available and produced some beautiful feeds."
The switch meant that MJ Church Ambassador Sam Cook came on at goal-defence in a quarter which Team Bath closed out 52-32 adrift.
Playing for pride more than the result, Team Bath fought to the end with Cook providing fresh spring in the defensive circle and Reed returning at goal-attack. For coach Stembridge and Director of Netball Jess Thirlby the task will now be to boost the squad as they face a bronze-medal play-off against either Wasps or Manchester Thunder.
Team Bath Netball are sponsored by Sitec, Mogers Drewett are their Education Partners, Centurion Wealth Management are supporting the team's performance analysis capabilities, Surridge are the kit supplier and Skins provide the team with compression wear.
Match stats
Team Bath Netball
Starting seven: GS Chelsea Lewis, GA Paige Reed, WA Rachel Shaw, C Mia Ritchie, WD Imogen Allison, GD Layla Guscoth, GK Eboni Beckford-Chambers.
Replacements: Shantal Slater, Laura Rudland, Jess Shaw, Vangelee Williams, Sam Cook.
Changes: Q2: Jess Shaw – bench to C; Ritchie C – bench; mid Q2 Slater bench – GS; Lewis GS – GA; Reed – GA – bench. Q3: Williams bench – WD; Allison WD – bench : mid-quarter: Cook – bench to GD; Guscoth GD – WD; Jess Shaw C-WA; Rachel Shaw – WA – bench. Q4: Reed – bench – GA; Slater – GS – bench; Lewis GA-GS.
Loughborough Lightning 
GS Peace Proscovia; GA: Vanessa Walker; WA: Hannah Joseph; C Natalie Pangarry; WD: Beth Cobden; GD: Vicky Oyesola; GK: Joanna Trip.
Bench: Chloe Essam, Ella Gibbons, Rosie Harris, Olivia Mason, Caroline Tarnowski.
Quarter scores (Team Bath first)
Q1: 10-16 Q2: 22-29 (12-13) Q3: 32-52 (10-23) Q4: 45-66 (13-14).