Posted 9th Jun 2017
Captain hails Team Bath Netball's "spirit and character" ahead of massive Final Four weekend
Captain Eboni Beckford-Chambers believes Team Bath Netball have shown they have the "spirit and character" to win a sixth Superleague title at this weekend's Vitality Superleague Final Four showdown in Birmingham.
The Sitec-sponsored Blue and Gold looked out of the reckoning after losing six of their opening ten matches of the season, only to turn things around with some scintillating performances and results since Easter.
"There were probably a lot of doubters midway through the season, maybe even myself, but I think coaches Anna Stembridge and Jess Thirlby have done a phenomenal job in turning things around," said Beckford-Chambers.
"We always knew we weren't far away and they kept that positivity within the team. To have seven games unbeaten on the bounce was a mark of the spirit and character within this group.
"There has been real leadership shown throughout the squad at key moments and there have been sparks of brilliance, especially at the attacking end. We have shown we are really hard to beat when we are on form, hopefully we can connect all of those dots on Saturday and Sunday and another title will be in our hands."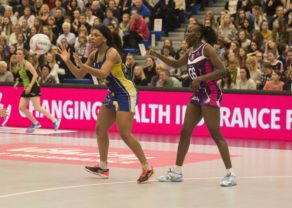 Awaiting Team Bath in the semi-finals on Saturday (4pm) is a Loughborough Lightning side that topped the league table after losing just one of their matches all season.
"Lightning have been terrific," said Beckford-Chambers. "They were probably considered an underdog at the start of the season, so to have won 17 out of 18 games is an incredible record.
"Peace Proscovia at shooter has been absolutely formidable, very accurate and athletic, and Jo Tripp has shown fine form at the other end of the court.
"They have the best attacking record in the league but we have the best defensive record and are ready for the challenge. It's always great to test yourselves against the best and hopefully this time we will come out with the right result.
"We have seen in the past that finishing top of the table doesn't always mean you go on to take the title. Finals and semi-finals always bring out a different spirit, so it is anyone's game from here."
The Final Four weekend will take place at the Barclaycard Arena in Birmingham, with the semi-finals on Saturday followed by the third-placed play-off and Grand Final on Sunday. Click here to buy tickets.
Beckford-Chambers and defensive partner Layla Guscoth have also been named in Sky Sports' top ten players of the 2017 season. Give them your support by clicking here (external link).