Posted 7th Jun 2017
In it to win it – Team Bath Netball excited by Final Four opportunity as they seek sixth Superleague success
Excitement and pride are the overwhelming emotions for Team Bath Netball's players and coaches as they prepare for this weekend's Vitality Superleague Final Four showdown in Birmingham.
The Sitec-sponsored Blue and Gold have put themselves firmly in the mix for a record sixth Superleague title after a storming second half to the 2017 season, overhauling defending champions Surrey Storm to take fourth spot after a run of seven successive wins.
They will now face table-topping Loughborough Lightning in the semi-finals on Saturday (4pm), hoping to secure their place in the following day's Grand Final (5pm) against either Wasps or Manchester Thunder.
All of the matches will take place at the Barclaycard Arena in Birmingham and captain Eboni Beckford-Chambers is urging the Team Bath fans to turn out in big numbers to cheer the team on.
"There is always a strong showing of Blue and Gold in the crowd at events like this," she said. "The fans turn in out in full force, proudly showing off their colours. It really rallies the team and provides us with something to draw on while we're out on court.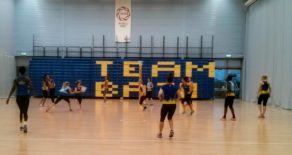 "I love the format of having all four teams play at one venue, it builds a lot of excitement. You saw the atmosphere at Super Saturday, where all the fans came together – it shows you how much netball is loved in this country."
Beckford-Chambers is bidding for her fourth Superleague title with Team Bath, having been part of the successful teams in 2007, 2009 and 2010. The Blue and Gold were also victorious in 2006 and 2013.
"I can't believe it's ten years since my first title, that's crazy!" she laughed. "The thing is I still love wearing the Blue and Gold – that sense of pride when I put on the dress and walk out in front of the fans never goes away.
"I love this team, I love playing for Team Bath and I hope we can win another title for this great franchise."
#Bulldog meets #skipping in #training pic.twitter.com/3quQlAaFJk

— Team Bath Netball (@TeamBathNetball) June 6, 2017
Experiencing the Final Four for the first time is University of Bath student Imogen Allison, one of three England U21 internationals – along with Jess Shaw and Paige Reed – to have made a huge impact with Team Bath this season.
"I'm not nervous about this weekend, it is more a feeling of excitement than anything else," said the 19-year-old, supported by a King Scholarship. "If we go out there and play like we have in the second half of the season, then we have a real chance of winning – we want to keep the legacy going.
"Team Bath is such a good environment. I study and do all of my sport here, everything is set up to be a better athlete." 
The first hurdle for Team Bath this weekend is a Lightning team that dominated the regular season, winning 17 of their 18 matches. They scored the most goals while Team Bath conceded the least, so it promises to be an intriguing battle.
Head Coach Anna Stembridge said: "Loughborough are a classy side and have shown great consistency. We have looked at where they play well and also, from the two matches we played against them, the areas that we need to tighten up.
"But apart from worrying about Lightning, we need to be confident about how we got ourselves into this position – the team that started the season is very different to the one finishing it. We are more confident, we are winning a lot of clean ball defensively and we are putting pressure on the opposition."
Director of Netball Jess Thirlby added: "The journey this group has gone on this season is incredible and differs from any other Team Bath experience in our long history. I am inspired by this group of players and staff week in, week out and excited to see them represent the Blue and Gold in another finals weekend. 
"Many will have us as the underdogs based on the win-loss ratio this season but what has been pleasing is the momentum we have built and the style in which we have won recent games. We feel well prepared and anything can happen in finals, that's the great thing about sport."
Click here to purchase tickets for the Final Four.
Team Bath Netball are sponsored by Sitec, Mogers Drewett are their Education Partners, Centurion Wealth Management are supporting the team's performance analysis capabilities, Surridge are the kit supplier and Skins provide the team with compression wear.