Posted 19th May 2017
Home sweet home as Team Bath Netball silence Sirens to move into Superleague top four
Team Bath Netball produced their highest-scoring performance of the Vitality Superleague season so far as they beat Sirens 63-47 to move up to fourth in the table.
The Sitec-sponsored Blue and Gold looked in confident form from the off in both attack and defence, playing some slick netball in front of another fantastic four-figure home crowd as they dominated the first three quarters to take a 49-32 lead.
Sirens, who needed a win to keep their faint hopes of a top-four place alive, produced a spirited response to edge the final quarter but Team Bath had done more than enough to secure a sixth straight win.
It moves them back into the top four for the first time since March, three points clear of Surrey Storm who visit second-placed Wasps in Monday's televised game.
Head Coach Anna Stembridge: "It was a pleasing performance – still not the full 60 minutes but we are continuing to build towards that. To be fair to Sirens, they made changes that had an impact and we got a little bit wasteful towards the end but we had done a lot in both defence and attack throughout the game.
"The fans have been absolutely sensational this season and that performance and result was a tribute to them. It was our last home game of the season and it was important we finished on a high."
Stembridge was also full of praise for Paige Reed, the latest graduate of the Team Bath Netball Performance League system who was handed her first Superleague start and produced an excellent display.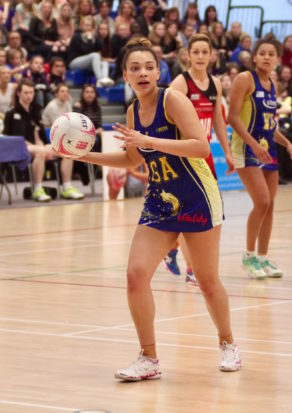 "Paige is a real talent and took her opportunity superbly," said Stembridge. "She was not only confident going for goal but her distribution was brilliant and she really came of age tonight."
Reed, who helped England U21s to victory at Netball Europe last week, added: "I had no worries because I knew the team had confidence in me and I had confidence in them.
"Coming off Netball Europe was a great boost and I've just had tremendous support from the team throughout the season. We have knitted together and connected, and that has given me so much confidence."
University of Bath student Reed started at GA and quickly landed the first goal of the game, setting the tone for an impressive team performance in quarter one from the Blue and Gold.
They looked slick in attack, while Eboni Beckford-Chambers and Layla Guscoth were once again dominant in defence as the hosts opened up a 16-9 lead.
There was no let-up in the second quarter as Team Bath, with belief high after their fine run of results, continued to pull away from the battling visitors. The Blue and Gold faithful had plenty to cheer, not least a stunning Reed feed to Chelsea Lewis, as the hosts extended their advantage to 31-18.
Jess Shaw and Shantal Slater came on for the third quarter, with the latter continuing her fantastic form as she went on to score with 22 of her 24 shots.
Lewis also produced an excellent 86 per cent conversion rate as Team Bath edged into an unassailable 49-32 lead going into the final quarter.
Team Bath made several changes during the last 15 minutes and lost some of the fluidity they had shown earlier, allowing spirited Sirens to edge the quarter 15-14, but the hard work had already been done.
At the final buzzer, captain Beckford-Chambers took to the microphone to thank the home fans for their tremendous support during 2017.
Team Bath's last two games of the regular Superleague season are both away to teams in the top four. They visit Manchester Thunder in a match being shown live on Sky Sports Mix on Monday, May 29 (7.30pm) before taking on Wasps in Coventry on Saturday, June 3 (5pm).
Team Bath Netball are sponsored by Sitec, Mogers Drewett are their Education Partners, Centurion Wealth Management are supporting the team's performance analysis capabilities, Surridge are the kit supplier and Skins provide the team with compression wear.
Match stats
Team Bath Netball
Starting seven: GS Chelsea Lewis, GA Paige Reed, WA Rachel Shaw, C Mia Ritchie, WD Imogen Allison, GD Layla Guscoth, GK Eboni Beckford-Chambers. Replacements: Shantal Slater, Laura Rudland, Jess Shaw, Vangelee Williams, Sam Cook.
Changes: Q3: Slater – bench to GS; Lewis – GS to GA; Jess Shaw – bench to C; Reed – GA to bench; Ritchie – C to bench. Q4: Cook – bench to GD; Guscoth – GD to WD; Allison – WD to bench; Reed – bench to GA; Lewis – GA to bench; Ritchie – bench to C; Jess Shaw – C to bench.
Sirens Netball
Starting seven: GS Carla Borrego, GA Ellen Halpenny, WA Nicola McCleery, C Caroline O'Hanlon, WD Claire Brownie, GD Emily Nicholl, GK Nicole Aiken-Pinnock. Replacements: Bethan Goodwin, Fiona Moore-McGrath, Hayley Mulheron, Jo Pettitt, Savannah Antoine.
Changes: Q1: McCleery – WA to bench; O'Hanlon – C to WA; Brownie – WD to C; Nicholl – GD to WD; Mulheron – bench to GD. Q3: McCleery – bench to WA; O'Hanlon – WA to C; Brownie – C to WD; Nicholl – WD to bench. Q4: Mulheron – GD to GK; Aiken-Pinnock – bench to GD.
Quarter scores (Team Bath first)
Q1: 16-9. Q2: 31-18 (15-9). Q3: 49-32 (18-14). Q4: 63-47 (14-15).
Attendance: 1,000.