Posted 22nd Apr 2017
Fantastic finish sees Team Bath Netball tame Dragons and get back to winning ways in Superleague
Team Bath Netball produced a storming final quarter to finally tame a determined Celtic Dragons outfit and get back to winning ways in the Vitality Netball Superleague.
Just one goal separated the teams at the end of each of the first three quarters, with Dragons holding a narrow 37-36 advantage going into the last 15 minutes.
However, roared on by another four-figure home crowd, the Sitec-sponsored Blue and Gold were finally able to pull clear as impressive shooting from Chelsea Lewis and player of the match Shantal Slater plus outstanding defending secured a 58-48 success in an entertaining Severn derby.
Head Coach Anna Stembridge said: "I'm really proud because it has been a tough run over the past few weeks but the girls have really applied themselves in training, got their heads down and trusted in what we have been doing.
"I saw a real trust and belief amongst the squad tonight. What we did in training this week got us over the line, it wasn't one person but the whole squad.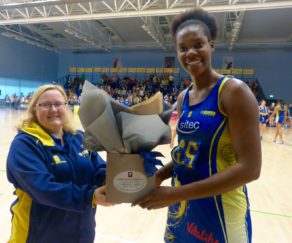 "Dragons pushed Wasps for well over half a game last week and had a really good win against Sirens so we knew it was going to be tough today and that was how it proved.
"The defence was absolutely outstanding right across the court, winning ball at critical times. Sam Cook and Shantal also came into the game and made a big impact, really playing to their strengths.
"Shantal was phenomenal with her ability to take any ball in the air and her long shots were exquisite as well. It was a great win and one we can take confidence from going into Friday's match against Severn Stars."
Jamaican international shooter Slater added: "We said in the huddle at half-time that we had to win this game and we delivered in the end. It is an awesome feeling to be player of the match and it was a good win for us."
Team Bath went into the match looking to end a four-game losing streak, while improving Dragons were hoping to record their second win of the season.
The first quarter proved evenly matched, with neither side able to get more than two goals ahead. Both defences impressed but, with Lewis converting all of her shots against her former franchise, it was the Blue and Gold who held a narrow 12-11 lead.
Lewis continued her hot streak at the start of the second period, rattling in three goals inside the opening minute to put seemingly put Team Bath in command. They extended their lead to 19-13 at one point but Dragons refused to go away and regained the initiative through good finishing from Kalita McCollin and Eleanor Roberts.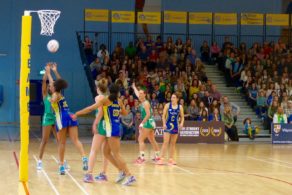 Just as Team Bath had made a bright start to the quarter, Dragons enjoyed a strong finish as three unanswered goals meant the home side's lead was back at one – 25-24 – going into the second half.
The hosts rang the changes for the third quarter, with Lewis moving to goal-attack and Slater coming on at goal-shooter. England international Cook was also introduced at goal-defence, with Layla Guscoth moving to wing-defence.
The new-look team took time to settle and Dragons took advantage to forge ahead for the first time since midway through the first quarter. They maintained that advantage throughout a nip-and-tuck period to go into the closing stages with a 37-36 lead.
After their recent disappointing results, Team Bath's heads could have dropped but they came out firing in the final quarter and scored three early goals to regain the momentum.
Slater and Lewis were linking well in attack, both finding the net with great accuracy as the home side began to surge clear. Dragons kept battling but could not prevent Team Bath finally recording a morale-boosting ten-goal victory.
They will be determined to build on that result when they play host to new West Country franchise Severn Stars on Friday (7.45pm). Tickets – priced £12 for adults, £8 concessions and £35 for a family ticket – are available at www.teambath.com/events/ticketline.
Fans can also take advantage of a special offer to buy tickets for the final three home matches of the season – Stars, Wasps and Sirens – for just £30 by calling 0844 888 4412 and quoting code TBBC01.
Team Bath Netball are sponsored by Sitec, Mogers Drewett are their Education Partners, Centurion Wealth Management are supporting the team's performance analysis capabilities, Surridge are the kit supplier and Skins provide the team with compression wear.
Match stats
Team Bath Netball
Starting seven: GS Chelsea Lewis, GA Laura Rudland, WA Rachel Shaw, C Mia Ritchie, WD Imogen Allison, GD Layla Guscoth, GK Eboni Beckford-Chambers. Replacements: Shantal Slater, Paige Reed, Jess Shaw, Vangelee Williams, Sam Cook.
Changes: Q3: Slater – bench to GS; Lewis – GS to GA; Rudland – GA to bench; Guscoth – GD to WD; Allison – WD to bench; Cook – bench to GD. Q4: Jess Shaw – bench to C; Ritchie – C to bench.
Celtic Dragons
Starting seven: GS Eleanor Roberts, GA Kalita McCollin, WA Bethan Dyke, C Kyra Jones, WD Stacey Peeters, GD Lois Rideout, GK Kelly Morgan. Replacements: Sara Bell, Fern Davies, Suzy Drane, Lydia Hitchings, Leila Thomas.
Changes: Q4: Thomas – bench to GK; Morgan – GK to bench; McCollin – GA to GS; Bell – bench to GA; Roberts – GS to bench.
Quarter scores (Team Bath first)
Q1: 12-11. Q2: 25-24 (13-13). Q3: 36-37 (11-13). Q4: 58-48 (22-11).
Attendance: 1,000.