Posted 24th Mar 2017
Team Bath Netball battle past Team Northumbria to record first home win of Superleague season
Team Bath Netball clocked up their fourth Vitality Superleague win of the season and their first at home as they overcame Team Northumbria 47-38 at the University of Bath Sports Training Village on Friday night.
The Sitec-sponsored side had to dig deep in front of the 1,200 spectators in what proved to be a physical and often scrappy contest in which Team Bath at time stuttered in attack.
There were just two points in it at the end of the third quarter but the Blue and Gold's patient approach against feisty opposition, who finished with six players after Jaydene Robinson was sent off, finally paid off as they pulled away to record an important win following Monday's setback against Surrey Storm.
Head Coach Anna Stembridge said: "People may look at the scoreline and think it was close but I thought we handled that match well. Credit to Team Northumbria for disrupting our play – that could have led us to becoming disconnected but we backed each other up well and came through it.
"What was particularly pleasing was the impact the players had when we made changes. Imogen Allison made a fantastic contribution at wing defence and centre, and I thought Rachel Shaw was phenomenal at both wing attack and goal attack – her change of pace was just brilliant.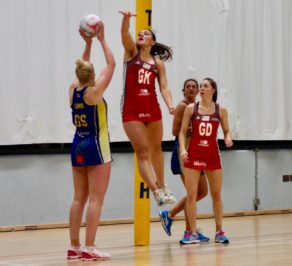 "We have had two good games against Loughborough Lightning and Surrey Storm here but not got the results, so that win was just reward for our home fans who were outstanding again tonight."
Team Northumbria had arrived for tonight's King Edwards' School sponsored match still seeking their first win of 2017 and were 49-61 losers to Manchester Thunder on Monday, having lost Kiwi captain Katarina Cooper to injury for the whole season early in the campaign
An error-strewn first five minutes saw both sides throw away possession before Bath constructed a five goal run to lead 7-2 at the halfway through the quarter.
Northumbria capitalised on the home side's inability to feed their shooters, turning over multiple times to draw level at 8-8 and then 9-9 at quarter-time, but strong interceptions in defence from Imogen Allison, Layla Guscoth and captain Eboni Beckford Chambers helped to steady play.
Bathonian Jazz Scott put in a lively performance in the second quarter when she came on at wing attack, with Shaw moving to goal attack.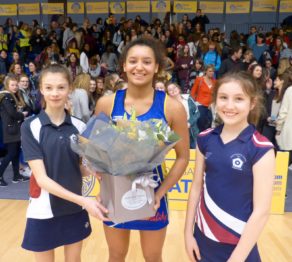 Neither side could gain the ascendancy and Northumbria held the lead until, with three minutes to go to half-time, Bath leveled before producing the move of the match so far to go 20-19 ahead.
Northumbria's goal keeper and wing defence were both warned during the second period in which Team Bath continued to stutter in attack but they went to the break with a two-goal lead at 22-20.
Vangelee Williams came on at wing defence and Allison moved to centre as Team Bath shuffled their pack again for the third quarter but they couldn't shake off Northumbria, for whom shooter Georgia Rowe was in fine form.
The gap remained at two goals, 31-29, going into the final period but Asha Francis came back on at goal attack and scored three quick goals to give Team Bath a cushion. With the crowd roaring them on, Francis and Chelsea Lewis extended the lead before Northumbria's physical approach led to replacement Robinson being sent off for a shove on Shaw in the closing seconds.
Player of the match Allison said: "It was a bit of a battle and it didn't come easy but it's so good to have our first home win on the board. I am really enjoying my netball here and it is amazing to play in front of such a supportive crowd."
Tickets for the Team Bath's next home match on April 7 against Manchester Thunder at 19.45 – priced £12 for adults, £8 concessions and £35 for family tickets – are on sale now at https://www.teambath.com/events/ticketline.
Team Bath Netball are sponsored by Sitec, Mogers Drewett are their Education Partners, Centurion Wealth Management are supporting the team's performance analysis capabilities, Surridge are the kit supplier and Skins provide the team with compression wear.
Match stats
Team Bath Netball
Starting Seven: GS: Chelsea Lewis; GA: Asha Francis; WA: Rachel Shaw; C: Mia Ritchie: WD: Imogen Allison; GD: Layla Guscoth; GK: Eboni Beckford-Chambers (capt). Bench: Sam Cook, Laura Rudland, Jazz Scott, Shantal Slater, Vangelee Williams.
Changes: Q2: Scott – bench to WA; Shaw – WA to GA; Francis – GA to bench. Q3: Williams – bench to WD; Allison – WD to C; Ritchie – C to bench; Cook – bench to GK; Beckford-Chambers – GK to GD; Guscoth – GD to bench. Q4: Francis – bench to GA; Shaw – GA to WA; Scott – WA to bench; Ritchie – bench to C; Allison – C to bench. 
Team Northumbria
Starting Seven: GS: Georgia Rowe, GA: Chiara Semple, WA: Tamsin Moala, C: Brie Grierson; WD: Iman Thomas; GD: Fionnuala Toner; GK: Tauine Keenan. Bench: Vicky Burgess, Evie Brereton, Claudia Heath, Jaydene Robinson.
Changes: Q3: Robinson – bench to WD; Thomas – WD to bench. Q4: Moala – WA to bench; Burgess – bench to WA.
Quarter scores (Team Bath first)
Q1: 9-9. Q2: 22-20 (13-11). Q3: 31-29 (9-9). Q4: 47-38 (16-9).
Attendance: 1,200.