Posted 23rd Mar 2017
High praise for University of Bath as BUCS Big Wednesday provides a feast of spectacular student sport
An Olympic gold medallist was among the hundreds of athletes from across the country competing at the University of Bath this week as it hosted BUCS Big Wednesday, the culmination of the student sporting season.
More than 100 teams contested a total of 52 finals across 14 different sports during two outstanding days of competition across the Claverton Down campus, with action taking place in the £30m Sports Training Village, the Founders' Hall and on numerous outdoor pitches.
The event was part of the University's 50th-anniversary celebrations and proved to be a huge success, with the organisation and delivery from staff and student volunteers receiving high praise from the visiting athletes and supporters.
Among those taking part was Lily Owsley, a member of the triumphant Team GB women's hockey squad in Rio last summer who scored the winning goal for the University of Birmingham in their Championship final.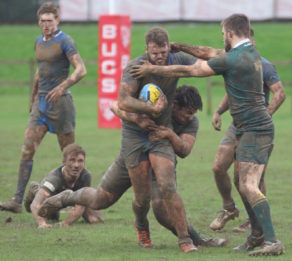 The University of Bath was represented in three finals, two of them in badminton where the men's 1sts – coached by Peter Bush – were edged out 10-8 on sets by Loughborough after winning four games apiece in their Championship final. The 2nds were beaten 5-3 by Glasgow 1sts in the Trophy competition.
A muddy but exciting rugby league Trophy final saw University of Bath Broncos go down to a narrow 14-12 defeat to defending champions University of Nottingham.
Trophies were also handed out in basketball, fencing, football, lacrosse, netball, rugby union, squash, table tennis, tennis, volleyball and water polo.
The BUCS [British Universities & Colleges Sport] league season runs annually from October to March, with the 170-plus BUCS member institutions entering more than 5,000 teams into 26 sports. That means that some 80,000 students – including 1,000 from the University of Bath – are actively engaged in sporting competition every week.
Click here for a full set of BUCS Big Wednesday results (external link).
Photos from an action-packed day of student sport at the University of Bath featuring hundreds of athletes from across the country – we'll be adding more pictures throughout the day

由 Team Bath 发布于 2017年3月22日