Posted 6th Mar 2017
Battling home performance by Team Bath not enough to overturn Loughborough Lightning who clinch 47-41 Superleague victory
A spirited recovery from Sitec-sponsored Team Bath Netball came up just short as they suffered a 47-41 home defeat to Loughborough Lightning in a gripping Vitality Netball Superleague contest on Monday.
Welsh shooter Chelsea Lewis, who scored 22 goals during a fine performance, set up a grandstand finish for the Blue and Gold as they fought from a five-goal half-time deficit to level the score at 40-40 with five minutes to go.
But Lightning managed to produce one final push in the closing moments to edge to a six-point victory thanks to some ruthless finishing from Peace Proscovia and the equally impressive Vanessa Walker.
Team Bath Head Coach Anna Stembridge said: "It was a good one for the fans and the people at home. Loughborough are gunning for a top-four position and we certainly didn't underestimate them, we knew it was going to be a hard-fought game.
"They made us a bit stuttery in terms of play – we won a lot of ball defensively but didn't capitalise when we had turnovers to go ahead and I think that was the turning point.
"We're managing a couple of niggles but credit to the players who went out there, they all had a good impact."
The home team made the better start to the match, shown live on Sky Sports, with busy centre Mia Ritchie linking up well with wing-attack Rachel Shaw and starting goal-shooter Shantal Slater who impressed with 13 goals before leaving the court with an injury.
Shortly before the first break, however, Loughborough showed their mid-court ability and fed the ball well through to Proscovia and Walker.
The lead changed hands on several occasions throughout the second quarter, with Team Bath going 16-13 ahead before Loughborough produced what proved to be a decisive burst just before half-time to open up a 24-19 lead.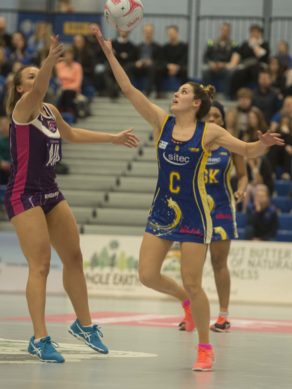 The introduction of Team Bath legends Asha Francis – just five months after giving birth to her second child – and Sam Cook before and after the break respectively made a positive impact in the second half, freeing Lewis to consistently take aim at the Loughborough hoop and bring the scores back to 34-33 going into the last 15 minutes.
The two teams continued to trade goals during a tense final quarter and were locked at 40-40 but Team Bath couldn't quite get their noses in front and the momentum swung back to Lightning, whose clinical finishing secured the spoils.
The thrilling encounter took place in front of a bumper and noisy crowd with VIP guests including BANES Council Leader Tim Warren and representatives from Team Bath education partner Mogers Drewett.
Team Bath captain Eboni Beckford-Chambers said: "It wasn't the result we wanted but it's only round three and there were definitely things there to build on.
"The standard of play in the league has definitely risen compared to last year. We knew it was going to be a tough game and I think it was a patchy performance from us in the end.
"We got close to them in the fourth quarter but the damage had been done in the second quarter. There were some good new combinations out there, though, and Asha coming back in just five months after having a baby did brilliantly.
"You have to commend the grit, the determination and the willingness to work together and form those new combinations."
Tonight's match, which was sponsored by Prior Park College, also formed part of the University of Bath's 50th anniversary celebrations and saw Steve Egan, vice-president (implementation), head up a business reception before the game with Director of Sport Stephen Baddeley.
Previous sporting events to mark the milestone have included a BUCS Super Rugby match at The Rec and an international wheelchair tennis tournament featuring Rio 2016 Paralympic medallists.
Next up for Team Bath is a West Country derby on Saturday against new franchise Severn Stars, led by Blue and Gold legend Pamela Cookey, followed by two home games in the space of five days.
Defending champions Surrey Storm visit the University of Bath Sports Training Village on Monday, March 20, before Team Northumbria provide the opposition on Friday, March 27.
Both matches start at 7.45pm and tickets– priced £12 for adults, £8 concessions and £35 for family tickets – are on sale now at https://www.teambath.com/events/ticketline.
Team Bath Netball are sponsored by Sitec, Mogers Drewett are their Education Partners, Centurion Wealth Management are supporting the team's performance analysis capabilities, Surridge are the kit supplier and Skins provide the team with compression wear.
Match stats
Team Bath Netball
Starting seven: GS Shantal Slater; GA Chelsea Lewis; WA Rachel Shaw; C Mia Ritchie; WD Vangelee Williams; GD Layla Guscoth; GK Eboni Beckford-Chambers. Bench: Imogen Allison, Sam Cook, Asha Francis, Laura Rudland, Amanda Varey.
Changes: Q2: Allison – bench to WD; Williams – WD to bench; Francis – bench to GA; Lewis – GA to GS; Slater – GS to bench. Q3: Allison –WD to C; Cook – bench to GD; Guscoth – GD to WD; Ritchie – C to WA; Shaw – WA to bench; Varey – bench to C; Allison – C to bench. Q4: Varey – C to bench; Allison – bench to C.
Loughborough Lightning
Starting seven: GS Peace Proscovia; GA Vanessa Walker; WA Hannah Joseph; C Natalie Panagarry; WD Beth Cobden; GD Vicky Oyesola; GK Joanna Trip. Bench: Rebekah Airey, Chloe Essam, Ella Gibbons, Olivia Mason.
Changes: Q3: Essam – bench to GA; Walker – GA to bench. Q4: Walker – bench to GA; Essam – GA to bench.
Quarter scores (Team Bath first)
Q1: 11-12. Q2: 19-24 (8-12). Q3: 33-34 (14-10). Q4: 41-47 (8-13).
Attendance: 1,250.