Posted 20th Feb 2017
Why Team Bath? The reasons behind one of the country's most promising netball stars relocating to the University of Bath
When her former netball Superleague club Yorkshire Jets announced its decision to wind up in late 2016, England U21 star Imogen Allison became one of the league's most sought-after players.
At just 18, Allison had already gained international experience with the national set-up and had been involved in both an U17 Netball Europe and an U21 Australia tour.
With clubs up and down the country after her services, she chose Team Bath – a testament to Head Coach Anna Stembridge and Director of Netball Jess Thirlby's ambitions for the netball programme at the Sports Training Village – for reasons both on and beyond the court.
"I was already aware that Team Bath had a great netball set-up," Allison says. "But the University of Bath is also so good for the Sport and Exercise Science course I wanted to study.
"The course here is one of the best in the country and the combination with the netball programme was the main reason I came here after leaving Yorkshire Jets."
With the Vitality Superleague season now underway, working to secure a permanent place in the Team Bath side has become a full-time ambition for Yorkshire-born Allison.
Combining the dedication needed to train and compete for Team Bath and England alongside full-time studies may prove a difficult regime, but the young star is confident her interest in the subject will go a long way to aiding her willingness to cram in some studying at any given opportunity.
"Because I find the course so interesting, and because it's what I want to do, the studying is a lot easier," she continues. "So when I'm travelling, for example, I can find time on the bus to get some studying done."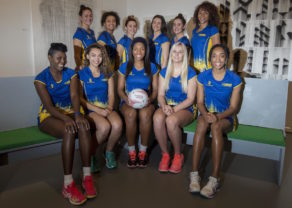 What's more, the flexibility of the University's courses with regards to student-athletes helps them to find a balance which ensures studies and competition can run side by side.
"When I was called up the day before an England U21 tour to South Africa, I realised I had an exam scheduled for the week after. But I was able to rearrange that exam and everything was good to go."
Allison is on a King scholarship at the University, something that helps support her financially throughout a costly period of her career.
"The scholarship helps a lot with funding travelling. Training with England is in Loughborough so the costs of going back and forth add up. It also helps with nutritional costs as I need a lot of healthy recovery food, and then you have things like new tape, new trainers and general running costs.
"When I was awarded the scholarship it also felt like someone had specially chosen to support me which was a great boost and motivation to work even harder."
The University of Bath was the first UK university to offer sports scholarships and today 61 student athletes who have displayed potential for success both academically and athletically are currently benefiting from our scholarships – including 23 new scholarships awarded during the 2016-17 academic year.
The scholarships are supported by alumni and friends of the University who are passionate about giving talented young people the opportunity to benefit from Bath's world-leading sporting and academic environment.