Posted 18th Oct 2016
Sunshine Girl Vangelee Williams joins exciting young duo in Team Bath Netball Superleague squad
Jamaica international Vangelee Williams (left) and exciting rising stars Imogen Allison (centre) and Laura Rudland (right) have today been confirmed as the latest members of the Team Bath Netball squad for the 2017 Vitality Netball Superleague season.
Highly-rated Williams, who can play either wing-defence or goal-defence, has appeared in every match for her country since making her debut in 2011 and helped them win bronze at the Glasgow 2014 Commonwealth Games and finish fourth at the 2015 Netball World Cup.
Rudland, who graduated in Sport Performance from the University of Bath this year, came into the Superleague squad midway through last season. The wing-attack/goal-attack is the latest player to have come through the prolific Team Bath talent development system.
England U21 international Allison has started a Sports & Exercise Science degree course at the University this year and has already gained plenty of Superleague experience with Yorkshire Jets.
Fellow newcomers Layla Guscoth and Jess Shaw have switched to the Blue and Gold from Hertfordshire Mavericks and Yorkshire Jets respectively, while returning favourites Eboni Beckford-Chambers, Samantha Cook, Chelsea Lewis, Mia Ritchie and Rachel Shaw have all committed themselves to Team Bath. Paige Reed, captain of the Netball Performance League (NPL) development squad last season, has also made the step up to Superleague level.
Williams, aged 24, is representing Jamaica at the Fast 5 Netball World Series in Australia next week and has been named in the Sunshine Girls squad for December's three-Test series in England, giving Team Bath fans an early chance to see her in action before she joins the Blue and Gold in the new year.
"I am over the moon at the thought of coming to England to play and represent Team Bath," she said.
"I have been a fan of Team Bath from afar, so it means a great deal to be able to play for them and I cannot wait to put on the Blue and Gold.
"It's been a dream of mine to play netball professionally, so thank you to Team Bath for making this dream come true. I am excited about the intense training and competitive matches that are to happen, and eager to gain more experience."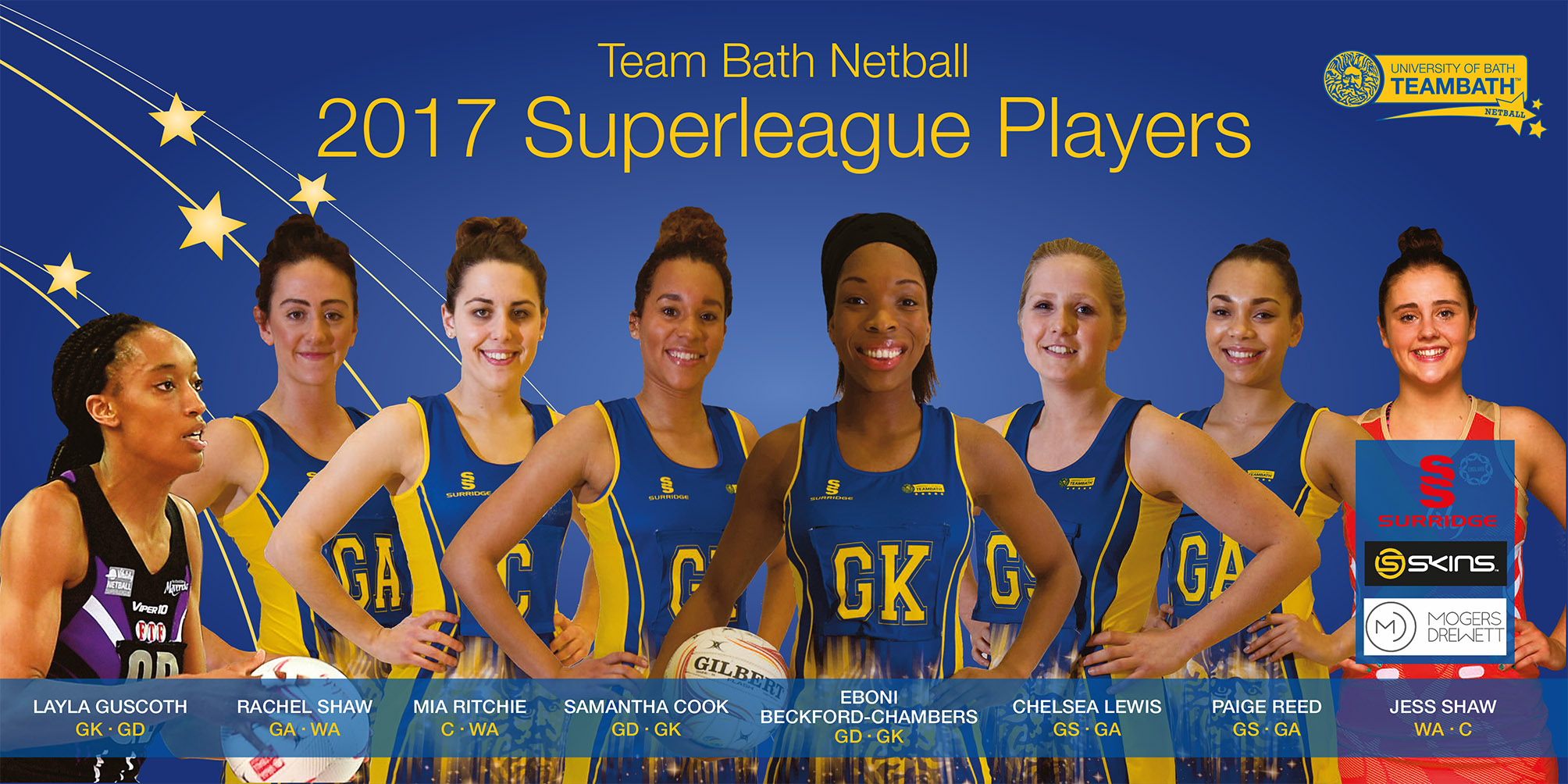 Williams, who currently plays for Manchester Spurs in the Berger Elite League in Jamaica, will be the fourth overseas player to represent Team Bath in the Superleague, following on from Bessie Manu of New Zealand and South African duo Karla Mostert and Lenize Potgieter.
Team Bath Director of Netball Jess Thirlby said: "We have now confirmed 11 of our 12 players for the 2017 Superleague season and I think the squad perfectly encapsulates our entire ethos here.
"There is a strong backbone of returning players and exciting young talent like Laura, who has come through the Team Bath system and developed over the past four years.
"Imogen, Jess and Paige are all part of the England U21 squad, showing our commitment to investing in young players, and it is fantastic they will have chance to play alongside our world-class senior internationals, a group that now includes Vangalee.
"When we bring in players from overseas, they have to be of the highest quality and Vangalee certainly fits that bill. She is an athletic defender and is also vice-captain of Jamaica, so will bring those leadership skills to the squad."
The 12th and final member of the Team Bath Superleague squad for 2017 will be confirmed in the next few days, along with the training partners.
The 2017 Vitality Netball Superleague season begins in February and has been expanded to include ten teams, including new franchises Scottish Sirens, Severn Stars and Wasps.
Mogers Drewett are Team Bath Netball's Education Partners, Surridge are the Team Bath kit supplier and Skins provide the team with compression wear.
Thank you to England Netball and Press Association for the picture of Imogen Allison