Posted 9th Jul 2016
Marking the 100th birthday of a Team Bath legend – Ivor Powell MBE is inducted into the Hall of Fame for Sport
Dozens of alumni and staff joined Ivor Powell's family and friends at the University of Bath on Saturday to celebrate the extraordinary life and career of the football coaching legend.
In the week when he would have celebrated his 100th birthday, people travelled from as far afield as Brussels to see the much-loved Powell – who coached at the University from 1972 to 2010, when he retired aged 93 – posthumously inducted into the University's Hall of Fame for Sport.
Former students coached by Powell during his record-breaking career then put their boots back on for a reunion match played in tribute to the former Wales international.
University of Bath Director of Sport Stephen Baddeley said he felt "humbled" to lead the Hall of Fame induction for Powell, who remains an iconic figure at the Sports Training Village.
"We have all these stars inducted into our Hall of Fame for Sport," he said. "But there's no one who will be inducted into who will have had as big an impact on as many people at the University than Ivor."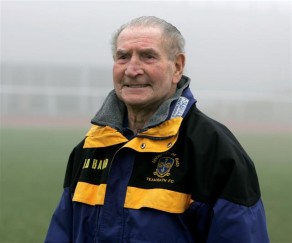 Powell's son Bill accepted the Hall of Fame place on his father's behalf and said: "Those who worked with him, played for him and trained with him will know what I mean when I say he was a character with his own unique way of putting his point of view across.
"Above all, he had a work ethic second to none – in terms of determination, never giving in, a winning attitude and understanding that you never get anything without working hard for it.
"He passed all these traits onto us as a family. He would be very proud and honoured today to be put into the Hall of Fame at the University of Bath, which was his second family."
Derek Brewer, the oldest player to take part in the reunion match, worked with Powell during his pre-University coaching career.
"I left school in 1967 and went to play for Bath City when Ivor was manager there," he said. "I remember the same character that everyone else has been speaking of today – clenched fists, very intense, passionate, pushing people on to be their best.
"As an alumnus I make donations to the University, so when I found out there was an Ivor Powell Scholarship Scheme I asked for my money to go to that. It's great that it's supporting a new group of talented athletes."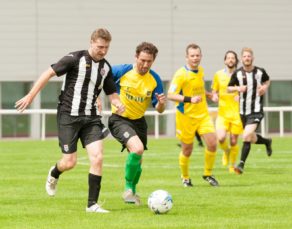 Ian Weddell, who studied Mechanical Engineering and French, played under Powell from 1975-79 and was captain of the University team for two years.
"I used to spend hours speaking with Ivor," he said. "He was amazing and it was his love of people that I remember most. He had real passion and he was also very funny."
Powell's malapropisms – his most famous being the need for "harmonium in the boardroom" – were also recalled by European Studies graduate Sean Murray, who was in the University football team when Ivor first arrived in 1972.
"We won the National University Championships in 1974 when there were only 2,500 students here – it was like Scunthorpe winning the FA Cup," said Sean, a PR consultant who travelled from Brussels, Belgium for the reunion match.
"Ivor brought a real professionalism. We trained like professionals and even used to stay in hotels the night before away games.
"He was 56 when he started here and it was almost like a retirement job but his passion and drive was just incredible."
Chemical Engineering graduate Bernie Moss was also part of Powell's first team and said: "In terms of the philosophy Ivor instilled in the football programme here, number one was fitness and number two was motivation.
"He really did motivate us, similar in the way that Leicester City won the Premier League. We were winners, and that's what he instilled in us. We'd go onto the pitch and we'd feel like kings."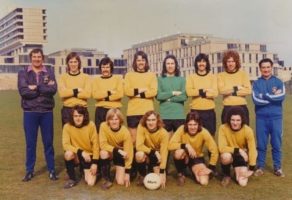 Also playing in the game was 2001 Pharmacy graduate Chris Smith, who is now an anaesthetic registrar at the Royal United Hospital in Bath.
"I have a tough job that takes a lot of dedication and resilience, and they were qualities that Ivor had and was able to instill in us," he said.
"He was tough but fair and had a real ability to inspire people. It's great for us all to be back together to celebrate such a wonderful bloke."
Former Bristol Rovers defender Andy Tillson was head coach of Team Bath FC until the end of the 2008-09 season.
"I worked with Ivor for seven years or so and it was a privilege – great time, great memories," he said.
"Ivor had such a good work ethic and was such a great chap. He had so many invaluable experiences under his belt and he loved to pass them on, which was great for a young coach like myself. To have that someone like that around to support you was amazing.
Current University of Bath Head of Football Che Wilson attributed much of the football programme's successes to Powell.
"The impact Ivor had on the foundations of the football set-up here was massive," said Wilson, who played for Norwich City, Bristol Rovers and Southend United before taking the role at the University.
"The philosophy he instilled was first and foremost a will to win, a desire to compete and the motivation to play to the best of our ability. Those are the building blocks Ivor has laid here and my job is to keep carrying that philosophy on."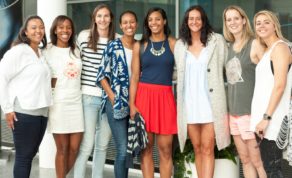 Powell's influence was felt far beyond the football pitch, as demonstrated by the large number of Team Bath Netball players past and present who attended the event.
"Ivor was such a great personality," said current England Netball captain Sara Bayman, who studied Sport and Exercise Science at the University from 2003 to 2007. "He passed on so much wisdom to all sportspeople. He was a huge character."
Pamela Cookey, a former England and Team Bath Netball captain, was inducted into the University's Hall of Fame for Sport earlier this year.
She said: "It's such an honour to be alongside Ivor in the Hall of Fame. When I came to Bath, Ivor was a prominent figure – not just in football but all the other sports. It's great to be able to come here and celebrate that achievement and influence.
"Many different sports learnt a lot from Ivor, not just the players but the coaches too. It was great that I got the opportunity to meet him, get to know him and share some of his experiences."
Saturday's alumni event was part of the University of Bath's 50th-anniversary celebrations.