Posted 6th Jul 2016
Over 1,300 of the region's most talented young athletes compete in Wesport School Games Festival at the STV
The world class facilities at the Sports Training Village today welcomed the South West's top young sporting talent as part of Sport England's School Games Festival.
School pupils from Bristol, Bath and North East Somerset, North Somerset and South Gloucester who had qualified through previous competitions took part in the regional event, which was organised by the West of England Sports Trust (Wesport).
The event was opened by London 2012 shooter Georgina Geikie – the only British pistol shooter to have ever won an Olympic quota place and compete in the Olympics.
Geikie, who competed in the 25m event, said competitions such as this are essential for widening participation and identifying emerging talent in youth sport.
"These events are absolutely pivotal for inspiring the next generation of athletes," she said. "A lot of hard work has gone into organising today, and the result is a platform for inspiring young people.
"Events on this scale really ramp up the importance of sport to children – it really makes it special. That is priceless."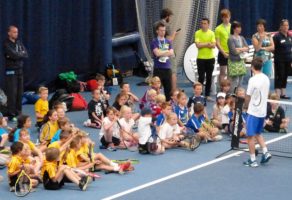 Sports on display included track and field events, cricket, netball, rugby, tennis and a first-ever modern pentathlon replica competition.
The multi-sport day is designed to not only offer children the opportunity to thrive in their given sport, but also allows them the chance to try different sports through taster sessions including dodgeball, parkour and fencing.
Making use of the various facilities on offer at the STV, children took to the same athletics track used by six recently selected Team GB athletes, the same tennis courts used by Wimbledon ace Anna Smith and the same rugby pitches recently used by England Rugby during the Six Nations.
And Geikie, who discovered her talent for shooting when competing in a multi-sport event, emphasised the importance of aspiring athletes sharing the same facilities as their successful icons.
She said: "Giving the children the opportunity to compete at a facility like this, where they can rub shoulders with Olympic athletes and for that to become the norm, makes them realise these athletes are real people and inspires them to follow in their footsteps.
"Competing here also shows the children the other roles there are in sport besides competing – coaches, nutritionists, physiotherapists – there are all sorts of avenues for them and it opens doors for them. Hosting an event like this here shows children the world of opportunities for them in sport."
To find out more about the opportunities for young athletes take place at the Sports Training Village, visit our Tribe and Futures pages.