Posted 28th Mar 2016
Team Bath Netball quell Dragons to keep play-off challenge alive
Team Bath Netball kept their Vitality Superleague play-off challenge very much alive with a sparkling 60-42 win against Celtic Dragons at the University of Bath Sports Training Village.
Lying fourth as the match started, the 2013 Champions knew a home win would keep them ahead of close rivals for fourth spot, Loughborough Lightning, whom they play in the final match of the league phase on 23 April.
A tough first quarter ended 12 apiece. Both sides showed flashes of brilliance and equally of waywardness.
The home side had chances to go 12-8 ahead – with Jo Vann and Claire Brownie generating multiple turn-overs – only for goal-shooter Chelsea Lewis to pick up a string of penalties as she battled with robust opposition goal-keeper Epi Kahatoka of Fiji.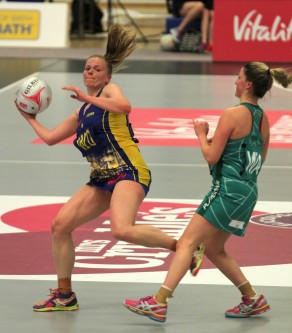 With eight seconds left Team Bath nailed a score to go 12-11 only for the Dragons to roar back with a quick-fire score of their own.
Neither side made any changes at the quarter time. Team Bath surged to a 19-13 lead helped by defensive turn-overs from Sam Cook and Eboni Beckford Chambers and some fluid centre-court work.
"Obviously we were disappointed after losing to Thunder on Saturday and we made a slight change to the staring seven because we wanted to focus on our start and I think it paid off. We were able to build and take it from there", said Captain Beckford Chambers.
Celtic Dragons remained tenacious and came back to 20-17 and then 23-20 as the home side faltered in scoring from their own centre-passes but the situation proved temporary.
"I'm really pleased that we were able to establish a lead and then build on it", said Head Coach Stembridge after the game.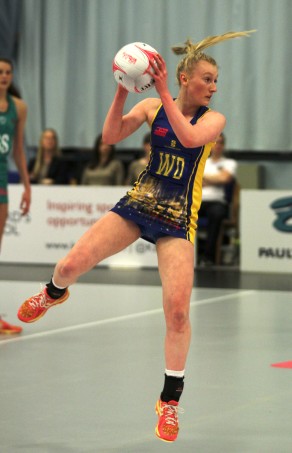 "We talked about that beforehand. Credit, though, to Dragons. They came out all guns blazing and we knew that the match would be physical tonight but our players dealt well with that physicality".
A purple patch with four minutes to go saw Team Bath, sponsored by Carter Jonas, play with pace and style to move out to 28-20 at half-time helped by some intuitive feeding into the circle from Jo Vann.
The only shadow fell when goal-attack Rachel Shaw was assisted off injured following a series of clashes.
Lenize Potgeiter came on at goal-shooter to replace Shaw, while Amanda Varey stepped into the wing-attack spot for the third quarter.
Team Bath piled on the pressure to go in 44-32 at the final interval. They were strong in defence but equally quick on the counter-attack with Varey 's pass from the centre-third into Lewis the move of the match.
Coach Anna Stembridge gave University of Bath sports science student Nicole Humphrys her second run-out of the season at wing-defence in the final quarter.
She also moved Eboni Beckford-Chambers to goal-keeper and brought Shaunagh Craig on at goal-attack to make her season's debut. Any ring-rustiness soon disappeared with Bath extending their lead to 53-36 with seven minutes remaining.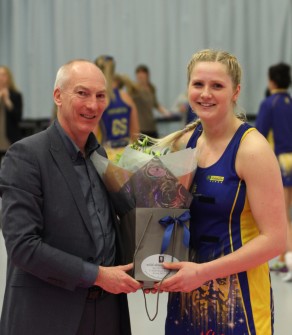 Increasingly the Dragons' feed to their tall shooter, Georgia Rowe, so effective in the opening quarter, went astray.
A switch-back move between shooters Craig and Potgeiter was one of the highlights of the final quarter which Team Bath closed out just shy of a twenty goal winning margin.
After tonight's match Team Bath captain Beckford Chambers took to the microphone to thank the fans for their consistent support throughout the season and said she hoped the team would "do the business" for them even though there were a few more matches to go.
Team Bath now face a flurry of away fixtures to conclude the league part of the season. They play Team Northumbria on April 9, Hertfordshire Mavericks on April 16 and Loughborough Lightning on April 23.
Chelsea Lewis was named the Team Bath player of the match and received a bouquet, provided by Wild About Flowers, from Director of Sport Stephen Baddeley.
He had earlier made a half-time presentation to Team Bath "legend" Pamela Cookey, the former England captain who was inducted into the University of Bath's Hall of Fame for Sport.
Click here to see post-match video interviews with Mia Ritchie and Anna Stembridge on Sky Sports
Match stats
Team Bath Netball
Starting seven: GS Chelsea Lewis:GA: Rachel Shaw; WA: Jo Vann; C: Mia Ritchie; WD: Claire Brownie; GD: Eboni Beckford Chambers; GK: Sam Cook. Bench: Shaunagh Craig, Amanda Varey, Sarah Penny, Loenize Potgeiter.
Team Bath Netball Superleague squad 2016: Eboni Beckford-Chambers (C), Samantha Cook, Claire Brownie, Shaunagh Craig, Nicole Humphrys, Alana John, Chelsea Lewis, Karla Mostert, Sarah Penny, Lenize Potgieter, Mia Ritchie, Laura Rudland, Rachel Shaw, Amanda Varey, Jo Vann.
Changes: Quarter two: Shaw-Bench (injured). Potgeiter – GA. Quarter four: Beckford Chambers – goal-keeper, Claire Brownie – bench, Vann – bench, Varey – WA; Nicole Humphreys – WD, Potgeiter to bench, Craig to GA.
Celtic Dragons
Starting seven: GS Georgia Rowe:; GA: Afa Rosivakula; WA: Bethan Dyke; C: Kyra Jones ; WD: Suzy Drane (capt); GD: Kelly Morgan; GK: Episake Kahatoka. Bench: Sara Bell; Lateisha Kidner; Rebecca Oatley; Mel Steingass; Emma Thomas
Coaches : Trish Wilcox,
Changes: Quarter 3: Emma Thomas – GA, Kelly Morgan – bench; Rebecca Oatley – GD. Quarter four: Kelly Morgan – bench – goal-defence.
Quarter scores (Team Bath first)
 Q1: 12-12; Q2: 16-8 (28-20); Q3: 16-12 (44-32); 16-12 (60-42)
Team Bath Shooting stats:
Chelsea Lewis:   24 from 26 at goal-shooter and 7 from 7 at goal-attack = 93.94%
Shaunagh Craig: 1 from 2: 50%
Leonize Potgeiter 25 from 29 86.21%
Rachel Shaw, 3 from 3: 100%
Attendance: 1,350