Posted 18th Mar 2016
Clinical Team Bath Netball get back on track with big Superleague win over Yorkshire Jets
A terrific performance saw Team Bath Netball record their biggest win of the 2016 Vitality Netball Superleague season on Friday, a 67-37 victory over Yorkshire Jets.
The visitors put in a spirited performance and kept fighting until the end but Team Bath simply had too much quality right across the court as they gave another 1,600-strong Team Bath Arena crowd plenty to cheer.
Shooters Lenize Potgieter and Chelsea Lewis were ruthless in front of goal, each boasting 90 per cent-plus conversion rates, while player of the match Jo Vann and Mia Ritchie were influential in mid-court.
Head coach Anna Stembridge was delighted with the performance, saying: "I am really pleased with how we came back from last week's disappointing result and first quarter at Surrey Storm.
"We started with much more conviction tonight and were 19-10 up after the opening period. If I was being really greedy, I felt we could have pushed on even more but credit to Jets, they never let their heads drop – as you would expect from a team captained by Stacey Francis.
"We asked for a clinical performance and we got it but we also wanted to play with an attacking mindset, which I felt we showed throughout."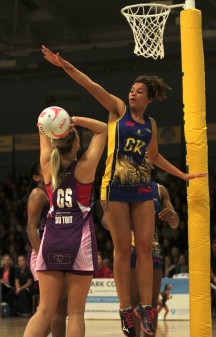 In a match sponsored by King Edward's School, Bath, Team Bath gave a first home start of the season to England defender Sam Cook at GK. That saw captain Eboni Beckford-Chambers and Karla Mostert moving to GD and WD respectively.
Both teams started with a Shaw at WA – Rachel, who began her career at Jets, for the home team and younger sister Jess for the visitors.
However, that did not last for long as a change with just three minutes on the clock saw Jess Shaw move to C after Lydia Walker went off, with Lucy Richardson coming on at WA.
At that point Team Bath held a narrow 3-2 advantage but, during an even start to the contest, Jets responded well to lead 4-3 and 5-4.
However, the hosts began to click into gear and slick passing from Shaw, Vann and Ritchie provided a constant feed to Potgieter, whose finishing was deadly.
The South African had 19 shots in the first period and converted every single one of them as Team Bath pulled clear to take a healthy 19-10 lead.
It was a similar story in the second quarter as the teams exchanged early goals before Team Bath took a decisive grip on the contest.
Potgieter was again at the forefront with 15 goals – even on two of the three occasions she did miss, she was able to score from the rebound – and Shaw added three, including a couple of fine long-range finishes.
There was plenty more for the sell-out home crowd to cheer, with a wonderful scooped pass from Ritchie for Potgieter to convert being particularly appreciated.
"I thought Mia was outstanding tonight," said Stembridge. "She was instrumental in both defence and attack, and she provided real leadership."
The home fans also roared in approval as Cook and Beckford-Chambers made some towering and timely interceptions during an imposing defensive display, which helped Team Bath take a 37-18 lead into the second half.
Welsh international shooter Chelsea Lewis replaced Potgieter for the third period and continued the high standard of finishing, finding the net with accuracy and regularity.
She converted 28 of her 31 attempts as Team Bath stretched their lead to 51-28 at the end of the third period and 67-37 by the final whistle.
Claire Brownie and Amanda Varey came on to make telling contributions in the final period, with Cook taking a break after getting three more impressive quarters of court-time under her belt.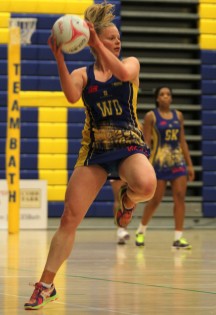 "That was really pleasing," said Stembridge. "I also thought the players who came on had a real impact on the game, which was great."
Carter Jonas are Team Bath Netball's property partner, Surridge are the Team Bath kit supplier and Skins provide the team with compression wear.
Team Bath travel to table-topping Manchester Thunder on Saturday, March 26 (5pm) before returning to the Sports Training Village on Easter Monday (March 28) to face Celtic Dragons.
It is Team Bath's final home match of the regular Superleague season and there will be plenty of Easter treats for supporters to enjoy, including an on-court visit from a Blue and Gold legend.
Tickets are available from https://www.teambath.com/events/ticketline/ or by calling 0844 888 4412.
Match stats
Team Bath Netball
Starting seven: GS: Lenize Potgieter; GA: Rachel Shaw; WA: Jo Vann; C: Mia Ritchie; WD: Karla Mostert; GD: Eboni Beckford-Chambers; GK: Sam Cook. Bench: Claire Brownie, Shaunagh Craig, Alana John, Chelsea Lewis, Amanda Varey.
Changes: Q3: Potgieter – GS to bench; Lewis – bench to GS; Ritchie – C to WA; Vann – WA to C. Q4: Cook – GK to bench; Beckford-Chambers – GD to GK; Mostert – WD to GD; Brownie – bench to WD; Vann – C to bench; Ritchie – WA to C; Varey – bench to WA.
Team Bath Netball Superleague squad 2016: Eboni Beckford-Chambers (C), Samantha Cook, Claire Brownie, Shaunagh Craig, Nicole Humphrys, Alana John, Chelsea Lewis, Karla Mostert, Sarah Penny, Lenize Potgieter, Mia Ritchie, Laura Rudland, Rachel Shaw, Amanda Varey, Jo Vann.
Yorkshire Jets
Starting seven: GS: Vanes-Mari Du Toit; GA: Maria Lutua; WA: Jess Shaw; C: Lydia Walker; WD: Sophie Halpin; GD: Stacey Francis; GK: Bea Skingsley. Bench: Kylie Paynter, Lucy Richardson, Ellie Smith, Lucy Harris, Megan Clark.
Changes: Q1: Shaw – WA to C; Richardson – bench to WA; Walker – C to bench. Q2: Du Toit – GS to bench; Lutua – GA to GS; Harris – bench to GA. Q3: Clark – bench to GK; Skingsley – GK to bench; Shaw – C to WA; Richardson – WA to bench; Walker – bench to C.
Yorkshire Jets Superleague squad 2016: Vanes-Mari Du Toit, Alex Kirk, Maria Lutua, Ellie Smith, Lucy Harris, Imogen Allison, Jess Shaw, Lydia Walker, Sophie Halpin, Kylie Paynter, Lucy Richardson, Stacey Francis (C), Bea Skingsley, Megan Clark, Kate Lightfoot.
Quarter scores (Team Bath first)
Q1: 19-10. Q2: 37-18 (18-8). Q3: 51-28 (14-10). Q4: 67-37 (16-9).
Shooting stats
Team Bath: Potgieter 34/37; Shaw 5/8; Lewis 28/31.
Yorkshire Jets: Du Toit 8/14; Lutua 18/29; Harris 11/13.
Attendance: 1,600.
Player of the match: Jo Vann.