Posted 19th Feb 2016
Coach pleased with response as Team Bath Netball beat Northumbria by 30-goal margin in Vitality Superleague
Team Bath Netball got back to winning ways in style on Friday as they recorded a 58-28 home victory over Team Northumbria in the 2016 Vitality Netball Superleague. 
Another four-figure crowd at the Team Bath Arena saw the home team put last week's defeat to Manchester Thunder behind them with a performance that grew in confidence and quality as the match progressed.
Head Coach Anna Stembridge said: "It was a really good response. We were a lot more clinical in attack and we worked hard in defence to secure plenty of turnovers.
"We didn't start well against Thunder last week but we put that right tonight. It was also good to see us build quarter by quarter."
With Asha Francis resting a back injury, Rachel Shaw and Mia Ritchie moved into goal-attack and wing-attack respectively. That meant a first Superleague start in five years for Jo Vann at centre, while Samantha Cook and Shaunagh Craig were in the match-day 12 for the first time this season.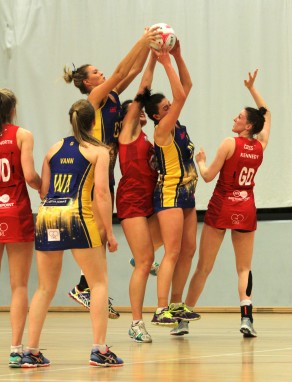 Team Bath were looking for a positive start after last week's disappointment and they got it as Shaw and goal-shooter Lenize Potgieter quickly fired the hosts into a 6-2 lead.
However, a scrappy period of play saw Team Bath struggle to make the most of their possession, allowing Team Northumbria to hit back with four unanswered goals from Chiara Semple.
The visitors cancelled out Team Bath's next couple of goals as well and Shanice Beckford missed a chance to put Northumbria ahead before two efforts in quick succession from Potgieter gave the hosts a narrow 10-9 lead going into the second period.
A slow start after the break allowed the visitors to go ahead for the first and only time but, with Vann and player of the match Ritchie growing increasingly influential after swapping positions, Team Bath finally clicked back into gear.
"I thought Jo was outstanding," said Stembridge. "I also thought we had some excellent leadership on court, not only from our captain [Eboni Beckford-Chamber] but Jo and Claire Brownie as well."
Some slick attacking and strong defensive interceptions, particularly from Brownie and Karla Mostert, helped Team Bath take control of the game as they moved from 12-11 down to 19-13 up.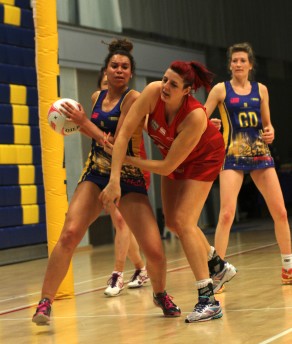 With Potgieter settling into a good shooting rhythm, the hosts were able to increase their half-time advantage to 27-15.
Chelsea Lewis was introduced for Potgieter for the third period and immediately struck up a good rapport with Vann and Shaw, scoring three times in quick succession.
A heavy fall could not stop Lewis as the Welsh international continued to regularly find the net, helping to grow the lead to 44-23.
Lewis's tumble was one of several by players from both teams in a physical encounter, with Northumbria replacement shooter Lynsey Armitage even losing a contact lens in one tussle with Eboni Beckford-Chambers.
With the game won, Team Bath took the opportunity to give Cook her first run-out of the season after injury and the England defender slotted back in seamlessly, with every interception receiving a huge cheer from the 1,200-strong crowd.
"It was great to see Sam back out there," Stembridge said.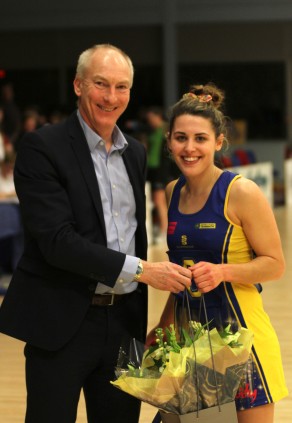 Alana John and Amanda Varey also came on to make good contributions to a fine victory, with the 30-goal winning margin sealed by Lewis on the buzzer.
Carter Jonas are Team Bath Netball's property partner, Surridge are the Team Bath kit supplier and Skins provide the team with compression wear.
Next up for Team Bath is a trip to Wales to face Celtic Dragons on Saturday, February 27 (4pm), quickly followed by two home matches in the space of four days.
High-flying Hertfordshire Mavericks visit Team Bath Arena on Monday, February 29 before Loughborough Lightning arrive on Friday, March 4. Both games start at 7.45pm and tickets are available from www.teambath.com/events/ticketline or by calling 0844 888 4412.
Match stats
Team Bath Netball
Starting seven: GS: Lenize Potgieter; GA: Rachel Shaw; WA: Mia Ritchie; C: Jo Vann; WD: Claire Brownie; GD: Karla Mostert; GK: Eboni Beckford-Chambers. Bench: Samantha Cook, Shaunagh Craig, Alana John, Chelsea Lewis, Amanda Varey.
Changes: Q2: Ritchie – WA to C; Vann – C to WA. Q3: Potgieter – GS to bench; Lewis – bench to GS. Q4: Cook – bench to GK; Varey – bench to WA; Beckford-Chambers – GK to bench; Vann – WA to bench; John – bench to WD; Brownie – WD to bench.
Team Bath Netball Superleague squad 2016: Eboni Beckford-Chambers (C), Samantha Cook, Claire Brownie, Shaunagh Craig, Asha Francis, Nicole Humphrys, Alana John, Chelsea Lewis, Karla Mostert, Sarah Penny, Lenize Potgieter, Mia Ritchie, Rachel Shaw, Amanda Varey, Jo Vann.
Team Northumbria
Starting seven: GS: Chiara Semple; GA: Shanice Beckford; WA: Brie Grierson; C: Jaydene Robinson; WD: Emily Hollingworth; GD: Leah Kennedy; GK: Tuaine Keenan. Bench: Lynsey Armitage, Natalie Connor, Hattie Grant, Rebecca Neil, Gemma Sole.
Changes: Q2: Neil – bench to C; Robinson – C to bench. Q3: Armitage – bench to GS; Beckford – GA to C; Robinson – bench to WD; Semple – GS to GA; Neil – C to bench; Hollingworth – WD to bench. Q4: Hollingworth – bench to WD; Sole – bench to GA; Semple – GA to bench; Robinson – WD to bench; Grant – bench to WA; Grierson – WA to bench.
Team Northumbria Superleague squad 2016: Lynsey Armitage, Lisa Bowman, Jo Pettitt, Gemma Sole, Chiara Semple, Shanice Beckford, Brie Grierson, Hattie Grant, Samantha Murphy, Rebecca Neil, Nicole Dixon, Jaydene Robinson, Tuaine Keenan, Natalie Connor, Leah Kennedy, Emily Hollingworth.
Quarter scores (Team Bath first)
Q1: 10-9. Q2: 27-15 (17-6). Q3: 44-23 (20-8). Q4: 58-28 (14-5).
Shooting stats
Team Bath: Potgieter 23/27 (85%), Shaw 9/13 (69%), Lewis 26/28 (93%).
Team Northumbria: Semple 15/17 (88%), Beckford 5/7 (71%), Armitage 6/9 (67%), Sole 2/5 (40%).
Attendance: 1,200.