Posted 12th Feb 2016
Team Bath Netball players urged to learn lessons from Manchester Thunder Superleague defeat
Team Bath Netball Head Coach Anna Stembridge says her players will learn valuable lessons from Friday's 62-37 home defeat to Vitality Superleague rivals Manchester Thunder.
The visitors got off to a flying start and never looked back as they maintained their 100 per cent record with a convincing victory, underlining their dominance by winning the last quarter 16-8.
Stembridge said: "Credit to Thunder in terms of the way they started and finished the game. It's disappointing that the scoreline blew out in the final quarter – to lose it 16-8 was not good enough and a bad day in the office in that respect.
"We knew tactically what Thunder would do and we looked to counter that but they executed their game plan very well.
"But we can only grow from this kind of experience. The players are really disappointed but they will learn from this and move forward."
Both teams went into the match – played in front of a sell-out crowd of 1,600 fans – with confidence high after winning their opening two matches. However, it was the visitors who made the brighter start and they quickly raced into a 5-0 lead.
It was three minutes until Team Bath were able to produce their first attack, finished by Chelsea Lewis, and they remained on the back foot for much of the opening period.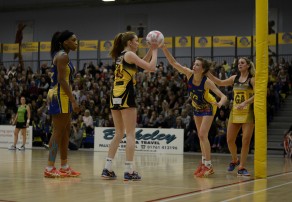 Thunder's high-tempo approach and slick passing, combined with the unerring shooting of England duo Helen Housby and Natalie Haythornthwaite, saw them establish a commanding 17-6 lead.
Team Bath's best spell of the period, including a great aerial feed by Rachel Shaw, saw them pull four goals back and Lewis scored right on the buzzer to close the gap to 19-11.
The hosts needed a strong start to the second period but instead it was Thunder who turned the screw with an unanswered run of nine goals, stretching their lead to 29-12.
Lenize Potgieter came off the bench to replace Lewis at GS and quickly found her range, scoring six times as Team Bath gave the vocal home crowd something to cheer.
Asha Francis also scored on the stroke of half-time as the hosts fought to get back into contention but Thunder were still firmly in the driving seat as they led 32-20.
With Liana Leota and Sara Bayman providing some outstanding feeds to the attacking duo of Housby and Haythornthwaite, Thunder were able to increase the gap to 36-21.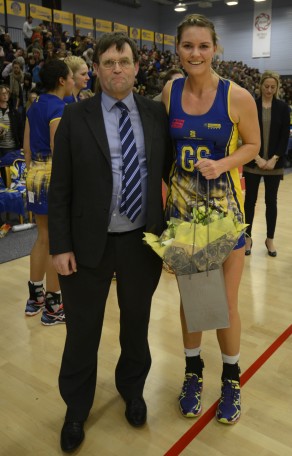 However, Team Bath were much improved in the third period – both in attack and defence – and were able to provide a more consistent feed to player of the match Potgieter.
The deficit was 44-31 going into the final quarter but any hopes of a Surrey Storm-style comeback were dashed as Thunder pulled away once again to win by 25 goals in a match sponsored by The Royal High School, Bath.
Carter Jonas are Team Bath Netball's property partner, Surridge are the Team Bath kit supplier and Skins provide the team with compression wear.
Team Bath will be looking to bounce back in front of their home fans next Friday (February 19) when they entertain Team Northumbria (7.45pm).
Ticket-holders for that match will have access to an exclusive coaching masterclass from Team Bath Netball Head Coach Anna Stembridge and Director of Netball Jess Thirlby, taking place from 6-7pm.
Tickets for that game, as well as the other remaining home fixtures, are available from https://www.teambath.com/events/ticketline/ or by calling 0844 888 4412.
Match stats
Team Bath Netball
Starting seven: GS: Chelsea Lewis; GA: Asha Francis; WA: Rachel Shaw; C: Mia Ritchie; WD: Claire Brownie; GD: Karla Mostert; GK: Eboni Beckford-Chambers. Bench: Lenize Potgieter, Amanda Varey, Jo Vann, Alana John, Sarah Penny.
Changes: Q2: Lewis – GS to bench, Potgieter – bench to GS. Q4: Francis – GA to bench, Shaw – WA to GA, Vann – bench to WA, WA to C, Varey – bench to WA, Ritchie – C to bench.
Team Bath Netball Superleague squad 2016: Eboni Beckford-Chambers (C), Samantha Cook, Claire Brownie, Shaunagh Craig, Asha Francis, Nicole Humphrys, Alana John, Chelsea Lewis, Karla Mostert, Sarah Penny, Lenize Potgieter, Mia Ritchie, Rachel Shaw, Amanda Varey, Jo Vann.
Manchester Thunder
Starting seven: GS: Helen Housby; GA: Natalie Haythornthwaite; WA: Liana Leota; C: Sara Bayman; WD: Laura Malcolm; GD: Jodie Gibson; GK: Malysha Kelly. Bench: Ellie Cardwell, Amy Clinton, Emma Dovey, Gabby Marshall, Kathryn Turner.
Changes: Q4: Gibson – GD to bench, Dovey – bench to GD.
Manchester Thunder Superleague squad 2016: Kerry Anne Almond, Sara Bayman (C), Amy Clinton, Ellie Cardwell, Emma Dovey, Jodie Gibson, Natalie Haythornthwaite, Rebecca Hoult, Helen Housby, Malysha Kelly, Paige Kindred, Liana Leota, Laura Malcolm, Gabriella Marshall, Kathryn Turner.
Quarter scores (Team Bath first)
Q1: 11-19. Q2: 20-32 (9-13). Q3: 31-44 (11-12). Q4: 37-62 (6-18).